Liberation by American Standard Walk-In Bath
The Liberation by American Standard walk-in bathtub helps relieve aches and pain with it's whirlpool feature. Proudly made in the USA.
Liberation by American Standard
Bathe safely with the Liberation by American Standard TM walk-in bathtub. Standard features include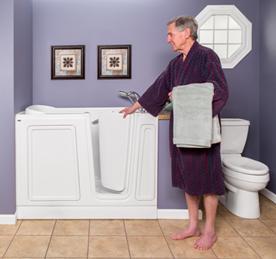 RevitaJet TM Hydrotherapy with 44 massaging jets to target aches and pains, exclusive Quick Drain ®system, in-line heater, slip-resistant surfaces and built-in grab bar. Our easy-entry secure seal door has a Lifetime Warranty – it is guaranteed not to leak. Proudly manufactured in the USA.
http://www.liberationbath.com/
Reviewer Comments
"It has the whirlpool to soothe your aches and pains – it's easy to get in and out – good for someone with limited ability – it has aromatherapy."
"The features that go beyond bathing – the massage for arthritis – the hydrotherapy, aromatherapy, and chromatherapy."
Ease of Use Program
Products proven to make life easier
Learn more about the extensive testing these products go through as well as tips for selecting easy-to-use products.

Learn More
Disclaimer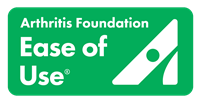 The Arthritis Foundation's Ease of Use Commendation Program recognizes products proven to make life easier for people who have arthritis and other physical limitations. Independently tested by experts and evaluated by people with arthritis, Ease of Use products are easy to use for everyone.
Stay in the Know. Live in the Yes.
Join the Live Yes! Arthritis Network. Tell us a little about yourself and you will receive emails packed with the latest information and resources to live your best life and connect with others.