Melnor Metal RelaxGrip Thumb Control Multi-Pattern Nozzle
Tackle your outdoor chores without the pain. Try Melnor's thumb-control nozzle with RelaxGrip and take the sting out of gardening. Multi-Pattern Thumb-Control Nozzle With RelaxGrip.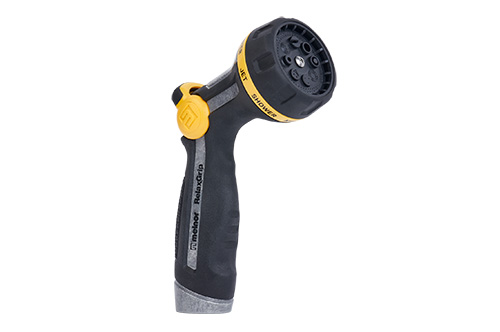 Melnor's RelaxGrip® 8-Pattern Thumb Control Nozzle is specially designed to provide the most comfortable grip, so you can get your gardening done with ease. The unique thumb control design is easy to use, one simple motion controls the water flow with less strain then regular nozzles. Adjust between 8 versatile watering patterns to shower petunias on the porch or switch to a stronger spray to rinse off the sidewalk. Designed to be lightweight yet durable to last for years.
Melnor and RelaxGrip are registered trademarks of Melnor, Inc.
Visit Melnor.com
Ease of Use Program
Products Proven to Make Life Easier
The Arthritis Foundation's Ease of Use Certification Program recognizes products proven to make life easier for people who have arthritis and other physical limitations. Independently tested by experts and evaluated by people with arthritis, Ease of Use products are easy to use for everyone.
Learn More About the Ease of Use Program