Make Your Move & Make an Impact
Strengthen the arthritis movement!
Together, we're improving the lives of over 54 million Americans living with arthritis. Walk your way. Give 54 dollars. Tell 54 friends. Move 54 times. Make a difference!
Get Moving

Deb Constien
Meet This Year's National Honoree
On top of her commitment to arthritis advocacy, JA camp and leading a local support group, Deb Constien serves as national honoree of the 2021 Walk to Cure Arthritis. "Everyone needs to keep rallying around this flagship event," she says.
Read Her Story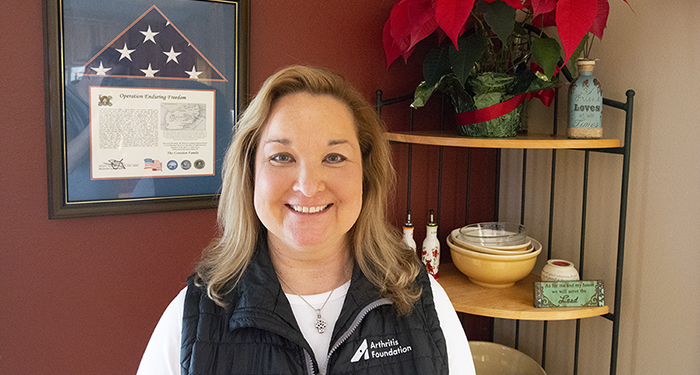 GIVE $54
For the 54 million Americans who suffer from arthritis, your donation of at least $54 can change someone's life, providing patient education, funding research or helping make our voices heard.
Donate Now
Tell 54
Your contacts can help grow the arthritis movement and change the future. Invite others to donate and spread the word for an even bigger impact. Let's conquer arthritis together!
Recruit Others
Move 54
Take 54 steps. Do 54 stretches. Move for 54 minutes. In your own way, make a difference for yourself and 54 million others living with arthritis by raising funds for Walk to Cure Arthritis.
Register Today