Take Control of Pain
Get expert tips, strategies and support to help you manage arthritis pain from the experts at the Arthritis Foundation.
Stories of Yes
Deb Shares Her Story
The magnitude of Deb Andio's osteoarthritis pain isn't as bad today as it used to be. She's glad she discovered our Live Yes! Connect Groups, which give her the chance to talk with others who understand the difficulties of arthritis pain.

Dwayne Shares His Story
Despite rheumatoid arthritis being active throughout his body, even causing him to lose his job, Dwayne McClellan doesn't feel so alone anymore, thanks to friends he has made in our community. He has also become a committed Arthritis Advocate.
Joe Shares His Story
Joe Reid's daughter was diagnosed with juvenile arthritis and Crohn's disease at a young age. He says it was eye-opening to see how the Arthritis Foundation helped empower her to fight back, including her involvement in our Art for Arthritis fundraiser.
Tiffany Shares Her Story
Tiffany Coffman had lived in constant pain since high school before eventually being diagnosed with rheumatoid arthritis. After learning that her son has juvenile arthritis, she got heavily involved in our JA program, which she continues doing after 15 years.
Free Pain Management App
Take Control With Vim
This smart tool helps you find the information you need, set and track personal goals, connect with others who use the app and more. Take back what chronic pain takes away.
Get Vim Now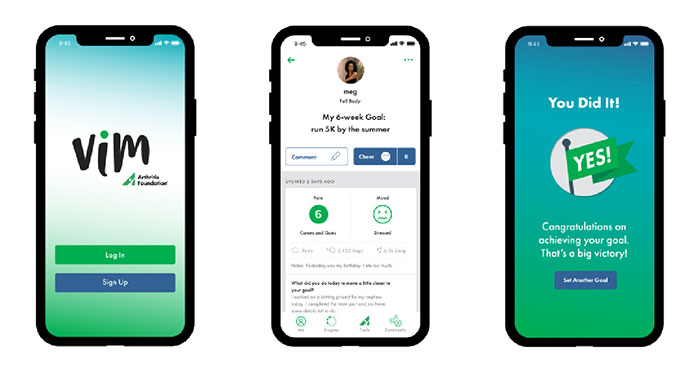 Made for You
Your daily tasks don't have to add to your pain. Check out the Ease of Use-certified products that make life easier for people living with arthritis.
Learn More
Find Your Yes
Connect with others who understand the pain of arthritis through the Online Community or virtual Connect Groups. Get ideas and share experiences.
Connect Now
Helpline
Our team of a licensed, clinical social worker and trained staff understand arthritis and are here to help you. Also available in Spanish and other languages.
Learn More
Partners in Chronic Pain Solutions
Special thanks to Supporting Sponsors who help people with arthritis win battles in their fight against chronic pain.
Learn More