2018 Annual Report: Connection Points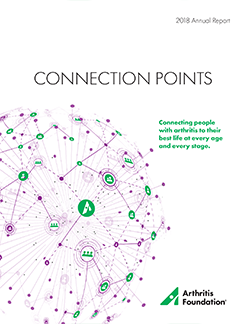 In the 2018 Annual Report, read stories of our Arthritis Warriors and how they have connected with us. We are connecting people with arthritis to their best life at every age and every stage. In 2018, we brought the Live Yes! Arthritis Network to life. Both in person and online, the arthritis community is coming together like never before.
Download a PDF of the 2018 Annual Report
2017 Annual Report: Past, Present and Future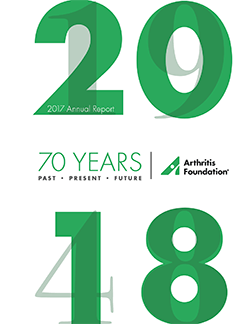 In this 2018 Annual Report, we take you from the past to the present and into the future. Through 70 years of distinguished service to the arthritis community, our influence and impact have been far-reaching and unstoppable. There are still tough challenges to tackle. But as always, we're forging promising, new paths to help conquer them. And we won't let anything get in our way.
Download a PDF of the 2017 Annual Report
2016 Annual Report: Confronting Challenges, Getting Results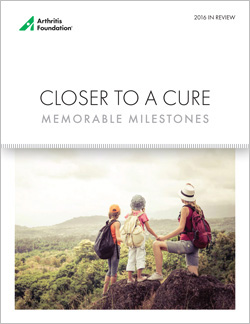 In 2016, the Arthritis Foundation achieved many memorable milestones to mark our ongoing journey toward curing arthritis. Fueled by generous volunteers, donors, partners and staff, we built upon our rich history – taking on the tough issues as Champions of Yes, gaining a deeper understanding of the challenges people with arthritis encounter, fine-tuning our strategies and measuring our impact. As we continue getting closer to a cure every day, reflect with us on how far we've come.
Download a PDF of the 2016 Annual Report