JA Camps
The Arthritis Foundation's JA camps give kids with arthritis and related childhood rheumatic diseases the chance to make lasting memories.
JA Camps
Helping Kids Say YES!
Arthritis Foundation camps are FUN, safe and secure for children and teens with juvenile arthritis and childhood rheumatic diseases. Campers make lifelong friends, gain a greater understanding of their own juvenile arthritis, increase independence and self-confidence, and discover new skills and interests. Our JA camps are medically supervised by health care professionals on site to tend to your child's needs.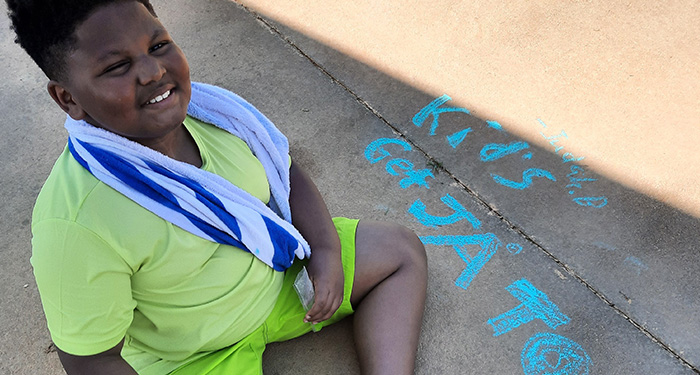 Volunteer?
Ever thought of being a camp counselor?
Being a counselor at JA Camp is FUN and rewarding! If you need volunteer, practicum or observation hours, this may qualify, and we can help! Click here to get started with your volunteer application.
Become a Volunteer
JA Camps Around the Country
[The JA camp] gave him confidence, taught him life skills, and helped him to know he is not alone. He made new, lifelong friends.
Mom of a JA Camper
JA Camp FAQs for Families & Volunteers
What goes on at JA Camp?
At JA Camp, our activities and schedule very closely resemble that of a traditional summer camp, but with adaptations that make our programming more accessible to campers with a wide range of needs. Some activities might include horseback riding, archery, arts and crafts, swimming, rock wall climbing, and high or low ropes courses. We also include special programming that we call intentionally set programming, which are activities that incorporate educational components and create positive change for our campers. This programming typically focuses on social, emotional, and mental health, improving physical health, and better experience of medical care.

What are the sleeping arrangements?
Most JA Camp facilities have cabins with bathroom/showers. Housing is separated by gender. Camp Counselors also reside in the cabins with campers.

When will the camps and dates be listed?
You can find our camp listings on the JA Camps Around the Country portion of this web page.

Is there transportation to and from the camps?
We currently do not provide transportation to or from JA Camp, but we will continue to assess this possibility on a camp-by-camp basis as needed and as is deemed safe by our medical advisory committee in relation to COVID-19.

What is the age range for campers?
For most camps, our camper age range is 8-17 years old. However, some camps welcome campers as young as 7, and some have a maximum age of 16. KATFISH and National Virtual Camp are exceptions to this.

Can a child with other non-rheumatic conditions still attend camp?
One of the requirements to attend camp is that the camper is diagnosed with juvenile arthritis or childhood rheumatic disease. A child may still be able to attend camp if they have additional health conditions, but this will likely warrant a discussion with the camp's medical director (or mental health director if the condition is a mental health condition). Whether or not a child with an additional health condition can attend camp is left to the sole discretion of the medical director (or mental health director) of the camp.

What is the cost of camp?
JA Camp is $25 for resident camp and $50 for a family of 4 for family camp. If you need assistance with this cost, please contact
[email protected]
.
How do I join a camp?
To join a camp, either as a camper or as a volunteer, you will need to register using the link below the respective listing in the JA Camps Around the Country section on this web page. Please note that the links are different for camper and volunteer registration. Once you have submitted your child's application, it will be reviewed by the medical and mental health directors of the camp you applied for, as well as our JA Camp Staff. If there are questions about your application, a medical team or staff member will reach out to you. Volunteers will also need to go through an interview and background check process.
How soon will I receive information on the camps after I register?
Please allow 2 to 4 weeks from the time you submit your child's registration application until you are notified. If you have any questions or have not heard back from us after 4 weeks, please reach out to
[email protected]
.
Want to apply to be a camp counselor/volunteer?
Ever thought of being a camp counselor?
Being a counselor at JA Camp is FUN and rewarding! If you need volunteer, practicum, or observation hours, this may qualify, and we can help! Click
here
to get started with your volunteer application.
National Supporting Sponsors
Thank you to our 2023 National JA Camps sponsors for making this memorable experience possible.
Connect with Us
Get the latest news and updates on our Juvenile Arthritis resources and events. Sign up by providing your information below.