RINVOQ™ Easy-Open Bottle
Taking your daily medication just got easier. With the easy-to-open RINVOQ bottle, joint pain doesn't stand a chance.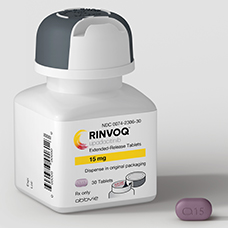 RINVOQ, developed by AbbVie, is a prescription medicine for adults with moderate to severe rheumatoid arthritis for whom methotrexate did not work well. RINVOQ's packaging is thoughtfully designed to improve ease of use for patients including a wide profile with easy-grip texture and an embedded tool to seamlessly puncture the foil liner.
Visit RINVOQ.com
Ease of Use Program
Products Proven to Make Life Easier
The Arthritis Foundation's Ease of Use Certification Program recognizes products proven to make life easier for people who have arthritis and other physical limitations. Independently tested by experts and evaluated by people with arthritis, Ease of Use products are easy to use for everyone.
Learn More About the Ease of Use Program