EZY-DOSE® Push Button Series Pill Reminders
EZY-DOSE is an easy open pill reminders for those who take medication for arthritis.
Product Description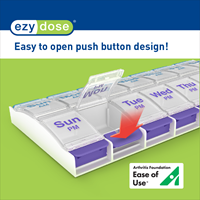 Easy to open, push button pill reminders allow consumers easy access to their medications without using excessive force to pull open a latch or lift up a lid of a pill container. Contour bottom for easy pill removal. The push button design is applied to numerous pill box designs including the 7 day, 14 day, and AM/PM models manufactured by Apothecary Products, Inc.
Reviewer Comments
"I can get 2 fingers in there - that's nice."
"It's nice, they come right up and it's big enough for your hand to fit inside."
"It's easy because it's curved."
"Good - easier to use! I like the inside. It's smooth and easier to remove the pills."
Ease of Use Program
Products proven to make life easier
Learn more about the extensive testing these products go through as well as tips for selecting easy-to-use products.

Learn More
Disclaimer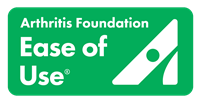 The Arthritis Foundation's Ease of Use Commendation Program recognizes products proven to make life easier for people who have arthritis and other physical limitations. Independently tested by experts and evaluated by people with arthritis, Ease of Use products are easy to use for everyone.
Stay in the Know. Live in the Yes.
Get involved with the arthritis community. Tell us a little about yourself and, based on your interests, you'll receive emails packed with the latest information and resources to live your best life and connect with others.