Safe Step Walk-In Tub
The Safe-Step Walk-in Tub has a step up less than 4 inches so you don't have to lift your feet to enter making for a comfortable and safer experience.
Safe Step Walk-In Tub
The Safe Step Walk-In Tub has a safer less than 4-inch step up so you barely have to lift your feet to get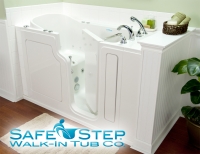 in. The wider door and easy-to-reach handles, together with the non-slip seat make this tub the perfect way to get back into the bath safely and easily. Offered with more standard features than any other tub, including carefully engineered dual hydro massage and air bubble jets—both strategically placed to target sore muscles and joints in your legs and back. Installation is included, we provide excellent service and the Safe Step Walk-In Tub comes with a lifetime warranty.
http://www.safesteptub.com/
Reviewer Comments
"It's much easier to get in and out – much safer too."
"Compared to my jet tub, this is a vast improvement – you don't have to step in, you can just walk in."
"I like the features, and its comfortable."
"It's easy to get in and out- the seat is the right height- it's easy to move the faucet handles and the showerhead."
Ease of Use Program
Products proven to make life easier
Learn more about the extensive testing these products go through as well as tips for selecting easy-to-use products.

Learn More
Disclaimer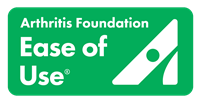 The Arthritis Foundation's Ease of Use Commendation Program recognizes products proven to make life easier for people who have arthritis and other physical limitations. Independently tested by experts and evaluated by people with arthritis, Ease of Use products are easy to use for everyone.
Stay in the Know. Live in the Yes.
Get involved with the arthritis community. Tell us a little about yourself and, based on your interests, you'll receive emails packed with the latest information and resources to live your best life and connect with others.