Flexon® Guard-N-Grip Hose Connector
Learn more about Flexon's leak-proof, easy to attach Guard-n-grip connector.
GuardNGrip
Flexon's patented Guard-N-Grip connector offers maximum connectivity with minimal connecting effort.
This unique and innovative hose connector provides a leak-proof connection to any outdoor faucet or spigot and is just as easy to remove as it is to attach. Designed with ease-of-use in mind, the Guard-N-Grip connector eliminates any need to use a wrench to connect the hose to the faucet. The Guard-N-Grip connector is designed for anyone to use regardless of age or physical strength. For more information visit
https://www.flexonhose.com
Reviewer Comments:
"Easier for somebody with less physical strength."
"I like the connector....looks durable and easy to use."
"It's an easier grip for someone who doesn't want to be bothered using a wrench."
Ease of Use Program
Products proven to make life easier
Learn more about the extensive testing these products go through as well as tips for selecting easy-to-use products.

Learn More
Disclaimer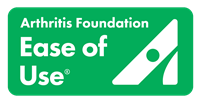 The Arthritis Foundation's Ease of Use Commendation Program recognizes products proven to make life easier for people who have arthritis and other physical limitations. Independently tested by experts and evaluated by people with arthritis, Ease of Use products are easy to use for everyone.
Stay in the Know. Live in the Yes.
Join the Live Yes! Arthritis Network. Tell us a little about yourself and you will receive emails packed with the latest information and resources to live your best life and connect with others.