Overcoming Cultural Barriers to Knee Surgery
With funding from the Arthritis Foundation, Dr. John FitzGerald seeks to increase access to knee replacement surgery for African American men
June 13, 2023
For people with arthritis,
joint replacement
can offer a dramatic improvement in quality of life. But research shows that African American men have knee replacements much less frequently than their white counterparts. This gap has remained unchanged for decades. Rheumatologist John FitzGerald, MD, PhD, MBA, a researcher and clinical professor of rheumatology at the UCLA David Geffen School of Medicine, is determined to understand this disparity.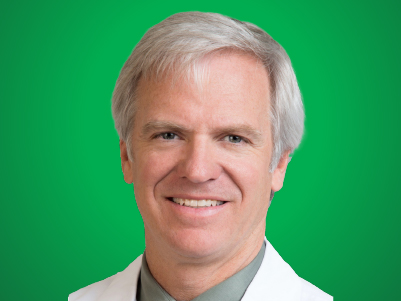 "Variations in patterns of care are often an opportunity to improve delivery of care," Dr. FitzGerald says. "However, that doesn't necessarily mean all groups of people should have the same rate of a procedure. Patient preference for more aggressive or more conservative care can affect utilization rates."
For years, Dr. FitzGerald has been studying the differences between individuals who choose to get a
knee replacement
and those who don't and to identify and break down the barriers to this life-changing surgery.

It's Not Just What You Know, But Who You Know
One of the challenges Dr. FitzGerald has identified through his research is the risk-benefit perception about knee replacement surgery among
African American men
, who tend to have a higher perception of the potential risks and a lower perception of the potential benefits.
One reason for that is when rates of treatment are very low in a community, people in that community are not exposed to others who've had those procedures. Dr. FitzGerald is interested in the phenomenon of "referential knowledge," where patients understand a treatment because it exists in their community and can naturally refer to others who may have experienced it.
"I think about the decision to have joint replacement as a contagious process," he explains. "Let's say you go to a family event or your place of worship, and your cousin or friend who has had knee replacement sees you limping and asks you why. When you explain it's your arthritis, that starts the conversation about their knee replacement, and for most patients, that's a good experience.
"With this direct (or referential) knowledge, a knee replacement is now something that's easier to understand or relate to because someone they know has had one. When you hear about knee replacement from someone you know, you are more motivated to consider it as an option. If there are not many knee replacements done in your community, then you are less likely to know someone and then less likely to consider the surgery," Dr. Fitzgerald says.
With
funding from the Arthritis Foundation
, Dr. FitzGerald has been working to increase understanding about the outcomes after knee replacements among African American men, hopefully creating a viral network of positive impressions. To accomplish this, he reached out to the WiserCare program, an educational decision aid that works through the electronic medical record system to break down misunderstanding and provide more accurate expectations.
You don't want to change people's preference, but you do want those choices to be made on good information.
Dr. John FitzGerald
What is WiserCare?
There are three components to the WiserCare program.
A patient portal that allows patients to investigate different treatment options and view their results at any time
A clinic portal that allows clinicians to view results from all patients who have used the portal
An authoring portal, which creates the infrastructure of the program
"Using this portal, we showed people how patients their age and gender did with joint replacements," Dr. FitzGerald explains. "We showed where those outcomes were, compared to where they had said they thought people would be. After that intervention, with the portal plus a video, patients changed their perception about joint replacement surgery."
Making Benefits Real
It is human nature to fear negative results, especially for people with chronic pain. Dr. FitzGerald found this to be the case with African American men reluctant to consider knee replacement surgery: Their fear of the pain was much stronger than their hope for the benefits. "There were misperceptions of risks, but what stood out most consistently were the lower expectations on the benefits."
For instance, clinicians asked patients to think about the procedure's pain and to anticipate the improved function after the procedure on measures like getting up and down from chairs, in and out of cars and walking. When compared to actual results, they found patients anticipated more pain than would actually exist and anticipated less improved function than they would actually receive.
With this intervention, Dr. FitzGerald and his team sought to increase the perceived benefit of the procedure while decreasing the fear of risks.
"We're trying to provide more information to reduce some of the uncertainty and provide a little motivation to explore joint replacement further," he says. "This data is also helpful for providers, to ensure they don't become reluctant to explore this as a treatment option just because the patient has reluctance."
A Single Step Can Make All the Difference
Deciding to have joint replacement surgery is a major decision; it involves consulting with your primary care physician and surgeon, as well as extensive consultations, insurance procedures and more. This process can feel overwhelming, and it tends to lead to inertia with patients and even clinicians.
Yet research shows that if people take one step toward a big decision, it dramatically increases the odds they will follow through. In this case, the WiserCare framework creates that first step in the form of a conversation.
WiserCare then advances the patient down the path. For instance, if an X-ray shows a patient might benefit from joint replacement, WiserCare automatically sends a message prompting the primary care provider to order one. The technology works in partnership with the provider and the patient to move people, one step at a time, toward a possible solution.
Because WiserCare includes so much data about positive outcomes, patients and clinicians can hear positive stories and see
positive results
, even if they haven't had a personal referral experience. "WiserCare is trying to give people that brother, uncle, cousin experience, without perhaps knowing somebody who has gone through joint replacement," explains Dr. FitzGerald.
For Dr. FitzGerald, the benefit of his research program is that action is built in: The program is designed to change people's beliefs and perceptions about knee replacement surgery and generate movement.
"The ultimate goal of this program is not more knowledge: It's more successful surgeries, more reduction in pain and more increase in function. That's what motivates me," he says.
Dr. FitzGerald is also grateful to the Arthritis Foundation for the funding that has allowed this program to move forward and start making a difference. Because it is a population-level program with technology that can scale up easily, he hopes it can grow.
Up next? He hopes for more projects, like this, that start to change beliefs and lead people down a path toward meaningful interventions.
Learn more about our DEI commitment and awardees.
Stay in the Know. Live in the Yes.
Get involved with the arthritis community. Tell us a little about yourself and, based on your interests, you'll receive emails packed with the latest information and resources to live your best life and connect with others.