Telemedicine Provides Healing and Hope for Rural Arthritis Patients
With funding from the Arthritis Foundation, Drs. Alfredo Rivadeneira and Rumey Ishizawar aim to improve care for patients in areas without a rheumatologist.
June 13, 2023

Having a rheumatic disease like arthritis can be a lonely experience for anyone. But it can be even more isolating and severe for individuals living in rural areas. In smaller, medically under-served communities, many patients have challenges accessing rheumatology care due to such barriers as distance to travel for care, limited transportation, lack of insurance, poor health literacy and/or language barriers.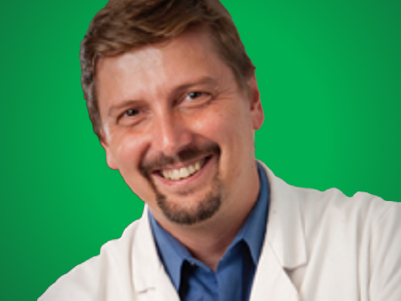 For Alfredo Rivadeneira, MD, and Rumey Ishizawar, MD, PhD, these are their people. Dr. Rivadeneira is a professor of medicine at the UNC Thurston Arthritis Research Center and director of the Therapeutic Infusion Center. Dr. Ishizawar, also at UNC-Chapel Hill, is an assistant professor of medicine and director of the rheumatology fellowship program.

The UNC rheumatology team has a guiding principle: "We treat everyone the same and give every person state-of-the-art care for rheumatology."

Unfortunately, every moment counts for patients living in under-served communities, where access to quality health care is a major challenge.

The Clock Is Always Ticking

Rheumatic diseases like arthritis are chronic, and rapid treatment is critical. "The sooner you diagnose them, the sooner you can start treatment, and the better outcomes you'll have," says Dr. Rivadeneira. But with limited specialists available and additional challenges accessing care, he says many patients' rheumatic disease is so advanced by the time they make it to the clinic in person that it has caused irreversible damage.

While systemic challenges are profound, the UNC rheumatology team has shown that medical and lifestyle interventions can have a positive impact for patients.
Taking care of under-served populations is our passion. We are committed to practicing medicine the way it should be, irrespective of a patient's background.
Alfredo Rivadeneira, MD
One Phone Call. Three Meaningful Changes.
With support from an Arthritis Foundation research grant
, Dr. Rivadeneira and Dr. Ishizawar have implemented a pilot program in rural North Carolina to provide quality rheumatology care through
telemedicine
.
Their goals are two-fold: 1) to improve access to rheumatology care for people living in medically under-served communities, predominantly Latinos; and 2) to empower community providers, like family physicians, to increase their comfort and skills in managing patients with rheumatic disorders like arthritis.
"The advantage of our care model is that the family physician does the physical exam," explains Dr. Rivadeneira. "Having a person's primary care doctor, who they know and trust, doing a more detailed evaluation makes a big difference in telemedicine, because the nature of rheumatology requires us to examine the patient and feel their joints."
The program consists of two key components:
A Telemedicine Consult
Consults are conducted via monthly clinic sessions, focusing on rheumatology patients who cannot access specialty care due to insurance, travel or other barriers.
The UNC rheumatology team provides a telemedicine consult with the patient, their local medical provider and a rheumatology specialist who is an attending physician — often an emerging rheumatologist fellow at UNC Chapel Hill. (The attending physician is the physician who has the major responsibility for a patient's care. Attending physicians have completed their training and often play an active role in the education of medical students, residents and fellows.)
Being able to include the participation of an on-site general practitioner is, to Dr. Rivadeneira, a unique aspect of this program. Prior research conducted at Thurston Arthritis Research Center by former trainee, Enid Sun, MD, MPH, and mentors Leigh Callahan, PhD, and Saira Sheikh, MD, showed that medically under-served rural patients were less likely to use health technology, including telemedicine and electronic health portals. Having patients participate virtually in rheumatology care with on-site general practitioners addresses many barriers, including transportation and health technology utilization. It also encourages comprehensive longitudinal care by involving their general practitioner.
Monthly Rheumatology Educational Sessions
Each month, rheumatology fellows in training or the attending physician teach sessions on key rheumatology topics geared to the community primary care provider. Dr. Ishizawar organizes these sessions with feedback from providers at Piedmont Health Services. Not only do these sessions deliver key rheumatology information to community providers but they also connect trainees to the community.
So far, the pilot program shows promising potential — improving patient outcomes, benefiting family physicians and inspiring the next generation of rheumatologists.
Improved Patient Outcomes
In follow-up surveys, patient feedback has been overwhelmingly positive on every measure.
The majority of patients said they felt the care they received through the telemedicine clinic consult was as good as an in-person visit, their concerns were satisfied and they would be happy to continue with this model.
Additionally, the telemedicine clinic model enables patients to be seen more quickly, when treatment can benefit the patient the most.
"Almost every patient in the program is seen within two to four weeks of their initial referral," says Dr. Rivadeneira. "That's very important because we know that without treatment, rheumatic diseases may shorten your lifespan and affect your quality of life because of pain and damage. Those are basic things we can help prevent."
And it's not just the speed that makes a difference. The UNC rheumatologists can provide treatments that might not be available locally. They work with patients to get them access to tests and specialty medicines that are unaffordable for many.
"We are fortunate to live in this time where we have multiple treatments that are very effective for rheumatic diseases," Dr. Rivadeneira acknowledges. "The sooner we start those treatments, the better chance to live a close to normal life and to have a normal life expectancy."
Benefits to Family Physicians
Although the benefit to patients is primary, family physicians who have participated in the consults also reported benefits. By conducting a physical exam of rheumatology patients under the guidance of a rheumatologist and by participating in medical histories and treatment recommendations, family physicians received real-time, supported training in providing care. As a result, Dr. Rivadeneira says, "Many now feel empowered to manage these conditions and have a much higher level of comfort in doing so."
"Providers are so enthusiastic about learning rheumatology," he adds. "They come to our clinic and shadow us. We can show them how we examine patients and other skills needed to care for patients with rheumatic diseases. We also provide them with didactic sessions on clinical rheumatology on a monthly basis. My vision is for this to become a permanent clinic that will be here long term. It's an important and valuable service we could provide to community clinics."
Inspiring the Next Generation of Providers
One of the most hopeful aspects of this project for Drs. Rivadeneira and Ishizawar is the fellows who participate in the program. These young doctors are coming up in a world where diversity, equity and inclusion are a core part of their education and practice.
"Fellowship trainees already come in wanting to practice medicine to help all patients, regardless of their socio-economic situations," says Dr. Rivadeneira. "They're very interested in caring for these under-served patient populations. It's gratifying to see so many of these young professionals excited about this type of medicine and being so eager to practice it in a caring and compassionate way."
Dr. Ishizawar says for fellows in training, this Arthritis Foundation-funded program is rewarding. "They get to share their medical knowledge in educational sessions with community providers and directly impact the care patients need through the shared care model. Our trainees want to make a difference, and this program provides an opportunity for us all to work together to strategize in providing rheumatology care to the rural community."
What's Next?
With the pilot program near completion, the UNC rheumatology team is working on a follow-up study focused on optimizing the educational program for primary care providers. The project is a qualitative and needs-assessment study to understand primary care barriers and opportunities for improving rheumatologic care. The goal is to build a model that is scalable and sustainable for other rural health care centers.
Learn more about our DEI commitment and awardees.
Stay in the Know. Live in the Yes.
Get involved with the arthritis community. Tell us a little about yourself and, based on your interests, you'll receive emails packed with the latest information and resources to live your best life and connect with others.