Best Exercise Equipment for Arthritis
There are different kinds of equipment you can use in your workout routine. Find the right equipment with these guidelines.
1. Best Exercise Equipment for Arthritis
Exercise equipment features can vary. No surprise, then, that some home fitness equipment is better suited than others for individuals with arthritis. To safeguard your joints and make your next workout even more effective, sports performance expert Marc Rabinoff, MD, physical therapist Carole Lewis, PhD, and personal trainer Gregory Florez offer these guidelines for features to look for when choosing exercise equipment.
2. Elliptical Trainer
Look for:
• A control panel that allows you to adjust incline and resistance (some models only have the former) to better customize your workout.
• More than one hand placement – ideally, a set of moving and a set of stationary handles – so you can adjust for both comfort and balance.
3. Elliptical Trainer
Look for:
• Wide foot placement pads that make it easier to adjust to a stance that's best for your balance and most comfortable or neutral on your joints. When you're standing upright and not in motion, if you can't see your shoes, the foot panels on the machine are positioned incorrectly for your frame.
Safety tip: Avoid pre-set programs as changing speed or incline too fast or unexpectedly can increase the risk of muscle and joint strain, as well as falling.
4. Stationary Bike
Look for:
• A recumbent bike. While you can use an upright bike if you have arthritis, a recumbent bike makes it easier to maintain proper posture. This results in less pressure on the spine and hip joints.
• A wide, cushioned seat that prevents an uneven distribution of weight on hip joints and sit bones, which can contribute to joint pain and irritation.
5. Stationary Bike
Look for:
• Variable controls so you can adjust your speed and resistance manually.
Safety tip: Skip straps on foot pedals because they encourage the use of the wrong leg muscles. Also, if you lose balance, you can't put your foot on the ground fast enough to prevent a fall.
Safety tip: Adjust the seat to the right height so when you extend your leg forward, there should be a slight bend in your knee. Ask a physical therapist or trainer to help you the first time.
6. Rowing Machine
Look for:
• A bar attachment, rather than individual cables. A bar is easier to hold, especially if you have arthritis in your hands or wrists.
• A machine that uses air or a fluid-filled chamber to create resistance. Machines that used stacked weights make rowing motions less smooth and tend to be less forgiving on the joints.
7. Rowing Machine
Safety tip: Start with the lowest resistance possible to avoid accidentally over-straining your muscles and joints.

Safety tip: Engage your core through the entire range of motion. Sit with an upright posture and a neutral spine, and keep your stomach and back muscles pulled in as you move.
8. Resistance Bands
Look for:
• Tube-like bands with handles on the end that are easier to grip and position than bands without handles.
• Bands with different resistance levels. Many are color-coded according to their resistance. You can determine if you're using the right level if you can do about 15 repetitions and the last few feel difficult, but not painful.
9. Resistance Bands
Safety tip: Run your finger up and down the band before you use it to check for a crack or rip that could tear apart during your workout.

Safety tip: Position the band securely to a stationary object.
10. Free Weights
Look for:
• Handles with rubberized grip are less likely to slip, easier to hold and, ultimately, kinder on hand, finger and wrist joints.
• Cuff weights that can be attached to wrists and ankles with Velcro are a good alternative if you have severe hand arthritis and find it difficult to grip a free weight.
11. Free Weights
Look for:
• Non-adjustable weights. Weight-adjustable dumbbell sets are convenient, but they require a lot of fine motor movement, which can be difficult for those with finger, hand or wrist arthritis.
Safety tip: Skip weights that don't have a handle or can't be attached around the wrists or ankles. They can make it especially difficult to maintain proper form while using them, which increases the risk of injury.
12. Exercise Ball
Look for:
• A high-quality ball made of thick rubber or plastic manufactured by a reputable fitness company. Cheap balls have been known to pop while people are using them, which can lead to serious injury.
• The right size ball. As a guideline, people under 5 feet 6 inches should choose a 55 cm ball; those 6 feet 2 inches and taller should choose a 75 cm ball, and those in between should choose a 65 cm ball. When you sit on the ball, your hips should be slightly higher than your knees.
13. Exercise Ball
Safety tip: Seek help from a physical therapist or trainer the first several times you use an exercise ball. Sitting on an exercise ball requires good balance and full mobility in your knees.
14. Protect Joint Health
Preserving flexibility, range of motion and muscle strength are important ways to protect joint health.
Jingle Bell Run
Be There With Bells On
Together, we'll jingle all the way to a cure! Let's champion arthritis research and life-changing resources. Bring a team of friends, family and co-workers to run or walk.
Register Today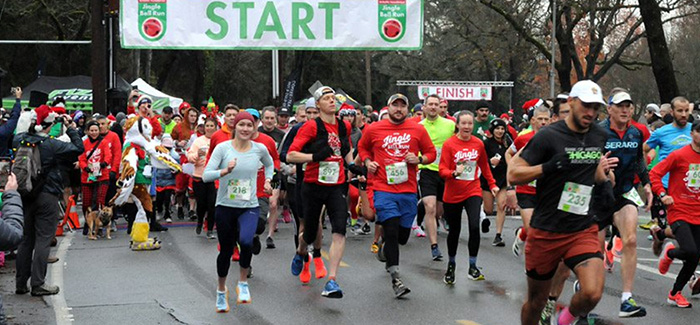 Stay in the Know. Live in the Yes.
Get involved with the arthritis community. Tell us a little about yourself and, based on your interests, you'll receive emails packed with the latest information and resources to live your best life and connect with others.