Saluting Dr. Richard Lartey
Meet Dr. Richard Lartey, who is using his math skills to help validate a new kind of MRI technology that measures the status of cartilage and soft tissues in OA and other joint disorders.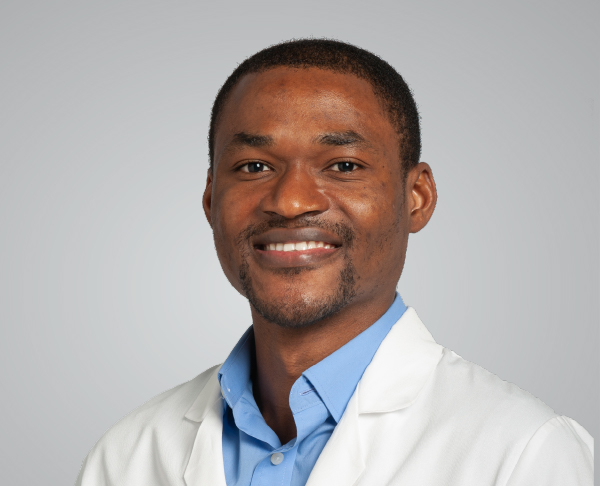 When Richard Lartey, PhD, first considered pursuing a career in mathematics, he wasn't thinking about the impact he might help make on solving one of the world's oldest diseases. But in his work today at Cleveland Clinic, his expertise with numbers is setting the stage for a better future for people who live every day with osteoarthritis (OA) pain.
Born and raised in Ghana in West Africa, Dr. Lartey (his name rhymes with latte, like the coffee drink) wanted to be a mathematician since he was very young. At first, he saw himself working in architecture, like his uncle did as a draftsman. "My uncle saw my talent and encouraged me to pursue a career in math," he recalls. "I didn't like reading as much as I liked math. There are absolute right and wrong answers in math. It's not subjective like in literature."
After earning his bachelor's degree in economics and mathematics from the University of Ghana, Dr. Lartey longed to be involved in something that had a far-reaching impact. One of his math instructors was focusing his work on cardiovascular medicine and mechanics. "My professor taught me that you can apply math alongside other fields and make a big impact on people's health," he says. That inspired him to explore new educational opportunities, leading him to Case Western University in Cleveland, Ohio, where he earned a prestigious degree of Doctor of Philosophy in Applied Mathematics in 2018.
Sports injuries got Dr. Lartey even more interested in providing solutions.
Dr. Lartey enjoyed basketball, soccer and running in his youth — and he still does. "I'm passionate about finding solutions for post-traumatic OA," he says. "Initially, none of my education was medical related. My colleagues have helped me bring out my best through my math.
"I work with clinicians, surgeons, computer programmers, statisticians, physicists, radiologists, people from all different backgrounds and expertise. This interdisciplinary approach brings us all together to find solutions that we couldn't find by ourselves."
Today, as a postdoctoral researcher at Cleveland Clinic, Dr. Lartey continues to contribute further to osteoarthritis research, led by his mentor, Xiaojuan Li, PhD, who has worked for many years with the Arthritis Foundation to advance OA treatments. Dr. Lartey has participated in the Foundation's groundbreaking OA Clinical Studies (OACS) forums in recent years.
Dr. Lartey is working to validate a new type of MRI (magnetic resonance imaging), called quantitative MRI, to help in diagnosing osteoarthritis and other joint disorders. A regular MRI can indicate how fast arthritis has progressed, which can help doctors recommend treatment options, like physical therapy, medications or joint replacement. But with quantitative MRI technology, Dr. Lartey is incorporating advanced math to allow researchers to measure the status of the cartilage and soft tissues in the area.
Dr. Lartey is working to make OA treatments more effective.
"A regular MRI allows you to see anatomical structures like bones, tendons and soft tissue, and it is more versatile compared to X-rays," explains Jason Kim, PhD, Arthritis Foundation OA research program director. "In quantitative MRI, we're assigning intensity values to cartilage quality, to see if it's soft and mushy and tell you how soft and how mushy."
"We've come a long way with this science and technology," Dr. Kim continues. "But we have to test to validate that the techniques can be reproduced across hospitals. It would be like if you discovered a new way to change oil in your car. You have to reproduce the new oil change method at three different shops with three different technicians.
"We need to confirm findings from place to place and control our variables for standardization. That's what Dr. Lartey and that whole team are finalizing. And we're making great progress. This is going to move us far ahead with more MRI technology."
Dr. Lartey wants to make a difference to help shape the future of arthritis. "I want to give patients a level of confidence that, if you get a second opinion, it's not going to be drastically different," he says. "Because there's a standard methodology that I have helped develop. Through my work with the Arthritis Foundation, I've helped watch over the process, contributing to the advent of personalized, precision-based treatments in the coming years."
RELATED CONTENT: