Volunteers Fuel Our Mission
Champion Award winners share why they are committed to the Arthritis Foundation.
By Allison Wilcosky | April 5, 2023
What does volunteering mean to you?
It seems like a simple question, but when you dig deeper, every answer is a gem — multifaceted and layered.
Much like our volunteers.
At the Arthritis Foundation, volunteers are key to our mission as we pursue pathways to a cure and to an improved quality of life. They power our ability to raise awareness of arthritis, advocate for people living with arthritis, raise funding to support research and more.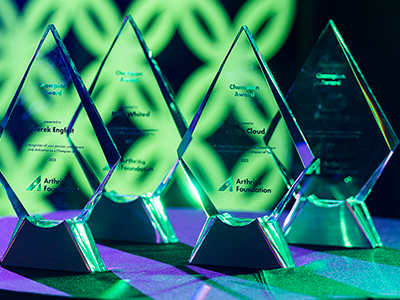 For National Volunteer Week, we asked our recent Champion award recipients what volunteering for the Arthritis Foundation means for them.
These four individuals, from Pennsylvania to California, are all committed to
helping the Foundation
help others.
"It's the one thing you can, aside from fundraising, know you have an impact on," Sarah Cloud shares about
advocating
for patients.
She and her family
were active advocates in Utah before moving a few years ago to Missouri, where they continue. "In Utah, we spent years never getting anything through. But knowing we had gotten meetings and people were paying attention, you still see the measure of success. We didn't get bills passed, but major employers took notice of what it was costing them."
Helen King
, of Pennsylvania, echoes the sentiment and, ultimately, how it impacts her.
"It's a little bit of taking that control back for me. That I can set goals, and whether it's a fundraising goal or having a Connect Group or going to Capitol Hill and helping a bill get passed, that's a little bit of taking my control back. And I think that's one of the things that I really appreciate about volunteering with the Arthritis Foundation. I think it's just so important to advocate for yourself."
Derek Engfelt of California appreciates the participants and volunteers of the
California Coast Classic
. "It's such a positive, uplifting experience. Someone who signs up for this ride is going to be so pleasantly surprised at the wonderful support they receive. The encouragements, there's no way to lose on
this ride
.
"We're here for a good cause and there's just something very special, very unique about the community. I mean, most bike riders that I have met are good people. I don't know if it's just cycling itself lends to that. You know, to be a cyclist, you've got to be disciplined, to be patient, and persevere. I mean all those qualities I think are widespread."
For
Mark Whited
of Ohio, the answer to why he volunteers is simple. "It's just in my DNA to want to help. And this is where I put my focus, where I want to help."
Mark is thankful for the small group of volunteers donating their time over and over again, as they've become a tight-knit group. But they're always looking to add more friends. He also thinks it's easy to show the impact of what they've contributed to the mission.
"If they're asking, you know, 'What would my impact be?' I would say, 'Come meet some people, especially at a Walk. Meet the folks that we're benefiting there because everyone's got a story that they love to share.'"
"The thing that I really like about the Arthritis Foundation is it still feels really small to me," says Helen. "There's this different way that the volunteers and the community deal with one another. It just feels like a family, you know? But we're big enough to make an impact."
Stay in the Know. Live in the Yes.
Get involved with the arthritis community. Tell us a little about yourself and, based on your interests, you'll receive emails packed with the latest information and resources to live your best life and connect with others.