Thriving With Arthritis Among the Clouds
As a family of three — all with arthritis — the Clouds work passionately to make a difference in the lives of millions with chronic conditions.
By Jill Tyrer

Every family has challenges. But for most, they aren't as life-altering — for better or worse — as they have been for Sarah and Mike Cloud and their son, Chris. By a quirk of fate and genes, each of them has a different form of arthritis.

Sarah has had 37 broken bones in her lifetime of playing sports, a hip fracture that cut short her military service, plus other mishaps. "I could walk on air and break something," she kids. She was warned early on that those injuries would likely set her up for osteoarthritis (OA), so she wasn't too surprised when she started having aches and pain when it rained or the temperature changed.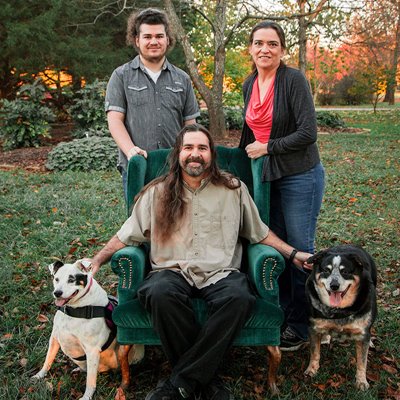 Chris's Diagnosis
The Clouds' first experience with inflammatory arthritis came when Chris, then about 12 years old, woke up one morning with severe pain in his leg. "I skipped school and got in a lot of trouble for that," recalls Chris, now 23. "And then about two days later, my parents noticed my knee was swollen to the size of a balloon." After nearly two years of misdiagnoses and wrong treatments, he says, "A doctor I go to for a completely different issue said, 'I think you have arthritis.'" That led to a quick diagnosis of enthesitis-related juvenile idiopathic arthritis (JIA) and treatment.

Like so many people, Sarah says, "We didn't know kids got this." The doctors in their rural Utah community hadn't seen it either. "I do know, because of Chris, other children in our valley were not misdiagnosed, because we were so vocal in the beginning."

Chris' JIA became common knowledge in their community, and a couple of years later he was nominated as an honoree of the Arthritis Foundation's local Jingle Bell Run. That launched the family's extensive involvement and volunteerism with the Foundation, including Juvenile Arthritis (JA) camp and the national JA Conference (now JA Family Summit).

Their first JA Conference was life-changing. "I try not to cry when I think about that one," Sarah recalls. "To walk into that hotel that day and see all those kids everywhere. My child was not in a wheelchair, he did not have braces, he wasn't on a cane, he wasn't limping, so right there we were 10 leaps ahead of the other families. But I was in tears because we had finally found people like us, and that meant the world to us."
Mike Finally Finds Answers
It was also one of these conferences that led to Mike's diagnosis. "I pretty much my entire life had back pain, swollen knees, swollen ankles," and other symptoms, he says. But he always chalked it up to his work in construction and other strenuous jobs.

At the conference, they were talking to a presenter about Chris' diagnosis when she asked, "Which one of you carries the gene?" The idea that it might be genetic led Mike back to his doctor, who ran tests and diagnosed him with ankylosing spondylitis.
Sarah's Journey
Sarah noticed around 2014 that her joint pain felt like something other than OA. Her back and hands gradually had become more painful and started going numb. She eventually had to stop driving buses for a living and was diagnosed with rheumatoid arthritis (RA). By then, though, she was already in college studying how to help herself and others navigate the health care system — something she already had plenty of experience with.

Sarah had been the teachers' union rep for her district when she learned she could get a free college education and earn her associate degree. When she spotted a "patient navigation" study track, she thought, "I can do that. I kind of already do that." It covered issues that her family had struggled with, from finding wrap-around care to understanding medical billing. She got an associate of business management in health care finance, and it has already paid off, such as when Mike was billed incorrectly for a series of MRIs.

The Clouds continue to be dedicated supporters of the Arthritis Foundation and the mission to help others live well with arthritis. Sarah and Chris have co-chaired Jingle Bell Runs; Chris was involved with JA camp; and Sarah helped build a parents network, served as advocacy chair in Utah until their recent move to Missouri and worked on planning committees for JA Conferences. She is also a Platinum Ambassador and serves on the Patient Leadership Council.

"The Arthritis Foundation has been rewarding. They're our people," Sarah says. "We've had our community of arthritis families and the Arthritis Foundation stands behind us every step of the way." Finding that community changed their lives, she says, and they want to help change the lives of others. "We don't ever want another family to have to go through the two lonely years we did thinking that nobody else's child has this."

Sarah's scaled back a little due to the move and taking on a new, more intensive job. "I had to prioritize. I had to ask, where can I make the biggest difference." She found that she could quickly zero in on where her passion was. "I love politics. I argued with congressmen when I was in high school. I've worked on campaigns, done the phone banks. That's always going to be my passion. We give everything, but up."

In 2023, Sarah received the Arthritis Foundation's Champion Award at the annual Pathways Conference. "I was speechless, and then I cried. It took a while to sink in that I actually won an award."