Emotional Effects of Systemic Juvenile Idiopathic Arthritis
A rare and serious subtype of juvenile idiopathic arthritis (JIA), systemic juvenile idiopathic arthritis (SJIA) can have serious effects on social and family life.
Systemic juvenile idiopathic arthritis (SJIA)
is a more severe form of
JIA
and can be challenging to diagnose and treat. It takes a toll on children's physical, social and emotional well-being. Understanding and monitoring the potential symptoms of SJIA is important for parents as these symptoms may come and go.
Click the infographic below to enlarge & download a pdf.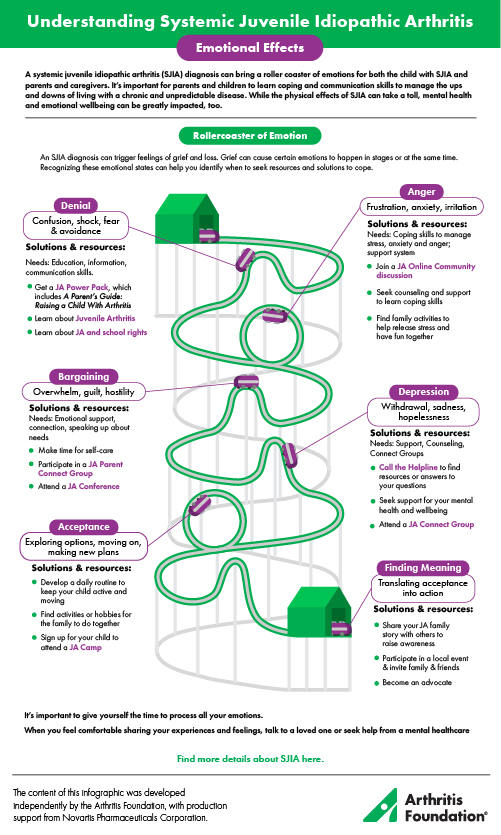 Emotional Effects of SJIA
Words of Wisdom: Advocating for Your Child With SJIA
Hear from the mother of a child with SJIA, Zulayka Martinez, and how she found the community and support she needed to make a difference in her child's life. Read how one family's journey to get a systematic juvenile idiopathic arthritis (SJIA) diagnosis led to the emotional strength and support they needed to thrive.
Juvenile idiopathic arthritis (JIA) is the most common type of arthritis in children and teens. Between 10% to 20% of children with JIA have a rare and serious subtype called systemic juvenile idiopathic arthritis (SJIA). Symptoms of this rare disease can include overactivation of a type of immune cells called macrophages (MAS), unremitting fever, liver and spleen enlargement, abnormal bleeding, central nervous system dysfunction and other potential complications. Read how one family's journey to get an SJIA diagnosis led to the emotional strength and support they needed to thrive.
Porter: "Don't Battle This Disease Alone"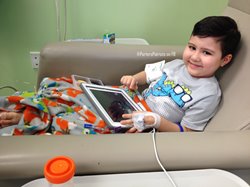 When he was just 2 years old, Porter's parents quickly realized something wasn't right. He started having a persistently high fever, up to 104 degrees. In just a matter of days, he grew very weak. And soon, everyday things like walking and feeding himself were difficult. Porter even stopped laughing because it hurt too much to take a breath. His unexplained stiff and painful joints, on top of severe lung inflammation, landed him in the hospital.
The process of diagnosing Porter's condition was grueling, says his mother, Rebecca Duman. Lab tests showed that his white blood cell count was elevated and climbing. He underwent ultrasounds, EKGs and MRIs. Porter's hospitalization also revealed that the extent of his inflammation was far greater than they knew, affecting his lymph nodes, many of his joints and the pericardium around his heart, where fluid had built up and led to chest pain and heart palpitations.
After first being misdiagnosed with Kawasaki disease, Porter was eventually and correctly diagnosed with the rare immune system disorder: systemic juvenile idiopathic arthritis (SJIA). "One of the reasons why it took so long to diagnose him was because he wasn't a 'textbook case,' as the doctors put it," says Rebecca. "He never had a rash like some children do with SJIA. Every SJIA kid is different."
Porter's inflammation increased so much that he was no longer able to move his neck. But after a high dose of steroids, he improved dramatically, almost overnight. Subsequent medications helped take the edge off, but some symptoms persisted. "All this inflammation made everything painful," says Rebecca. "From walking to bending his elbow to lying down to sleep."
Growing Up Quickly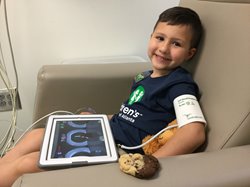 Porter's SJIA forced him to grow up very quickly. "I think it made him more resilient, brave and sympathetic at a young age," his mother says. "I know his illness weighs heavy on his heart. If you knew Porter, though, you would never know he had this disease."
For the past three years, Porter — now age 9 and in a gifted program at school — has been in remission, thanks to the medications he takes. His
504 school plan
allows him more time to complete writing assignments and tests, and it assists with his mobility when needed. He has made great friends who adjust to his limited pace. Porter loves to read, create comics, ride his bike and build with Legos or anything constructive. To help make interactions with others safer during the pandemic, the Duman family has greatly reduced public outings.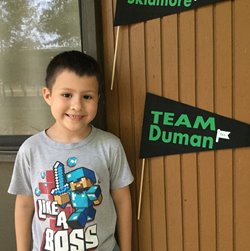 Their connection to other families dealing with SJIA comes from getting involved in Arthritis Foundation activities, like Walk to Cure Arthritis and JA Camp Ache Away in the Atlanta area where they live. "The support and friendships we have received from the Arthritis Foundation have been incredible," Rebecca says.





Open and Honest Communication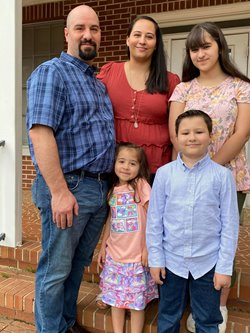 Rebecca says communicating openly and honestly with your health care team is essential. "Just be fully transparent with your doctor and health care team. Ask all the questions, whether you think they are silly or not. And be open to the answers given to you, whether you like them or not. Also, do your research. Doctors and nurses only give us a summary of what they know. When we leave the doctor's office, it is our job to continue the work at home so we can be better advocates for our children."
Porter wants other kids to know that having SJIA is "Hard at first, then you get used to it. Medications start working, and then you can do anything." He also wants other kids to know that "Doctors and shots can be scary but trust them to help you through it. And know there are kids, parents and doctors who understand what you're going through. We don't have to battle this disease alone."

—TONY WILLIAMS
This SJIA Spotlight Story was made possible with support from Novartis Pharmaceuticals Corporation.