Arthritis Today
Though publication of Arthritis Today magazine ended after the Fall/Winter 2020 issue, we remain committed to continue delivering the same great content to you in new and different ways. Below are a variety of useful resources, as well as ways to engage with the arthritis community and share your experience to help others live well with arthritis.
Online Community
Chat about what matters most to you. Offer support, get encouragement and share experiences and advice. The Arthritis Foundation's Online Community is here for you 24/7.
Learn More
Virtual Connect Group
There are others in your local community who understand. Connect virtually to make new friends, share tips and get answers and support.
Learn More
Share Your Experience
In just 10 minutes, your input shapes the lives of more than 54 million people with arthritis. Your participation influences local programs and research for better treatments and a cure.
Take the Survey
Latest Podcast
Body Image, Self Esteem & Arthritis
Learn how to foster a healthier body image to better care for your mental and physical health – despite the unpredictability of living with arthritis. Additionally, learn coping strategies for bad days, not only so you can have a better relationship with yourself, but also with those around you.
Listen Now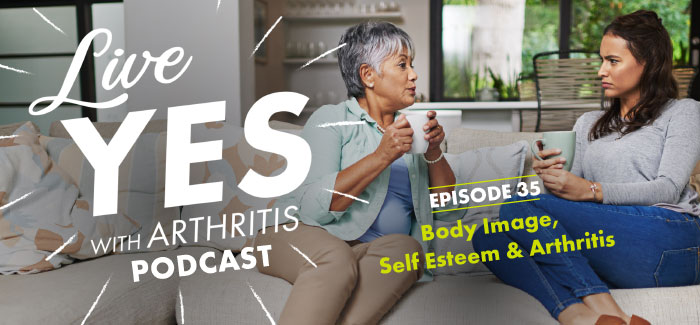 Stay Connected
Want to stay updated on new offerings from the Arthritis Foundation? Submit your name and email address.
Still have questions?
If you have additional questions, please contact our Helpline at 1-800-283-7800 or complete our online form.