Osteoarthritis Clinical Trial Network Members

Meet the Arthritis Foundation's outstanding investigators. Membership with the Osteoarthritis Clinical Trial Network is the engine driving the mission with cutting-edge research and thought leadership.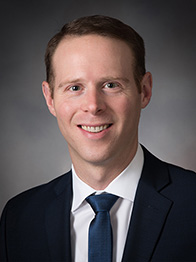 Austin Stone, MD, PHD
Austin V. Stone, MD/PhD, a knee and shoulder specialist with goals of treating musculoskeletal injuries and disease to restore an active lifestyle. Dr. Stone has conducted extensive research on the early mechanisms of cartilage and meniscus injury that lead to osteoarthritis.
Dr. Stone earned his medical degree from the University of Cincinnati College of Medicine. He completed his residency in orthopaedic surgery at Wake Forest School of Medicine in Winston-Salem, North Carolina, and a fellowship in sports medicine at the Rush University School of Medicine in Chicago. During his residency, he earned his PhD in molecular medicine and translational sciences with a focus on meniscal injury and osteoarthritis.
Cale Jacobs, PHD
Cale Jacobs, PhD is the Director of Research and Assistant Professor within the Department of Orthopaedic Surgery and Sports Medicine at the University of Kentucky. His research interests began broadly in exercise science and biomechanics, and have shifted toward testing an evidence-based biopsychosocial model where both the injury and pain coping behaviors are addressed in order to improve both short-term recovery and long-term joint health for those with musculoskeletal disorders.
Drew Lansdown, MD
Drew Lansdown, MD is an orthopedic surgeon who specializes in sports medicine and surgeries of the knee, shoulder and elbow. Dr. Lansdown's research interests include ACL injuries, rotator cuff tears, cartilage injuries, advanced MRI techniques to improve diagnosis and treatment for knee and shoulder conditions. He has served as an assistant team physician for the Chicago White Sox and Chicago Bulls.
Dr. Lansdown earned his medical degree at the University of Chicago Pritzker School of Medicine, graduating with honors. While completing a residency in orthopedic surgery at UCSF, he received the UCSF Exceptional Physician Award. He completed a fellowship in sports medicine and shoulder surgery at Rush University Medical Center.
Kurt Spindler, MD
Kurt Spindler, MD is the Vice Chairman of Research in the Orthopaedic & Rheumatologic Institute, the Director of Orthopaedic Clinical Outcomes, and the Academic Director of Cleveland Clinic Sports Health. Dr. Spindler is the founder of the Multi-center Orthopaedic Outcomes Network (MOON), an evidence-based medicine effort supported by the NIH. He also serves as grant reviewer for the NIH and chairman of the Grant Review Committee of the National Football League.
Dr. Spindler earned his MD at the University of Pennsylvania and remained at Penn to serve a General Surgery Internship, a year of Orthopaedic research and an Orthopaedic Surgery residency. He then completed a Sports Medicine/Orthopaedics fellowship at the Cleveland Clinic Foundation before going to Vanderbilt in 1991 as assistant professor of Orthopaedics and Rehabilitation.
Sharmila Majumdar, PhD
Sharmila Majumdar, PhD, is a UCSF Professor and is the Vice Chair for Research and Margaret Hart Surbeck Distinguished Professor in Advanced Imaging in the Departments of Bioengineering and Therapeutic Sciences, Orthopedic Surgery at UCSF and Bioengineering at UC Berkeley. Her imaging research is focused on magnetic resonance and micro computed tomography, and development of image processing and analysis tools. She currently heads an NIH Center of Research Translation focused on Osteoarthritis and Imaging.
Dr. Majumdar obtained her PhD degree in Engineering and Applied Science from Yale University in 1987.
Dr. Majumdar was selected as a fellow of the American Institute of Medical and Biological Engineers in 2004 and a fellow of the International Society of Magnetic Resonance in Medicine in 2008.
Virginia Kraus, MD/PhD
Virginia Kraus, MD/PhD has deep expertise in the design and implementation of molecular and protein assays in evaluating biochemical and inflammatory markers for osteoarthritis. She is a practicing rheumatologist with 20 years experience in osteoarthritis research.
Dr. Kraus is past president of the Osteoarthritis Research Society International (OARSI); In 2019, she was elected to the Association of American Physicians and awarded the Lifetime Achievement Award from OARSI. Dr. Kraus is Professor of Medicine, Pathology, and Orthopaedic Surgery, and a faculty member of the Duke Molecular Physiology Institute in the Duke University School of Medicine.
Xiaojuan Li, PhD
Xiaojuan Li, PhD develops fast, high-resolution, reliable and quantitative imaging techniques with advanced data analysis methodologies to improve clinical decision making for musculoskeletal diseases. Her work is well-funded by the NIH and industry, resulting in over 130 publications and several book chapters. Dr. Li is the Director of the Program for Advanced Medical Imaging and inaugural Bonutti Family Endowed Chair at the Cleveland Clinic.
She was recently elected to the 2019 American Institute for Medical and Biological Engineering College of Fellows, Before being recruited to Cleveland Clinic in 2017, Dr. Li was a Professor in the Department of Radiology and Biomedical Imaging at the UCSF. She earned her BS from Tsinghua University, China, and her PhD in bioengineering from UC Berkeley and UCSF.
Contact Us
Reach out to discuss working on a new or existing clinical trial project. We welcome your questions about the Osteoarthritis Clinical Trial Network (OA-CTN).