Osteoarthritis Clinical Trial Network Members

Meet the Arthritis Foundation's outstanding investigators. Membership with the Osteoarthritis Clinical Trial Network is the engine driving the mission with cutting-edge research and thought leadership.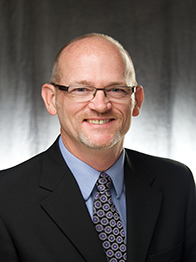 Donald Anderson, PHD
Donald Anderson, PhD, is a Professor of Orthopedics and Rehabilitation, Biomedical Engineering, and Industrial and System Engineering at the University of Iowa. He is the Vice Chair for Research and Richard and Jan Johnston Chair in Orthopaedic Biomechanics.
Dr. Anderson endeavors to utilize his expertise in engineering mechanics to answer scientific questions in a manner that not only adds to the understanding of musculoskeletal disorders but that can also be used to improve treatment. He employs the tools of image analysis, computer modeling, and computational stress analysis to objectively quantify phenomena hitherto only assessed subjectively. Dr. Anderson obtained his PhD degree in Mechanical Engineering from the University of Iowa.
Cale Jacobs, PHD
Cale Jacobs, PhD is the Director of Research and Assistant Professor within the Department of Orthopaedic Surgery and Sports Medicine at the University of Kentucky. His research interests began broadly in exercise science and biomechanics, and have shifted toward testing an evidence-based biopsychosocial model where both the injury and pain coping behaviors are addressed in order to improve both short-term recovery and long-term joint health for those with musculoskeletal disorders.
Morgan Jones, MD
Morgan Jones, MD, MPH, is a staff physician within Cleveland Clinic's Center for Sports Health. His specialty interests include sports injuries of the knee, shoulder, foot and ankle.
He has specific expertise in arthroscopy; complex knee reconstruction including cartilage resurfacing, osteotomy and ligament reconstruction; treatment of shoulder instability and labrum tears; and rotator cuff repair. His research focuses on cartilage injury and repair, meniscus injuries, bone defects and shoulder instability, and clinical outcomes of sports medicine conditions.
Dr. Jones provides coverage for area high school sporting events and is a former competitive swimmer.
Virginia Kraus, MD/PhD
Virginia Kraus, MD/PhD has deep expertise in the design and implementation of molecular and protein assays in evaluating biochemical and inflammatory markers for osteoarthritis. She is a practicing rheumatologist with 20 years experience in osteoarthritis research.
Dr. Kraus is past president of the Osteoarthritis Research Society International (OARSI); In 2019, she was elected to the Association of American Physicians and awarded the Lifetime Achievement Award from OARSI. Dr. Kraus is Professor of Medicine, Pathology, and Orthopaedic Surgery, and a faculty member of the Duke Molecular Physiology Institute in the Duke University School of Medicine.
Drew Lansdown, MD
Drew Lansdown, MD is an orthopedic surgeon who specializes in sports medicine and surgeries of the knee, shoulder and elbow. Dr. Lansdown's research interests include ACL injuries, rotator cuff tears, cartilage injuries, advanced MRI techniques to improve diagnosis and treatment for knee and shoulder conditions. He has served as an assistant team physician for the Chicago White Sox and Chicago Bulls.
Dr. Lansdown earned his medical degree at the University of Chicago Pritzker School of Medicine, graduating with honors. While completing a residency in orthopedic surgery at UCSF, he received the UCSF Exceptional Physician Award. He completed a fellowship in sports medicine and shoulder surgery at Rush University Medical Center.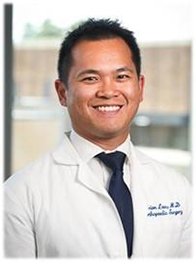 Brian Lau, MD
Brian Lau, MD is an orthopedic surgeon who specializes in sports medicine and surgeries of the knee, shoulder, and ankle. Dr. Lau's research interests include instability injuries of the shoulder, knee, and ankle including advanced imaging techniques to improve their management. He serves as a team physician for Duke Athletics and medical director of the FIFA medical center of excellence at Duke.
Dr. Lau earned his medical degree at the University of Pittsburgh School of Medicine, graduating with highest honors and induction into Alpha Omega Alpha. He completed a residency in orthopedic surgery at UCSF. He is dual fellowship trained in sports medicine and shoulder surgery at Duke University and a foot and ankle at Stanford University.
Xiaojuan Li, PhD
Xiaojuan Li, PhD develops fast, high-resolution, reliable and quantitative imaging techniques with advanced data analysis methodologies to improve clinical decision making for musculoskeletal diseases. Her work is well-funded by the NIH and industry, resulting in over 130 publications and several book chapters. Dr. Li is the Director of the Program for Advanced Medical Imaging and inaugural Bonutti Family Endowed Chair at the Cleveland Clinic.
She was recently elected to the 2019 American Institute for Medical and Biological Engineering College of Fellows, Before being recruited to Cleveland Clinic in 2017, Dr. Li was a Professor in the Department of Radiology and Biomedical Imaging at the UCSF. She earned her BS from Tsinghua University, China, and her PhD in bioengineering from UC Berkeley and UCSF.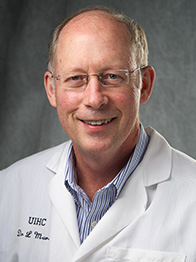 J. Lawrence Marsh, MD
J. Lawrence Marsh, MD, is the Chairman of the Department of Orthopedics and Rehabilitation. His clinical expertise encompasses a wide variety of fractures, bone infections, and post-fracture problems such as failure to heal and post-traumatic arthritis.
He has a variety of research interests in the assessment and treatment of fractures with emphasis on minimally invasive techniques, post-traumatic arthritis and fracture classification.
He was the president of the American Board of Orthopedic Surgery from 2015 to 2016 and completed his 10-year commitment with the board in the Fall of 2019. He was the president of the American Orthopedic Association and the Mid-America Orthopedic Association from 2014 to 2015. He is the past chair of the Orthopedic Residency Review Committee of the Accreditation Council for Graduate Medical Education.
Sharmila Majumdar, PhD
Sharmila Majumdar, PhD, is a UCSF Professor and is the Vice Chair for Research and Margaret Hart Surbeck Distinguished Professor in Advanced Imaging in the Departments of Bioengineering and Therapeutic Sciences, Orthopedic Surgery at UCSF and Bioengineering at UC Berkeley. Her imaging research is focused on magnetic resonance and micro computed tomography, and development of image processing and analysis tools. She currently heads an NIH Center of Research Translation focused on Osteoarthritis and Imaging.
Dr. Majumdar obtained her PhD degree in Engineering and Applied Science from Yale University in 1987.
Dr. Majumdar was selected as a fellow of the American Institute of Medical and Biological Engineers in 2004 and a fellow of the International Society of Magnetic Resonance in Medicine in 2008.
Brian Pietrosimone, PHD/ATC
Brian Pietrosimone, PhD/ATC is an Associate Professor in the Department of Exercise and Sports Science. Dr. completed his Masters in Athletic Training and his Doctorate in Sports Medicine at the University of Virginia in 2006 and 2009, respectively.
Dr. Pietrosimone's research seeks to decrease disability related to knee injury with a focus on maximizing long-term joint health following traumatic joint injury. Much of his research has evaluated the neuromuscular mechanisms related to disability following lower-extremity joint injury. Additionally, he has sought to develop novel intervention strategies to treat neuromuscular impairments and improve clinical outcomes. His future projects look to evaluate how measures of joint metabolism interact with early biomechanical changes following traumatic knee injury for the purpose of minimizing the risk of posttraumatic osteoarthritis development.
Jeffrey Spang, MD
Jeffrey T. Spang, MD is an Associate Professor at the Department of Orthopaedics at the University of North Carolina. His clinical interest is in sports medicine, especially primary and revision ACL reconstruction. Dr. Spang is a member of research groups developed at UNC and North Carolina State University and also an ACL- injury/Post-traumatic arthritis research group at UNC. He is an team physician for multiple University of North Carolina sports, including UNC football, UNC men's lacrosse, UNC gymnastics and UNC field hockey.
Dr. Spang graduated from medical school at the Wake Forest University School of Medicine, completed his general surgery internship at Temple University and his orthopaedic residency at the University of North Carolina. He completed a sports medicine fellowship at the University of Connecticut and a research fellowship at the Technical University of Munich in Munich, Germany.
Kurt Spindler, MD
Kurt Spindler, MD is the Vice Chairman of Research in the Orthopaedic & Rheumatologic Institute, the Director of Orthopaedic Clinical Outcomes, and the Academic Director of Cleveland Clinic Sports Health. Dr. Spindler is the founder of the Multi-center Orthopaedic Outcomes Network (MOON), an evidence-based medicine effort supported by the NIH. He also serves as grant reviewer for the NIH and chairman of the Grant Review Committee of the National Football League.
Dr. Spindler earned his MD at the University of Pennsylvania and remained at Penn to serve a General Surgery Internship, a year of Orthopaedic research and an Orthopaedic Surgery residency. He then completed a Sports Medicine/Orthopaedics fellowship at the Cleveland Clinic Foundation before going to Vanderbilt in 1991 as assistant professor of Orthopaedics and Rehabilitation.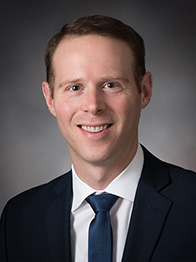 Austin Stone, MD, PHD
Austin V. Stone, MD/PhD, a knee and shoulder specialist with goals of treating musculoskeletal injuries and disease to restore an active lifestyle. Dr. Stone has conducted extensive research on the early mechanisms of cartilage and meniscus injury that lead to osteoarthritis.
Dr. Stone earned his medical degree from the University of Cincinnati College of Medicine. He completed his residency in orthopaedic surgery at Wake Forest School of Medicine in Winston-Salem, North Carolina, and a fellowship in sports medicine at the Rush University School of Medicine in Chicago. During his residency, he earned his PhD in molecular medicine and translational sciences with a focus on meniscal injury and osteoarthritis.
Contact Us
Reach out to discuss working on a new or existing clinical trial project. We welcome your questions about the Osteoarthritis Clinical Trial Network (OA-CTN).