A Calling to Heal
The Rev. Dr. Teoma Loeb helps people improve their health, with faith at the core.
By Jill Tyrer | Feb. 20, 2023
As both a minister and a physical therapist, the Rev. Dr. Teoma Loeb is an inspirational leader and a healer, and she's committed to helping African Americans overcome
health disparities
.
"Research shows that we have the highest rates of heart disease, the highest rates of diabetes, stroke, and that we die at the highest rates from certain types of cancers," she says. Her focus is to address those disparities "from a physical therapy lens."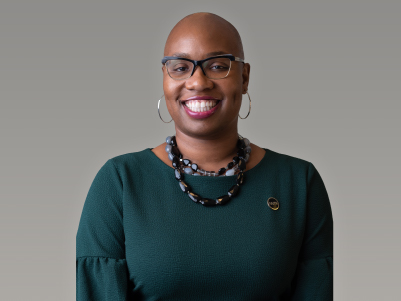 After earning a Master of Physical Therapy degree from Howard University in Washington, D.C., she pursued her Master of Divinity from the Candler School of Theology at Emory University in Atlanta, simultaneously completing her Doctor of Physical Therapy at Alabama State University in Montgomery. She is now a physical therapist and founder and owner of BodySoul Community Wellness and Physical Therapy, Inc. in Oakland, California.
She works with individuals, including many with arthritis, and teaches
wellness
classes to help African Americans improve their overall health. Exercise is a big part of that, especially for those with arthritis, as she explained during a
Live Yes! With Arthritis podcast
, in an episode titled, "
Benefits of Physical Therapy
."
"
Exercise
is going to be your best medicine," she continues. "It will improve your mental health and quality of life. Because pain just changes your mood. It increases stress in your body. It makes people irritable and depressed. When their pain decreases, my clients feel invigorated again. They feel like they're thriving again. And that makes all the difference in the world."
Commitment to Health Equity
As an African American, it hit home when she was in school studying health and disease that
Black Americans
have higher rates of many chronic diseases. That includes arthritis — and Black Americans are less likely to get prompt and effective care or pain relief.
"You start reading all these articles and facts that we're doing the worst in all of these [health] categories," she says. "You're like, 'How can I be of assistance now that I'm in the health care field?'"
Her solution: bring physical therapy and health education to African Americans where many of them gather — in churches and community centers.
"Historically, the Black church has been a site of community wellness and a place where African Americans have gone for political reform, for social change, for resources, just to come together," she says. "It's still a place to go for support. If the church has been a place for change for African Americans, why not let it be for reasons of physical health?"
Rev. Loeb is committed to making sure clients' spiritual needs are considered as they receive physical therapy. That means asking them if there is anything they can't do or any special requirements they have because of their faith. Some people, for example, are not allowed by their faith to receive treatment in the same space as people of the other sex, she explains.
"Research shows people want their providers to have some understanding of what their faith practices, their spiritual practices, are, so if something comes up, it can be addressed versus the patient having to say, 'This is what I need.'"
Although she has worked for years with individual clients, she is focusing now on educating, where she reaches more people. She lectured recently to students in Duke University's physical therapy program on the intersection of faith and health in physical therapy.
More common are the health promotion classes she teaches to groups of people in churches and community centers, like one she presented on "The Leading Causes of Life." The focus often is on the leading causes of death, she explained. This, instead, focused on "what are the things I can do that enhance life instead of focusing on avoiding the things that lead to death?"
In March, Dr. Loeb will bring her message to the Arthritis Foundation's
Pathways Conference
, where the title of her keynote address is "Walk in Your I Am!"
Stay in the Know. Live in the Yes.
Get involved with the arthritis community. Tell us a little about yourself and, based on your interests, you'll receive emails packed with the latest information and resources to live your best life and connect with others.