If at First You Don't Succeed, Keep Trying
Sachi Arya climbs mountains, literally. But everyday tasks can seem like a mountain to people who are hurting from arthritis pain. And everyone's mountain is different. Sachi offers encouraging words to help you climb yours.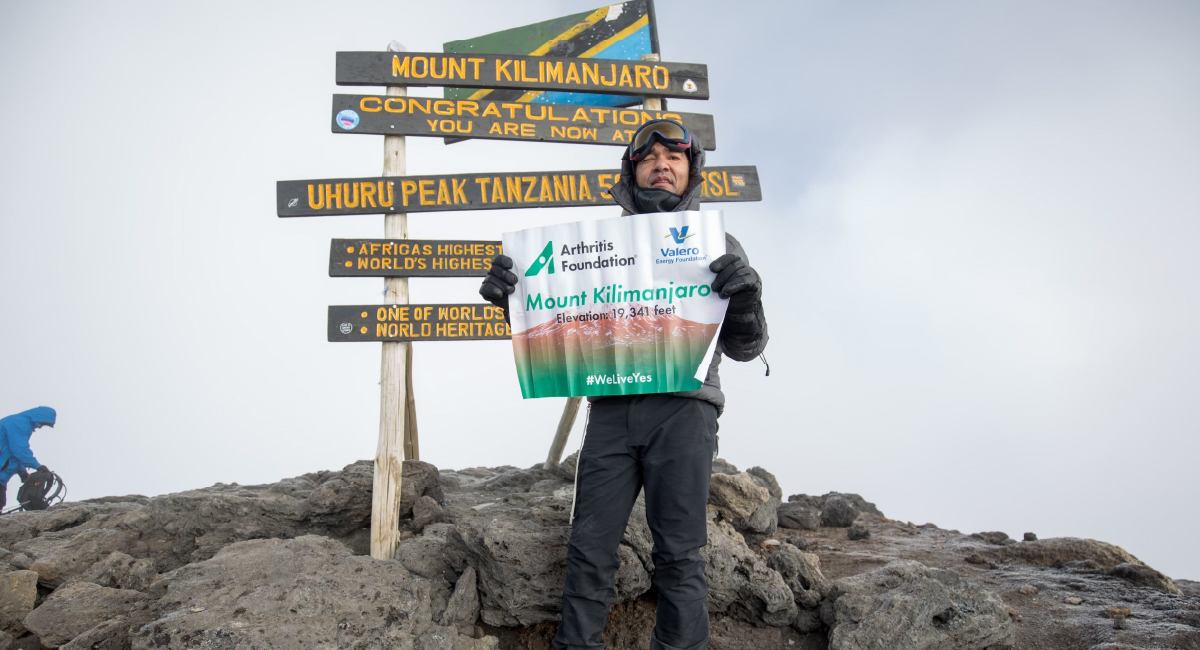 Sachi Arya was diagnosed with painful osteoarthritis (OA) in both knees in his early 40s. At first, he couldn't believe it. "No way do I have arthritis," he thought. "That's an old person's disease." When his diagnosis was confirmed by multiple MRI scans, he refused to give in.
One doctor told him: "You're not trying to climb mountains, so it's no big deal. You'll be OK." That's all it took for Sachi to rise to the challenge. Because mountain climbing was exactly what he wanted to do.
He rejected other possible treatment options for his pain, such as steroids, stem cell injections and joint replacement surgery, fearing further complications and uncertain benefits. "The only thing that benefits me is exercises and keeping my lower body muscles strong and active," he says.
In the following years, Sachi successfully climbed dozens of mountains to prove to himself that he can do it, despite his OA — including Mount Rainier and Mount Everest Base Camp. A year ago, he scaled Mount Kilimanjaro in Tanzania, the world's tallest free-standing mountain at 19,300 feet, in a Do-It-Yourself fundraiser to raise money for arthritis research and resources, with an Arthritis Foundation sign in hand.
The Next Challenge
In January 2022, Sachi climbed Aconcagua in Argentina, the highest mountain outside the Himalaya range in Asia at 22,800 feet. Soon after, he began training for his next journey: reaching the summit of Lenin Peak, on the border of Tajikistan and Kyrgyzstan, at more than 23,000 feet. It's the second highest point in both countries and the highest he had ever attempted to climb.
Since the beginning of this year, Sachi worked hard for several months to prepare for his next venture. To build his strength, he used weights. "I must account not just for the weight of my backpack, but the weight on my ankles. When I climb, I'm wearing a double boot with steel crampons, constantly lifting my feet and bringing them back down. I added five pounds to each of my ankles in training."
He also introduced stretching exercises, realizing the importance of not just strength training but endurance training as well, especially because oxygen levels drop as climbers go higher, causing altitude sickness. He uses devices that help him climb, like compression sleeves, a prescription knee brace, orthotics for stabilization and various hiking tools.
Everything was going well until Sachi arrived at his destination in late July and was diagnosed with COVID at his first campsite. He got infected during his flight and had to be evacuated back to the United States.
"It was such a bummer," Sachi says. "I was all set to do it again. But I'm still looking forward to accomplishing my next goal in the not-too-distant future.
"This just goes to show you that unknown obstacles can happen along the journey of reaching your goals. So, you just have to pick yourself back up and try again. Don't give up."
You Have Your Own Mountains to Climb
Sachi is the first to tell you that mountain climbing isn't for everyone. "For me, climbing mountains has motivated me. I wanted to be active for a change, after just sitting around for so long and doing nothing physically. I needed to get my mind and body into shape. Climbing mountains is how I push myself.
"Whatever your mountain is — whether it's getting out of bed each morning, getting dressed, walking around the block, whatever it is — your mountain is yours to climb. So, go for it."
An information technology data analyst, Sachi has become so committed to the quest to conquer arthritis that he joined the Arthritis Foundation's local leadership board in San Antonio. He learned a lot about effectively managing his disease from the Foundation's website and has enthusiastically used our Vim pain management mobile app to help him reach his goals and connect with other arthritis patients and caregivers.
"Managing arthritis pain isn't easy, but you can do it with the right tools and resources, like the Arthritis Foundation provides," Sachi says. "Plus, you can get the emotional support of others who are going through similar challenges in their own journeys."
He says that one of the greatest rewards from his pursuits is inspiring friends and family to hike and learn to be active. "If I can motivate just one other person to live a fuller life, I've reached my goal."
He concludes: "Whatever mountain you're trying to climb, even just conquering the pain and everyday hurdles you face, you can do it. Just give it a try."
Learn how you can get involved to help support the arthritis community.
Stay in the Know. Live in the Yes.
Get involved with the arthritis community. Tell us a little about yourself and, based on your interests, you'll receive emails packed with the latest information and resources to live your best life and connect with others.