JA Camp Changed Erin's Life
Kids and teens gain self-confidence and make lifelong friends at JA camp.
By Anthony Williams | March 14, 2023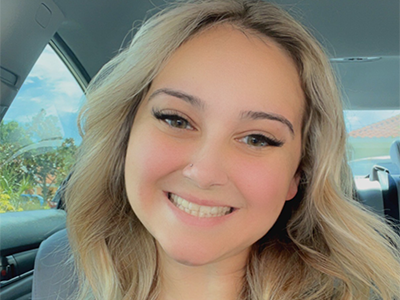 Arthritis Foundation
Juvenile Arthritis (JA) Camps
have been around for a while. It's great to hear back from past campers about the difference our camps have made in their lives. Your camper can also reap the benefits this summer!
A past camper who recently shared her story is Erin Zehm, who joined our
Camp M.A.S.H. (Make Arthritis Stop Hurting)
in Wisconsin for nine years. Erin, now 21 and living in Florida, says JA camp was the best thing that could have happened to her. Today, Erin is a student at Keiser University in Tampa — studying biomedical sciences with a pre-med track. She works as an emergency medical technician (EMT) and teaches cardiopulmonary resuscitation (CPR) and advanced cardiac life support and pediatric advanced life support classes.
Erin was diagnosed with
juvenile rheumatoid arthritis
at age 7 with swollen knees. "My diagnosis was relatively quick, compared to others, after seeing a pediatric rheumatologist at Children's Hospital in St. Paul, Minnesota," she says.
My first year at Camp M.A.S.H., I was very homesick," Erin admits. "I'd never spent more than a day or two from home before that. But it quickly went away when I was able to interact with the other girls around me who were going through the same thing. It was a life-changing experience for me."
Like many of
our camps,
Camp M.A.S.H. is a weeklong recreational program planned specifically for kids with JA and other rheumatic diseases. There's fishing, swimming, archery, arts and crafts, plus more activities and togetherness. We provide a medical team ready to stand-by for any special needs.
"Camp M.A.S.H. shaped who I became," Erin continues. "It helped me become more involved in my medical care and decisions. It helped me become a more confident person. And I learned how to advocate for myself. JA camp introduced me to my best friend. And created so many lasting memories and laughs that I cherish."
Look into our
JA Camps
for a life-changing experience like Erin had. Sign up today before registration runs out.
One of the most powerful things you can do to help others living with arthritis is share YOUR story. Your lived experience can help someone feel like they are not alone. Whether you're newly diagnosed or a 20+ year arthritis long-hauler, or maybe you're a caregiver who has a loved one with arthritis, share your Story of Yes.