Future Pediatric Doctor Wins Arthritis Scholarship
Apply for a 2023-24 college scholarship, like juvenile arthritis patient Tori Chellis, who received a scholarship a year ago to pursue a medical career in pediatric oncology.
By Anthony Williams | Feb. 15, 2023
Every year, the Arthritis Foundation awards $5,000 in college scholarships to deserving students who have arthritis or a related rheumatic disease.
Recipients are considered based on their arthritis challenges and achievements, their impact on the arthritis community and their educational and professional goals. They serve as positive role models and leaders, living their best lives while empowering others to do the same.
The application period for the 2023-24 term is now closed.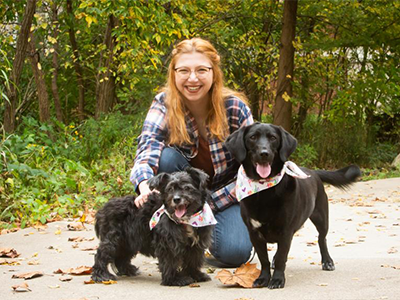 Among 20 recipients of 2022-23 Arthritis Foundation Champions Scholarship awards was
Tori Chellis
, who is studying to be a medical doctor.
Note: The subject of this story prefers to use the neopronouns "fae" (similar to the use of the pronoun "she") and "faer" (similar to the use of the pronoun "her").
Growing up with
juvenile arthritis,
Tori has found
adjusting to college life
more challenging than expected. Transitioning from childhood to adulthood has been an eye-opening experience.
"My arthritis has probably been the most difficult thing I've ever had to deal with," says Tori. "It's hard to feel like anything is stable or doable when your body tries to stop you." Since turning 18, new responsibilities Tori has taken on include scheduling health care appointments, staying on top of medications and handling
insurance claims, denials and appeals.
Living away at college, which is a 90-minute drive from home, has added to those challenges. "It just goes on and on and on. I find myself calling my mom a lot."
Fortunately, Tori, who will soon turn 20, has made some incredible friends to help out. "They've picked up on when I need help. Instead of waiting for me to ask for help, they offer it to me and have continued doing this. They'll fill up my water bottle or carry something for me. My choir director let me use a chair for our concerts." Tori says fae has also started asking for help when needed.
Currently attending the College of Wooster in Ohio, one of the most prestigious small liberal arts colleges in the Midwest, Tori wants to go to medical school and earn a Doctor of Medicine degree, specializing in pediatric oncology. "I don't see the hospital as a scary place despite being there a lot with my arthritis. I see it as a friendly place. And I want to help other kids see it that way, too. To bring a smile to their face while they are suffering and bring a little more hope into their lives."
Tori has also poured faer heart into bringing more hope to people battling arthritis. Fae has supported the Arthritis Foundation's work in faer community, raising thousands of dollars through
Jingle Bell Run
and
Walk to Cure Arthritis,
as well as the
Classic Auto Show & Cruise-In
fundraiser in Dublin, Ohio. In addition, Tori has served on the Foundation's
advocacy
committee, allowing faer to speak to elected representatives about how arthritis has affected faer and millions of other people of all ages.
"The more I come to understand this disease," Tori says, "the more I want to say something about it. And the more I want to fight it."
These awards are generously funded by Dr. and Mrs. Walter J. Winterhoff and Dr. Smriti Bardhan. Between 2010 and 2022, this program has supported dozens of college students through a total of $845,000 in awards.
Scholarship reviewers include members of the Arthritis Foundation's national and local leadership boards, higher education experts, health care providers and past scholarship recipients. The selection process is blind, so applications are reviewed anonymously.
For any questions about the Arthritis Champions Scholarship program, email
[email protected]
.