Bringing Color to Rheumatology Education
DEI award winner Angela Chun, MD, focuses on helping physicians recognize rheumatic rashes on different skin tones.
By Vandana Suresh | Sept. 28, 2023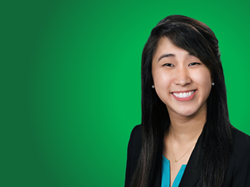 Much like in a painting where strokes of the same color can look different depending on the hues of the background, rashes can appear very different depending on a person's skin color. Consequently, a lack of diversity in images displaying skin conditions in medical textbooks can put racial and ethnic populations at risk for delayed or improper care.
To bridge this medical education gap, the Arthritis Foundation has presented a diversity, equity and inclusion (DEI) award to Angela Chun, MD, a pediatric rheumatologist practicing at the time at Texas Children's Hospital with Baylor College of Medicine. (She recently moved to Lurie Children's Hospital with Feinberg School of Medicine at Northwestern University.) With the Foundation's support, she will develop four interactive online modules focused on the appearance of rheumatic rashes in children with different skin pigmentation.
"I want to focus on the red flags during a history and physical exam that should make a physician suspicious of rheumatic disease and on the initial steps to take if you can't easily get hold of a pediatric rheumatologist," says Dr. Chun.
In addition, she will divert a portion of the grant toward rheumatology training for five visiting residents and medical students at Texas Children's Hospital.
Medical textbooks and online image databases have been recognized to be biased, with lighter skin tones representing 74.5% of the images. Although these disparities are starting to be recognized and addressed, many medical students and practitioners still feel underprepared to recognize the spectrum of skin rashes in patients with darker complexions. This problem extends to pediatric rheumatology, a field with many visual diagnoses, notes Dr. Chun.
"We would see patients with rashes very suggestive of rheumatic disease. However, when you spoke to the family, they would often describe a long medical journey, with multiple providers misdiagnosing the rash," she says. "Or I would get a call from the residents who would recognize the typical location of a rheumatic rash but would feel uncertain and say that the rash looked different from what they expected because of a mismatch between what they learned in medical school and what they observe in practice."
Dr. Chun, who also has a master's degree in education, designed a three-day virtual interactive workshop for pediatric residents at Texas Children's Hospital to help them recognize rheumatic rashes and initiate an appropriate laboratory and imaging evaluation after the visual diagnosis.
"I was pleasantly surprised by how well it was received and gained valuable insight from the residents," says Dr. Chun. "In a pre-survey, about a third of them said that they have had formal teaching in pediatric rheumatology. But even so, most of them rated their comfort with rheumatology as two out of five. This told me that there is a need not only for dedicated pediatric rheumatology education but also for repetition."
The workshop's success prompted Dr. Chun to apply for a DEI grant from the Arthritis Foundation. Her goal is to take the materials from her workshop and develop it into a formal online curriculum. This time, however, she plans to use the funding to create four stand-alone online modules, each covering the visual presentation of juvenile idiopathic arthritis, lupus, juvenile dermatomyositis and systemic sclerosis on different complexions. The modules will be offered virtually to practitioners all over the U.S.
As a bottom-up approach to diversifying the rheumatology workforce, Dr. Chun and co-principal investigator Andrea Ramirez, MD, fellowship program director at Texas Children's, will also use the Foundation grant to train selected under-represented residents and medical students by offering them either an in-person clinical or a research rotation with the pediatric rheumatology department at Texas Children's.
"At the Foundation, we are deeply committed to supporting DEI endeavors that will help close the gap in the rheumatology workforce and care for underserved communities," says Maria Vassileva, PhD, senior vice president of science strategy at the Arthritis Foundation. "Dr. Chun's efforts are exactly in that direction; her educational workshops and efforts in workforce diversification will go a long way in helping doctors within local communities diagnose rheumatic diseases sooner so that patients can receive correct care."
Stay in the Know. Live in the Yes.
Get involved with the arthritis community. Tell us a little about yourself and, based on your interests, you'll receive emails packed with the latest information and resources to live your best life and connect with others.