The Other 80 Percent: Treating Children Is More Than Medicine
With funding from the Arthritis Foundation, Dr. William Soulsby is working to understand the complex dynamics that affect how people from different racial, social and economic backgrounds respond to arthritis treatment.
June 9, 2023

The image of children living with arthritis is often first one of shock (yes, children get arthritis, too). Then of pain. But for William Soulsby, MD, a pediatric rheumatologist at the University of California, San Francisco, his inspiration is not fighting pain but finding joy, nurturing the spirit of the children he treats and the possibility of enriching their lives in ways that did not seem possible just a generation ago.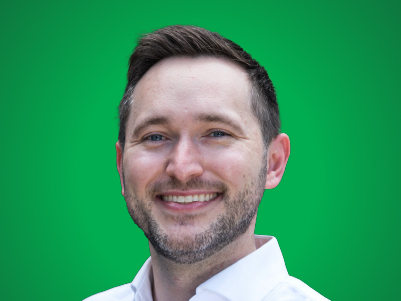 Arthritis is commonly thought of as a disease that affects only older people. But nearly 300,000 children live with arthritis. Although arthritis in children once meant a lifetime of debilitating pain and progressive loss of abilities, advances in science and new medicines have changed that.

Dr. Soulsby reflects on one of his young patients with polyarticular JIA, a disease similar to adult rheumatoid arthritis:

"When I first met her, she couldn't hold a pencil, use scissors or do many things that are really important as a 5-year-old. With treatment, she now lives a normal life," he says. "She was able to catch up and do everything her peers are doing, which is amazing to see."

While today's pediatric rheumatic diseases are now often well-managed with medications, medicines only work when children get access to them early. "If untreated," Dr. Soulsby says, "childhood arthritis can lead to growth abnormalities and lifelong functional limitations, including trouble walking and using hands and fingers, which is very challenging for a child trying to learn basic gross and fine motor skills."


More Than Medicine: The Other 80 Percent

But medications are only a small percentage of what is involved in good treatment. Here's what Dr. Soulsby says about it:

"The way health impacts people is unequal. It's unequal in who it affects, how severely it affects them and their long-term outcomes. While most clinicians recognize this, because they see it every day, they don't necessarily understand the factors that drive those differences.

"Research suggests that medications only account for about 20% of patient outcomes with an illness. That means the remaining 80% of health outcomes are determined by social factors, including income, race and insurance status. But we don't understand those relationships very well. That's what has motivated my work.

"Several studies have suggested that individuals identifying as Black or Hispanic have increased joint damage during the first year of illness and more significant pain. But most studies have looked at these social factors, such as race, singularly.
When I started my pediatrics rotation, I was struck by the joy of working with children — the hope they instill despite having the illnesses and challenges they face. I was also fascinated by working with the entire family to treat their condition and provide the best possible care."
Dr. William Soulsby
"We know the real world is more complicated than that. Race is inherently linked to factors like income, health care access and health literacy. We have to look at social factors more holistically. That's what my research aims to do," Dr. Soulsby says.
Disease Discriminates. We Must Understand Why.
"Thanks to
funding from the Arthritis Foundation
, my team and I are working to better understand the relationships between how social factors are interconnected and how that impacts arthritis outcomes," he continues.
"We're trying to quantify these relationships. For instance, is there a certain percentage of how someone does with arthritis that can be accounted for by how much income they make, their race or their insurance status? If we can understand the relative contributions, we can design interventions that target the 'highest yield' places to intervene.
"One reason this work is challenging is the false sense that fundamental genetic differences between racial groups may cause varying disease risk. We're hoping to challenge that assumption with this work. We want to create a framework for other researchers that empowers them not to assume differences between racial groups is a genetic or inherent difference," he says.
Science Works Best With Others
"In general, science is collaborative," he continues. "There is no way to do things alone and be effective. Through partnerships with organizations like the Arthritis Foundation and its
DEI Summit,
which brings researchers together from across the country, we can make a bigger impact.
"These collaborations foster networking to meet like-minded individuals and avoid duplication of efforts. Additionally, they allow for idea-sharing and new ways of looking at problems and solutions."
What's Next?
A major part of treating a community is about understanding the community and working together. As his program moves forward, Dr. Soulsby is interested in doing more participatory research. "We don't want it to all just be us researchers chugging away. We want to be involved in the community, asking the community the research questions that they're interested in," he explains.
Just as cutting-edge treatments have changed the prognosis and life course for kids with arthritis, Dr. Soulsby has the same hopes for disparities in access and treatment response. "We hope in 20 to 30 years to be able to look back and say, 'Wow, we didn't know a lot about health disparities. But look at all that we achieved as far as identifying and diagnosing the problem designing interventions.' That requires funding over time. And that's only possible with support from organizations like the Arthritis Foundation. We're really grateful," he says.
Stay in the Know. Live in the Yes.
Get involved with the arthritis community. Tell us a little about yourself and, based on your interests, you'll receive emails packed with the latest information and resources to live your best life and connect with others.