Deeper Relationships. More Empathy. Better Outcomes.
With funding from the Arthritis Foundation, Dr. Lisa Criscione-Schreiber is working to recruit and train rheumatologists from groups that are underrepresented in medicine — focusing on empathy, understanding and curiosity to improve the quality of patient care.x
June 8, 2023
For Lisa Criscione-Schreiber, MD, MEd, the deep meaning in her work comes from the long-term relationships she has formed with her patients. Because arthritis is a lifelong illness, physicians develop lifelong relationships, she notes. And those relationships are central to where she finds her work's purpose — but there's a twist. The vast majority of rheumatologists are white or Asian, and there is a communication gap when you move across cultures, gender or even economic backgrounds.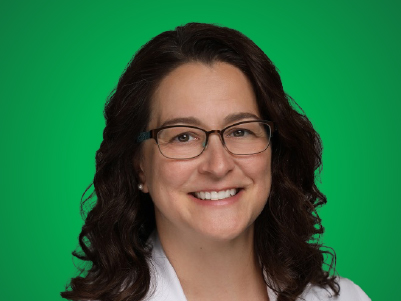 Where there is a communication gap, there is a
care gap
. Dr. Criscione-Schreiber,
professor of medicine and vice chair for education in the Department of Medicine at Duke University School of Medicine,
has set out to close the gap by recruiting more diverse practitioners
and
increasing the empathy and connection between providers and patients, no matter their backgrounds.
"When people have providers they can relate to, based on being the same sex, race or ethnic origin, their outcomes are better," Dr. Criscione-Schreiber says.
How can we better communicate with our patients who might be different from us to optimize outcomes? Then, how can we demonstrate and teach medical students, residents and others? That's the motivation behind my work.
Dr. Criscione-Schreiber
Dr. Criscione-Schreiber's program at Duke University,
funded in part by the Arthritis Foundation
, tackles the issue on two levels: 1) recruiting medical students from underrepresented groups to consider rheumatology, and 2) educating medical students and providers about inclusive practices in rheumatology.
Recruiting Medical Students From Underrepresented Groups
With support from the Arthritis Foundation grant, Duke University medical students participate in a monthlong rotation in adult and pediatric rheumatology. Dr. Criscione-Schreiber hopes this will be an effective recruitment tool for rheumatology. "Students often don't have a lot of exposure to rheumatology, so just showing them the field is a great thing," she says.
Educating Medical Students & Providers About Inclusive Practices in Rheumatology
In addition to diverse rheumatologist recruitment, Dr. Criscione-Schreiber focuses on encouraging physicians to protect their patients' health by
addressing racial disparities
at the root cause.
"There's no conscionable reason that outcomes should be different based on people's race or socioeconomic status," she says. "It's time for doctors to speak up and make it known that there are systemic issues that prevent some patients from having better outcomes."
To educate future rheumatologists, Dr. Criscione-Schreiber's team is implementing three strategies: podcasts, teaching and consultations.
Through an ongoing podcast series, Dr. Criscione-Schreiber and her faculty members highlight diversity, equity and inclusion (DEI) issues in rheumatology — from differences in osteoarthritis or lupus outcomes among racial groups to the scarcity of non-white medical experts in rheumatology.

Faculty members present detailed cases that encourage practitioners to think deeply about their patients' unique challenges, including the impact of health and insurance disparities and how those affect people's care.

"Our target for rheumatoid arthritis is always remission," says Dr. Criscione-Schreiber. "But if you don't have good insurance, can't access the right medicines and don't know how to navigate the system, you can't have those good outcomes."
Finally, the third part of the curriculum involves working with practicing rheumatologists in North Carolina, South Carolina and Massachusetts. In these sessions, practitioners meet and work together to focus on their individual opportunities to address health literacy and health numeracy in their patients, emphasizing the unconscious bias to which all practitioners, like all people, are vulnerable.
One area of bias that Dr. Criscione-Schreiber invests in is bias around women of reproductive age. "Many patients with autoimmune diseases are treated with medicines that could be harmful during
pregnancy
," she points out. "Providers often think if a woman is not married, pregnancy is off the table, but we know that is often not the case." Another area is in biases around patient health literacy, where patients are often expected to understand complex issues related to how various medications interact with and affect the body.
With all this work, Dr. Criscione-Schreiber believes in the power of rheumatologists to transform patient care through the quality of connections and the relationships they form.
"One of the biggest rewards is that rheumatology can actually make people feel better. Many fields of medicine don't really do that. But we have many great medicines to treat people. They can feel better and get their lives back. It's just really gratifying," she says.
Learn more about our DEI commitment and awardees.
Stay in the Know. Live in the Yes.
Get involved with the arthritis community. Tell us a little about yourself and, based on your interests, you'll receive emails packed with the latest information and resources to live your best life and connect with others.