Meaghan Victory dreamed of becoming a nurse even before her juvenile arthritis (JA) diagnosis at age 9. Inspired by the nurses who cared for her, she is now living her dream as a registered nurse in the cancer care unit at Seattle Children's Hospital — the same hospital where she received care as a child.
The embodiment of perseverance and commitment, the 24-year-old was recently selected as a recipient of the
2020-2021 Arthritis Champions Scholarship program
and was awarded the Dr. Smriti Bardhan College Scholarship Fund.
"I was very honored to have been selected as a recipient for the 2020-2021 Arthritis Champions Scholarship Program," says Meaghan. "With so many deserving individuals who have arthritis or other related rheumatic diseases, I felt truly blessed to have earned this scholarship."
Meaghan is now working on her master's degree in nursing in a family nurse practitioner track, and will graduate in September 2022.
She found out about the scholarship a week before she began her master's program, "so it was a nice way to begin my next educational journey!" she says. "With this scholarship, I am able to worry less about paying for my courses and focus more on my health."
Growing Up Active

Meaghan grew up in an active family, spending summers camping and hiking and winters in the snowy mountains next to their Issaquah, Washington, home.
When she was around 8 years old, Meaghan was involved in a sledding accident and sprained her right wrist. For six months after the accident, the pain in her wrist never went away. While on vacation in the summer, her mother was putting sunscreen on her arm and noticed Meaghan in significant pain. Unsure of what was going on, her pediatrician referred Meaghan to Seattle Children's Hospital, where she was diagnosed with JRA.
After the initial diagnosis, Meaghan says, "Life was good, and since the arthritis was primarily confined to my right wrist, I was able to continue playing sports, running and staying active."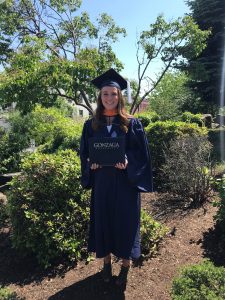 In high school, the road got a little tougher, and Meaghan was ill during her junior and senior years. In her senior year, she broke her right wrist and was in a cast for over six months. Her doctors found her wrist was infected and performed surgery, removing a third of her ulna. Meaghan later had two additional surgeries on her right wrist – a joint replacement and joint fusion – to help correct the damage. Luckily, Meaghan is a lefty, so she was able to persevere and continue her studies.
A Champion of Yes

During her many visits to Seattle Children's, a nurse there recommended the family get involved with the Arthritis Foundation. Meaghan and her mom decided to run in the Seattle 
Jingle Bell Run
, and have been participating every year since, forming a team and raising funds for a cure. To date, Team Victory has raised over $143,000 and counting.
Meaghan has been both a camper and counselor at KAT-Fish Camp in Washington, traveled to Washington, D.C., for the Arthritis Foundation 
Advocacy Summit
,
 where she was awarded the National Emerging Leader Award in 2015. She has also served as a speaker at local events, including "Rheumapalooza," a conference held at the University of Washington's School of Medicine for students focused on rheumatology. She also has been a guest speaker and frequent attendee at the Foundation's local Breakfast for a Cure and a volunteer and speaker at multiple Bone Bash fundraisers.
A Career of Caring

Pursuing a career in health care was a no-brainer, Meaghan says. "I have always known that I wanted to enter the field of nursing," she says. "The amazing care I received from my nurses and doctors while having treatments for my arthritis or undergoing procedures only solidified my dream even more. I wanted to have the opportunity to give back for the care and support I had received as a patient to my future patients."
Meaghan's favorite part of the job — making connections and forming relationships with her patients and their families — has been the silver lining to her arthritis. "My arthritis has aided me in my career and has allowed for me to connect with my patients on a much different level," she explains. "While I have not been in their exact shoes, I understand the pain and disability that accompanies diseases. Seeing my patients fight every day pushes me to do the same."
Meaghan admits it's not easy to be a nurse with arthritis. "To be honest, my arthritis has really challenged me in my career. Nursing is a fast-paced job and I spend a majority of my shift on my feet. I do not think that I have had a single shift where my body does not ache or hurt all over." But, she says, "I refuse to let it affect my ability to provide the best care possible to my patients. If anything, it has pushed me to work and fight harder for my patients."
With her master's degree, Meaghan hopes to shift her career from bedside nurse to nurse practitioner. "I figured that if my body can't handle bedside nursing, I can still use my brain and interact with and form relationships with patients as a nurse practitioner," she says. "I wanted to set myself up for success in the future, which was why I ultimately decided to go back to school."
Her Continued Care and Outlook

Meaghan manages her arthritis with an aggressive treatment plan that includes a biologic and other medications as well as a gluten-free diet, physical therapy and at-home exercise that includes biking, walking, running and strength training with light weights.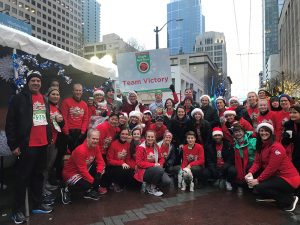 "It's mostly working," says Meaghan. While she has not had any major flares recently, minor flares persist, and imaging continues to show new areas of joint destruction.
Her arthritis also continues to bring new challenges each year. She was recently diagnosed with hip dysplasia, which required surgery last summer, and she will undergo another hip surgery this year, which will require four months of recovery. "A blessing of the time-off is that I will have additional time to focus on my classes and work toward being the best nurse practitioner that I know I can be," says Meaghan.