By Sarah Clemons
My name is Sarah Clemons. I'm from Florida, and I was a senior in high school this past year. I have enthesitis-related juvenile arthritis (JA), along with several other chronic illnesses. I was diagnosed with JA at age 15, after more than a year of being told I had growing pains or sprained ankles. High school has been a whirlwind, starting with my JA diagnosis as a freshman and ending with a worldwide COVID-19 pandemic as a senior!
Similar to JA, the COVID-19 pandemic is unwanted and feels unpredictable
. Some of the same questions are repeating in my head: How long will this last? Will I still be able to attend school? How will my friends react? What will be the effects of having a compromised immune system? Are there any long-lasting effects? Is there a cure? Is it possible for any silver linings to come out of this? When will I stop feeling alone?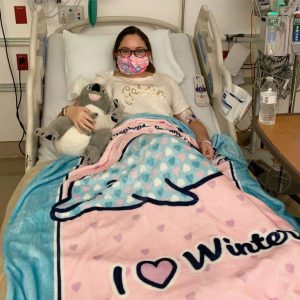 I have still had infusions in the hospital every month throughout the pandemic. And I have seen the changes, with everyone wearing masks, temperature screenings before we even walk in the door and unusually empty waiting rooms. These have been reminders of the seriousness of having a compromised immune system! All my doctors' appointments were either moved to telemedicine or canceled. It was difficult not knowing what would happen if I had a flare and needed to see my doctor in person. My doctors had to learn different ways to continue caring for kids during this time, and we used many new ideas, even having my mom walking around with the computer to show my rheumatologist how my joints looked.
My senior year started changing over spring break when classes transferred online. I love seeing my friends and teachers in person, so this was an adjustment. We had to adapt to virtual learning by watching lectures on the computer. We even completed biology labs by Googling microscope images.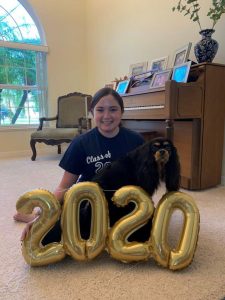 My prom and graduation didn't look like I thought it would. With my compromised immune system, I couldn't even attend the prom my friends had arranged, due to the lack of social distancing. But then some friends I met at the National Juvenile Arthritis Conference set up a virtual Zoom prom with me! We even dressed up in our prom dresses and played the Spotify prom playlist in the background. I never expected I would be having my senior prom with friends on the other side of the country!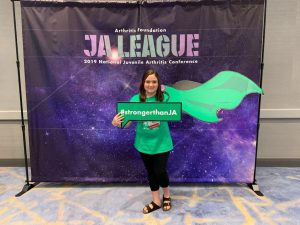 One of the main reasons I love the JA Conference is because of friends like these! I stopped feeling so alone fighting JA the first time I went to the conference in 2017. I love how we can laugh and have fun together while also empathizing with each other's pain. I love how we can always count on never being more than a text away from support while going through surgeries, flares or a first-time self-injection. I love how we can go a year (or more) between seeing each other in person and then pick up our conversations right where we left off! All this practice of connecting virtually has really helped prepare me for this pandemic, when we can't see any local friends in person. I've been using all the FaceTime, social media and texting tools we've used for years to connect. I'm so sad the in-person conference was canceled this year, but I'm excited that it worked virtually!
The overwhelming message through this pandemic and having JA is that we've had to learn to adapt to overcome unwanted and unpredictable times. We can all draw strength from shared experiences as we get through this. I encourage you to reach out to your friends and to the Arthritis Foundation — and get connected! We are stronger than JA (and COVID-19) together!
For all the JA teens who have started their first year of college, please check out the
Connect on Campus Care Pack
that's filled with helpful tools and materials to empower you to live your best life while in college.