Connect on Campus is an Arthritis Foundation program in partnership with Alpha Omicron Pi (AOII) to connect college students with arthritis and related rheumatic diseases to resources and support through the Live Yes! Arthritis Network. This Network guides teens and young adults, like you, to connection opportunities both online and in-person* (*when it is safe to do so!) and to tools and resources assisting you as you navigate college life while managing your arthritis.
College life can be both exciting and scary. Add arthritis to the mix and it can be even more challenging. Connect on Campus provides support, resources and connection to students living with arthritis to help each other out. The Connect on Campus Care Pack is filled with helpful tools and materials to kick start your semester and to empower you to live your best life while in college.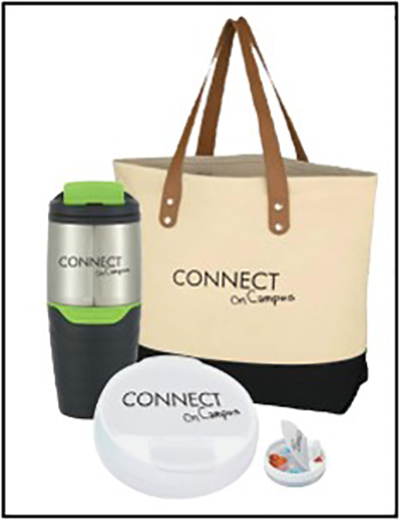 What's included with a Connect on Campus Care Pack? Tools to help you with everyday tasks and information to support you while in college. While supplies last.
Reusable Tote Bag
Tumbler for hot or cold drinks
Cold/Hot Wrap
Wrist Support Wrap
And more….
We are currently out of Connect on Campus Kits. If you have any questions, please contact [email protected] for more information.
About Alpha Omicron Pi
We thank AOII for their leadership in partnering with the Arthritis Foundation to develop Connect on Campus.
Alpha Omicron Pi (AOII) was founded in 1897 at Barnard College of Columbia University in New York City. AOII has over 190,000 initiated members and 141 current installed collegiate chapters, with 158 active alumnae chapters across the United States and Canada. Alpha Omicron Pi is an international women's fraternity promoting friendship for a lifetime, inspiring academic excellence and lifelong learning and developing leadership skills through service to the Fraternity and community.
Learn more about Alpha Omicron Pi Fraternity
Instagram
Twitter
Facebook
Interested in joining AOII? Follow this link to see if there's a Chapter on your campus.
Care and Connect
Social distancing does not mean emotional distancing. In this challenging time, your health and safety are the top priority as we go through this medical emergency together. Stay updated and connected in this special resource center for people with arthritis.
Learn More
Live Yes! Online Community
Chat about what matters most to you. Offer support, get encouragement and share experiences and advice. The Arthritis Foundation's Online Community is here for you 24/7.
Learn More
School & College During COVID-19
In this episode, expert Heidi Goldsmith Esq., an educational rights attorney with over 20 years of experience, shares tips on making the most out of educational rights plans during the pandemic.
Listen Now