Submitted by Leanna Precup
My name is Leanna Precup. I am a third-generation psoriatic arthritis (PsA) patient and the mother of an incredible young lady who also has PsA. I live in the Chicago suburbs and am a "medically retired" ER/critical care nurse with specialty areas of trauma and forensics.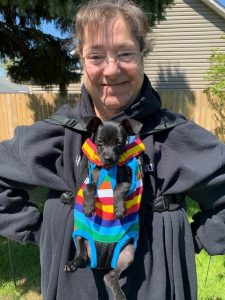 I have always been one to think on my feet and change course as the tide rolls in. Since being unable to work fulltime, I have focused on what I can do to continue to make a difference. We are part of a rescue group that fosters dogs left in kill shelters. I am a board member for a nonprofit that provides formal wear to girls for a minimum donation. And I volunteer for the Arthritis Foundation.
I remember the weight of my daughter's diagnosis and feeling helpless. I always said, "She is one of 300,000; where are the other 299,999?" The Arthritis Foundation has provided such a solid foundation of support, information and networking. We were connected to people in the same situation who we have formed lifelong bonds with. They are our juvenile arthritis (JA) family.
I am passionate about volunteering for the Foundation in many capacities. We raise money every year with my daughter's Jingle Bell Run team, Evie's Enforcers. We help plan and attend the
National JA Conference.
We advocate and mentor newly diagnosed families, and I am blessed to be able to help as camp nurse at Camp JAM,
a camp for kids with JA
— where the kids inspire ME!
I am the JA chair on the Arthritis Foundation's local leadership board in Chicago and also a
Live Yes! Connect Group
facilitator for JA parents. The programming helps so much to bring us all together. We develop relationships with those going through the same challenges. We plan and produce programming and events that strengthen our understanding of this disease's challenges and provide mutual support. We put together a virtual holiday family event last year where we did a family craft, had an ugly sweater contest and broke out into adult, teen and parent rooms for fun and networking.
Being able to participate in these events lessens the loneliness and isolation you can feel, especially in the pandemic. As a participant, you not only can get your feelings validated, but you can also get support and advice from others. As a seasoned member, you can be the one to share your challenges and successes with the newly diagnosed. Consider giving back by mentoring the ones who are in the same place you once were.
Think about joining one of these groups in your area or starting your own.
As our team shirts said last year, "First rule of JA fight club: no one fights alone!"
A common feeling is that this diagnosis is not very common and there isn't much support for it.
JA is a chronic, life-altering disease
that appears "invisible" to those on the outside. In order to overcome it, you need to arm yourself with every bit of information, support and understanding you can. There are others. And there's strength in numbers! The Arthritis Foundation can connect you with those near you. Where better to find support than from those in the trenches with you?