Actor Clark Middleton has spent a lifetime defying limits and arthritis.
Art imitates life imitates art. Actor Clark Middleton, of NBC's The Blacklist and Hulu's The Path, is keenly aware of the parallels between his on-camera and off-camera lives.
"Acting is dealing with obstacles and problems, and I think I've learned how to be creative that way," says Clark, 60. The New York City-based character actor, known for eccentric supporting roles in films from Birdman to Kill Bill: Vol. II (in a role Quentin Tarantino wrote specifically for him), earned his resilience and acting chops by living with juvenile arthritis since age 4.
Childhood Journey
In 1961, the Middletons of Louisville, Kentucky, learned that their 4-year-old son had juvenile rheumatoid arthritis (now called
juvenile idiopathic arthritis
). The doctor told Clark's dad, Mel, that his son most likely wouldn't survive another Kentucky winter. So Mel quit his job and moved the family to Tucson, Arizona.
"I will never forget riding in that '55 station wagon on our voyage to Arizona," Clark says. "My joints were so swollen that my dad created a bed in the back for me to lie down. He would brake very slowly at the hundreds of stoplights along Route 66 to avoid [causing] me pain."
Although the warmer Arizona weather seemed to help, a rheumatologist told Clark and his dad that Clark would be wheelchair-bound and completely dependent on others. As they left the exam room, Clark recalls, his Dad said, "In no way are we listening to that!"
"My dad refused to let me quit," says Clark. "He constantly instilled in me that I could define my own reality by how I thought about myself and how I carried myself. He wouldn't allow me to think of myself as a victim. He taught me a lot about determination and courage."
Mel also taught him that if he wanted something, Clark had to work for it. "He knew how important it was for me to be independent, and not to expect any handouts just because I had a disability. I had to earn it," says Clark.
Those lessons have paid off, he adds. "The consequence is a wonderful life."
Clark was hospitalized three more times as a kid and missed an entire high school year due to hip problems. His arthritis has been under control since high school, but joint damage, including a fused neck, has rippled into adulthood. He has had 10 joints replaced – including both knees, both hips, a shoulder and an elbow – in 14 surgeries, he estimates.
The Accidental Actor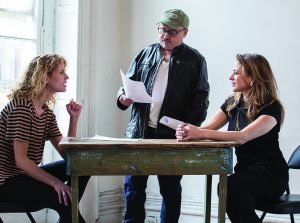 Clark moved from Arizona to California and enrolled in junior college, unsure of what he wanted to do. "I knew whatever I did with my life, it had to be something I really loved," he says. "Having been so sick as a kid, I understood the value of time."
As a late registrant in school, the only elective available was a class in theater. He signed up and impressed the instructor with an emotional monologue, he recalls. "I got up there and started crying, which is the last thing I wanted to do." But, he says, "Something clicked there. … I started doing scenes in class and thought, 'This is unbelievably fun!'"
He was able to channel emotions from his own experiences into his acting. "I thought, 'I can connect what these characters are doing with what I'm feeling,'" he recalls.
In 1982, Clark moved to New York to study acting, and a year later he landed his first professional gig on a recommendation from another teacher, the legendary actress Geraldine Page. Since then, he's appeared on stage, in numerous TV and film roles, including the new Twin Peaks series, and he teaches acting and coaches professional actors.
Clark continues to balance work with his health and strives to avoid stress. He manages his arthritis with methotrexate, a biologic and a daily anti-inflammatory. He
eats healthfully
and
hits the pool for laps and water workouts
as often as six times a week.
He also advocates for others with arthritis. Clark spoke at the Arthritis Foundation's
2017 Advocacy Summit
in Washington, D.C., and planned to speak at the
Arthritis Support Network's 10th Annual National Gathering
in June. He also started The Young Mels, a support network named for his father for kids with JA.
"I'm living the dream and I want to be able to give back," he says. "If I can help other kids with JRA make lemonade out of lemons, that's important to me."
By Bryan D. Vargo and Claire Villines