Staci Penner and Graci Diggs have devoted their voices, stories and wholehearted advocacy efforts to helping the arthritis community live better lives. Today, we celebrate their advocacy efforts by announcing their selection for the Arthritis Foundation's Edward M. Kennedy Advocacy Leadership Award and Emerging Leader Award, respectively.
[caption id="attachment_417" align="alignright" width="214"]
Staci Penner, Arthritis Foundation Advocate[/caption]
Staci has experienced the devastating effects of arthritis personally and professionally. As an occupational therapist, she knows the clinical side of the disease. As the mother of a young girl diagnosed with polyarticular juvenile arthritis and being diagnosed herself with rheumatoid arthritis and osteoarthritis, she knows the personal battles and struggles that come with the disease.
As an Arthritis Foundation Advocate, Staci is involved on local, state and national levels by serving as the advocacy chairperson of her local advisory board, the advocacy co-chair for the State of Kansas and a national Platinum Ambassador. Her work has included recruiting more than 200 new advocates at local events, like the Jingle Bell Run, which she helps to plan, reviewing scientific research proposals as a member of an Arthritis Foundation advisory group, and sharing the patient community's concerns about medications before the U.S. Food and Drug Administration (FDA) as a member of the Special Ambassador FDA Committee.
Staci's commitment to advocacy has not gone unnoticed. She has developed strong relationships with legislators including Rep. Mike Pompeo (R-KS), who joined the Congressional Arthritis Caucus, co-sponsored the Ensuring Children's Access to Specialty Care Act (HR 1859) and invited Staci to join him for a private party at a local pub to watch the Wichita State Shockers play in the NCAA men's basketball tournament.
"Advocacy gives us a voice over a disease that so often takes so much from our lives," said Staci. "With advocacy we have hope."
[caption id="attachment_418" align="alignright" width="300"]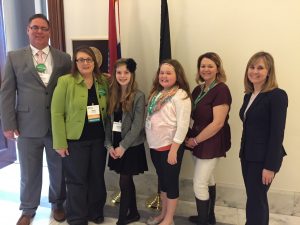 Graci Diggs with her mother and fellow Advocates at our 2016 Advocacy Summit[/caption]
At only 11- years-old, Graci Diggs lives with juvenile rheumatoid arthritis and works hard to be a voice for kids who have arthritis. She has been involved in many Arthritis Foundation events like the
Advocacy Summit
, Cabin Fever, JA family days, Jingle Bell Run for which she served as the 2015 National Youth Honoree and the National JA Conference in Orlando. She encourages other kids living with arthritis to speak up so their voices are heard, oftentimes reminding them that legislators are people, just like them.
Graci was instrumental in passage of step therapy legislation in Missouri. Knowing no strangers, she met with State Representative David Wood by chance at a local community dinner and eloquently told her arthritis story, explaining that she was in a wheelchair at the time because her health insurance company did not approve the medicine prescribed by her pediatric rheumatologist. State Representative Wood was very moved by her story and invited Graci to spend a day at the Capitol as his guest. Graci went the extra mile and invited her classmates to attend the festivities. Imagine walking in the Missouri state capitol and seeing Graci and 20 of her classmates, all wearing matching t-shirts and advocating for this bill. She made quite the impression.
Graci also testified twice during the spring legislative session on the step therapy bill. Her testimony was so powerful that the opposition refused to testify. The sponsor of the bill, Rep. Denny Hoskins (R-MO), got to know Graci and her family very well. He would call the Diggs family before a vote, letting them know what was happening and to see if they had any questions.
Rep. Hoskins had this to say about Graci, "She is a ball of fire and easily wins over the hearts of everyone that listens to her story. She has a ready smile and works through her pain and illness to help others." The bill was ultimately signed into law by Governor Jay Nixon (D-MO).
Graci and her mom, Anna, also made a splash on national television. In 2016, they appeared on the CBS television show, Sunday Morning. Interviewed by Erin Moriarity, Graci and Anna talked about the expense of medications and the benefits Graci has experienced because of them.
Staci and Graci are ardent advocates for the arthritis community, using their voices to affect meaningful change and inspire those around them to become Advocates. You can meet Staci and Graci, and learn how to use your voice and arthritis story at the 2017 Advocacy Summit, March 6-7 in Washington, DC.
Learn more about the Advocacy Summit
.