Thriving With RA
For Eugenia Esquivel, yoga provided the tools to manage rheumatoid arthritis and get back to enjoying life.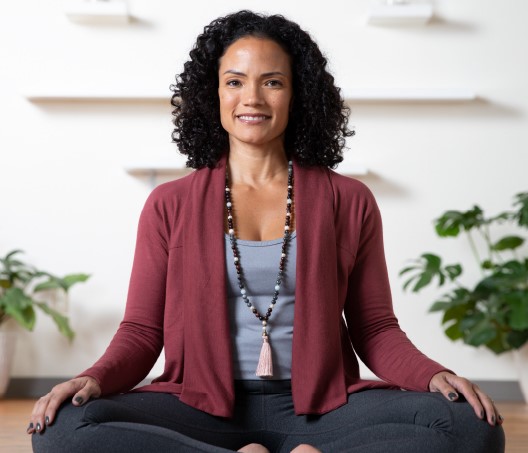 Yoga can seem intimidating when it is portrayed by photos of people in formfitting clothes doing backbends or headstands. But Eugenia Esquivel, an Atlanta-based yoga teacher, emphasizes that yoga is for everybody, regardless of age, size or ability, because yoga is more than a physical practice. It equally includes mindfulness, presence and breath. She often says, "If you can breathe, you can practice yoga."
Developing a yoga practice positively influenced not only her ability to move but her overall mindset and approach to life and challenging times.
A Path to Healing
Eugenia was 30 years old, vice president of marketing for a financial services company and living in Dallas when she was diagnosed in 2000 with rheumatoid arthritis (RA) and ulcerative colitis. She first felt unexpected soreness in the joints of her toes and balls of her feet. Then her knuckles swelled, her fingers became hot and tight and she struggled to hold even a toothbrush.
"The hardest thing for me was not being in control of my body," she says. She enjoyed working out in the gym, but when it became too challenging, she discovered yoga. Yoga provided a low-impact opportunity to remain active. "I just fell in love with it," she says.
After eight years practicing various forms of yoga, she enrolled in her first yoga teacher training program, although she remained committed to her corporate life.
Eugenia's RA went into remission in 2004, and with her rheumatologist's blessing, she tapered off the disease-modifying drugs she was taking for it. But symptoms came back with a vengeance in 2011. Some days, the pain and fatigue kept her in bed, where she worked with her laptop and cellphone.
Although biologic medications have since controlled her RA, she still had to learn to navigate a world in which she might feel fine one day but struggle to get out of bed the next. She knew it was hard for some of her friends to understand why she sometimes cancelled plans at the last minute — "You wear the mask of being OK and being normal," she says — and she struggled with feelings of loneliness and loss. Over time, she stopped worrying about how people would respond and focused on friends who were supportive and understanding.
Stress made her RA worse, and when work stress compounded the daily challenges of living with RA and led to more frequent and severe flares, she knew she had to make a change. She left her corporate job in 2015 and took some time off to regroup. Yoga became one of her cornerstones, and she eventually completed a second yoga teacher training program and began teaching.
Mindful of Gratitude
The physical practice of yoga improves Eugenia's strength and mobility, while its mindful breathing and principles for living help her avoid stress-related flares, she says.
"It's the yoga-off-the-mat that has been most beneficial to supporting my arthritis — letting myself be OK with not being able to do what I did yesterday because I know tomorrow's going to be another day," she says. "It's a lesson that I try to apply to everyday life challenges. When I think of my disease, I don't focus on the limitations. Practicing gratitude reframes my perspective of RA. I am not just living with it, I am thriving."
During the COVID-19 pandemic, Eugenia had to press pause on teaching to limit her exposure to the virus. Much like her early experience with RA and Crohn's, she struggled with feelings of uncertainty and lack of control, only this time she was able to lean into the lessons she learned from yoga and, more important, gratitude for what she had and was still able to do. To stay active and support her mental health, she sought wellness opportunities ranging from at-home workouts to outdoor yoga and fitness classes when it was safe to do so. A lot of the time, wellness came in the form of rest and deep nourishing breaths.
Today, she is excited to explore what post-pandemic life will look like. "Last year was a lot, and right now I'm just happy to be healthy on the other side. I think many of us used this past year to slow down, reflect, and think about what the new now will look like. I'm excited to be at a place where I can start thinking in a more concrete way about what I want to do next and how I want to do it."
Yoga 101
All you need is comfortable clothing that allows you to move freely, and a positive attitude, Eugenia says. She offers these tips for getting started:
Start with a gentle or beginner class.
Tell your teacher about your arthritis and mobility issues.
Don't compare yourself to others.
Focus on what you can do, not on what you can't do.
Consider a private lesson or two for advice on modifications.
See Eugenia Esquivel in action in the Your Exercise Solution (YES) fitness videos.