Registration for 2021 Arthritis Foundation Classic Auto Show and Cruise In
Welcome back for our 38th* Annual Arthritis Foundation Classic Auto Show and Cruise In! Let's forget about 2020 and have a rockin' 2021 to make up for that mess.
This is our first year using Car Show Pro (CSP) for registration and judging. We are excited about the options we have and how it will enhance your experience in registering and enjoying the show. However, we understand that this means change from how we have registered cars in the past. We will do our best to make it as simple as possible for you.
This year, you must register for each event that you wish to participate in. Right now, there is no way to discount multi day registrations as we have done in the past. Also, there is no way to give a multi car discount for those of you bringing more than one car. So, we are keeping registration fees as low as possible and we are covering the processing fee that is typically charged for registration by CSP. We will also be doing some fun things to thank you for registering and attending our show.
Online car show registration is now closed. You can still register your car in person when at the show. We look forward to seeing you there!
Friday, August 20th, 2021
Rolling Legends Tour Registration
This has been a very successful addition to our event over the past five years. This is a fun cruise to some neat destinations, with lunch, and returning to the show grounds mid afternoon. This includes entrance to the Cruise In and you will have a special place to park with the other Rolling Legends!
Cost is $75
Cruise In Registration
This is our all day cruise in. We open the gates at noon and end the day around 10 PM after the daily awards are handed out from the stage. We will again be giving away 6-foot trophies! The band is British Invasion and they will play from 7 to 9.
Cost is $25 per car

Saturday, August 21st, 2021
Classic Auto Show Registration
This is the show that started all this fun for a wonderful cause. The Arthritis Foundation Classic Auto Show will open the gates at 7 and conclude around 6 PM after the trophy presentation from the main stage. We will have a band play just before the awards presentation, too.
Cost is $30 per car

View the 2021 Class List HERE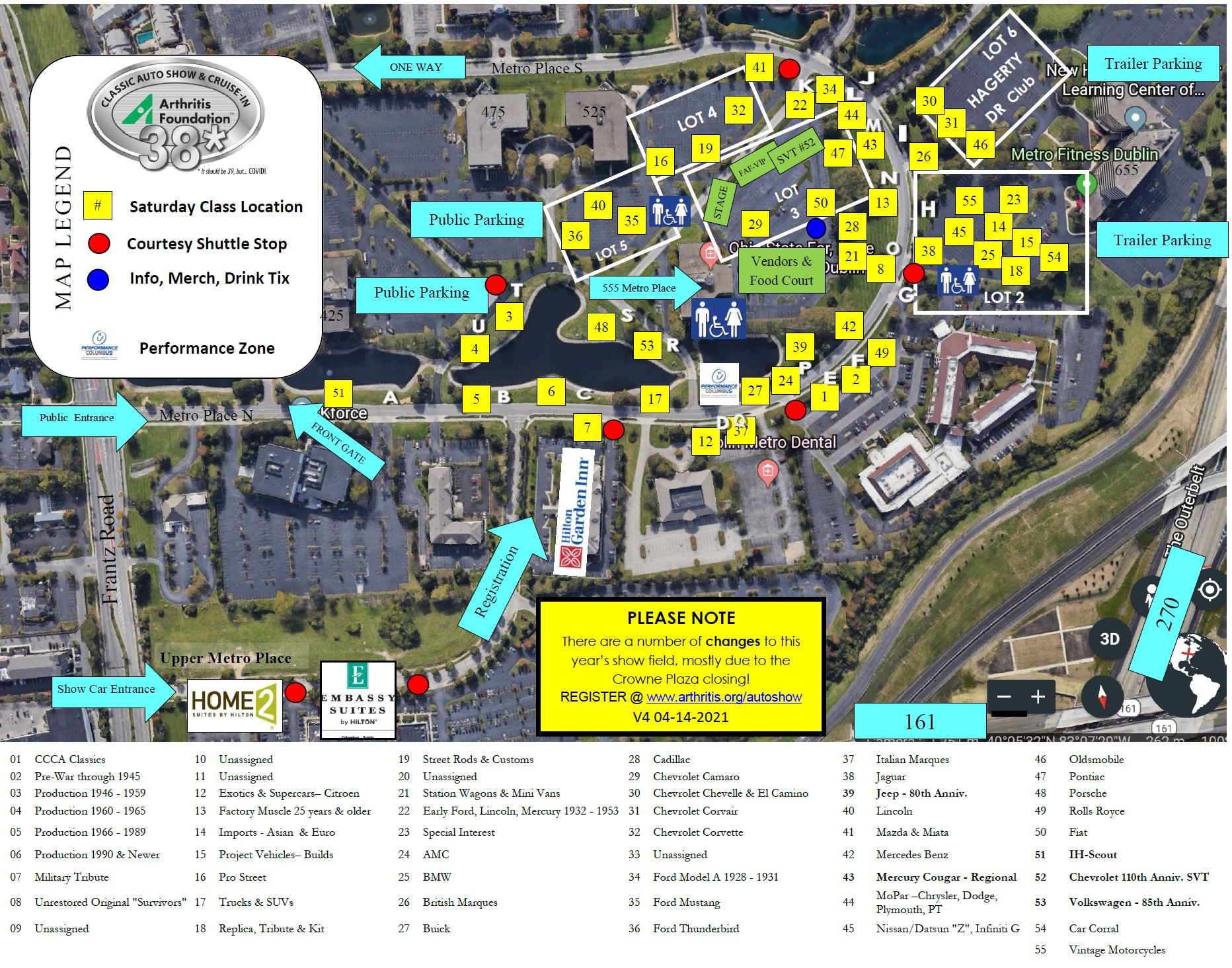 Car Show Pro Information
Car Show Pro is an online application built specifically for car show registration and judging. We are excited to move onto this platform and grow with it over the next couple years. This will create some changes in how we classify cars, how you register your cars, and judging. However, we see the many advantages of this platform and we hope you will, too.
There is plenty of help available on the site if you need anything. You can also email our event chairman, Kevin Gadd and we will get back to you ASAP, [email protected].
CAR REGISTRATION
Registration is currently open for the 2021 show. We can't wait to see you there!
Register Today
VOLUNTEER
We have over 100 shifts open that need some helping hands. Shifts are 3-4 hours long and a fun way to give back to the community while getting to see some really great classic cars!
Volunteer
VIP
The "Friends of the Arthritis Foundation" presents an opportunity for persons to elevate their contribution to the Arthritis Foundation and receive a VIP experience during the next AF-CAS show.
VIP