Social Effects of Systemic Juvenile Idiopathic Arthritis
A rare and serious subtype of juvenile idiopathic arthritis (JIA), systemic juvenile idiopathic arthritis (SJIA) can have serious effects on social and family life.
Systemic juvenile idiopathic arthritis (SJIA)
is a more severe form of
JIA
and can be challenging to diagnose and treat. It takes a toll on children's physical, social and emotional well-being. Understanding and monitoring the potential physical symptoms of SJIA is important for parents as these symptoms may come and go.
Click the infographic below to enlarge & download a pdf.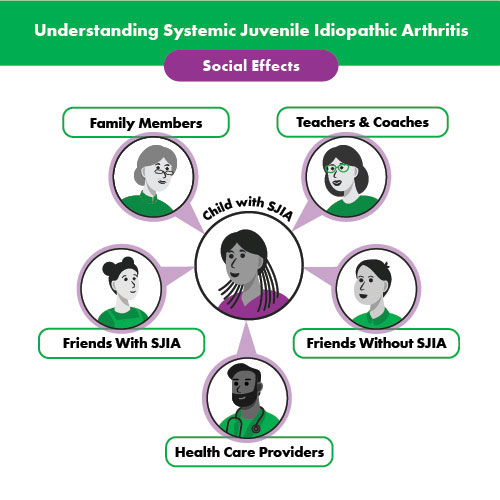 Hear from the mother of a child with SJIA, Rochelle Lentini, as she shares her family's experiences of living with her son Parker's chronic condition.
Juvenile idiopathic arthritis (JIA) is the most common type of arthritis in children and teens. Between 10% to 20% of children with JIA have a rare and serious subtype called systemic juvenile idiopathic arthritis (SJIA). Symptoms of this rare disease can include overactivation of a type of immune cells called macrophages (MAS), unremitting fever, liver and spleen enlargement, abnormal bleeding, central nervous system dysfunction and other potential complications. Read about one family's experiences.
Asher: In Tune With His SJIA
Today, 11-year-old South Floridian Asher Bennett is in remission from his systemic juvenile idiopathic arthritis (SJIA). He plays lacrosse and musical instruments: the violin, ukulele and piano. He's taking advanced classes in school and will start sixth grade this fall.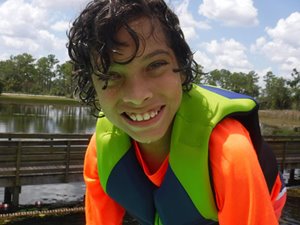 There have been a few bumps over the past few years, but nothing like the challenges he and his family encountered prior to his remission. "It was very tough," says Asher's mother, Jayme. "We knew something was way off." She describes the time Asher started experiencing numerous problems at age 4. "Over a short time, Asher had pain and limited mobility all over his body. His feet and legs first, then his neck, shoulders, fingers and other parts of his body. There were also rashes, fevers and swelling."
The Bennett family's search for a solution was frustrating, Jayme remembers. "He was a pincushion for getting all kinds of blood draws and scans, and we were getting nowhere. There were several misdiagnoses. And there was so much paperwork."
It reached the point where Asher was transferred by ambulance from one hospital to the Joe DiMaggio Children's Hospital, where things started turning around. There, Asher was soon diagnosed with SJIA. Then trial-and-error treatments began to find out what would be most effective in his case.
Fighting Obstacles and Managing SJIA
Throughout all this, the Bennetts confronted obstacles with insurance coverage. It was a huge battle, Jayme says — fighting denials to cover Asher's treatments, which had an estimated patient out-of-pocket cost of at least $200,000 annually. "He was limping and sometimes couldn't walk at all, while insurance played games to try to save money." They switched to another carrier and got the coverage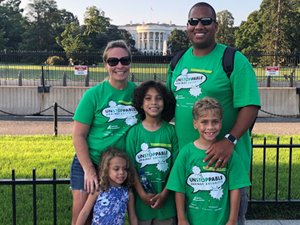 they needed.
Thankfully, with Asher in remission, those challenges are behind the family for now. Along their journey, they've found support from the Arthritis Foundation through their local JA camp, the National JA Conference and Walk to Cure Arthritis, for which Asher was local youth honoree a couple of years ago. In addition, Jayme has served on a parent advisory board for Novartis, and she co-leads a local Foundation Live Yes! Connect Group for JA parents.
Managing SJIA can be tough, Jayme says. "Staying on top of several different medicines at once is a big challenge. Giving him injections and helping him learn how to swallow pills at age 4, that was hard. They don't understand what's going on at such a young age. And you as their caretaker may not either."
Getting Connected to Get Ahead
Her top advice to others living with SJIA is to get involved with the JA community. "With Google, you get to read the worst stories and the worst outcomes, which can be scary," she says. "We needed to connect with others who could provide hope. With the Arthritis Foundation's guidance, we got through it."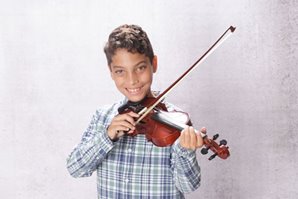 Here are Asher's words of wisdom: "SJIA may not be fun and is painful and confusing. But it's what makes you special and much stronger."
His mother continues: "Asher has asked several times over the years: 'Will I have this the rest of my life?' Anytime that he has anything … a cold, the flu, whatever … his first thought is, 'Has my arthritis come back? Am I out of remission?' We've explained that it doesn't disappear, that remission may not last. We try to make it age-appropriate. But most of all, we try to give him hope. Hope is the best thing."
—TONY WILLIAMS
This SJIA Spotlight Story was made possible with support from
Novartis Pharmaceuticals Corporation.
Stay in the Know. Live in the Yes.
Get involved with the arthritis community. Tell us a little about yourself and, based on your interests, you'll receive emails packed with the latest information and resources to live your best life and connect with others.