Stories of Yes: Meet the Natalies
These UCLA students aren't just learning to navigate college while living with an invisible illness; they're also connecting with others to build a community of support.
Young Adult Spotlight
Creating a college community to connect and support others with chronic illness.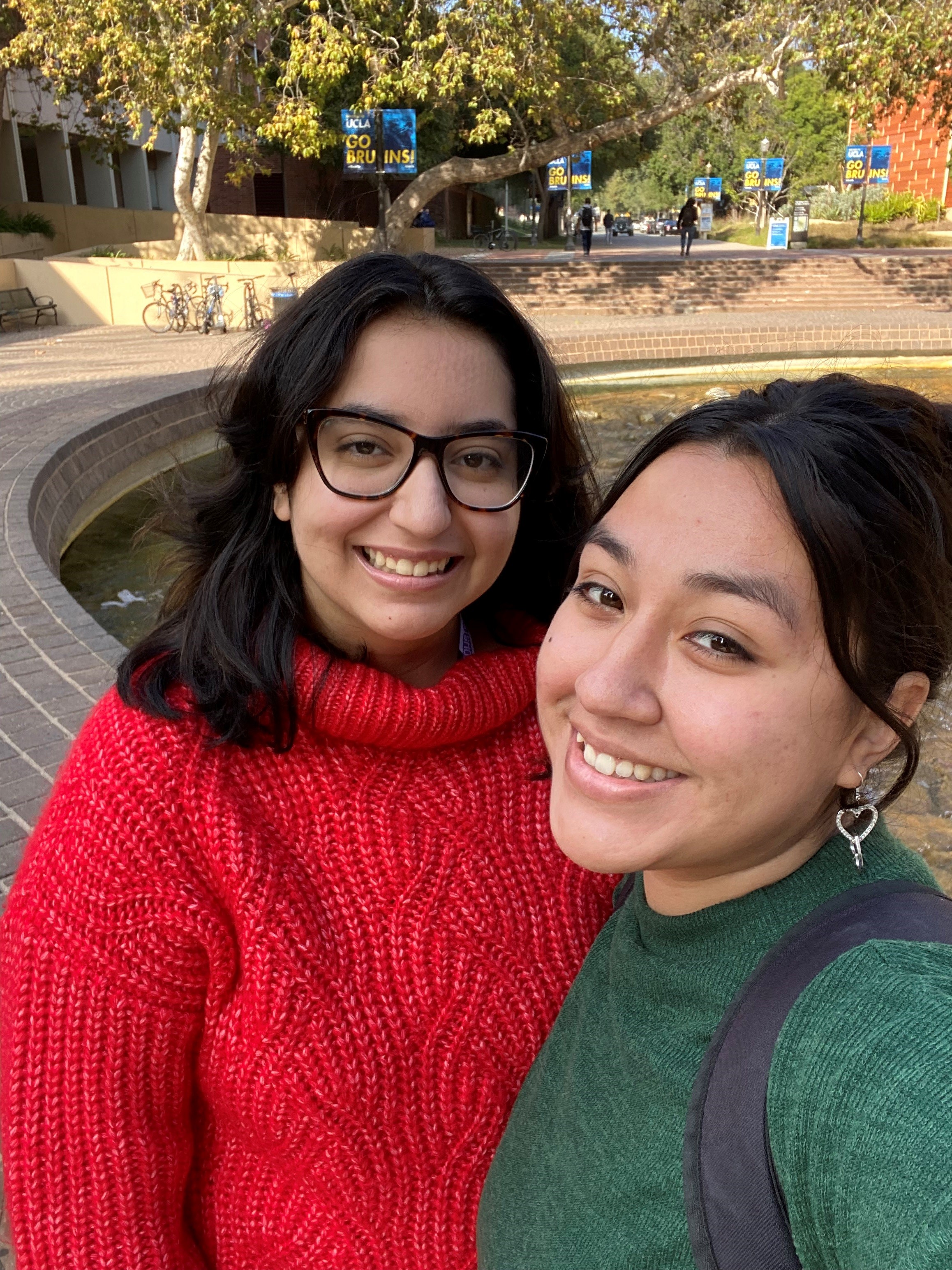 Natalie S.
College can be a massive transition for any student. But for those with a chronic illness, adjusting to this new chapter of life can be even more difficult. Having experienced the ups and downs of living with juvenile arthritis (JA) and planning a college career, Natalie Santillano decided to share what she's learned with others who may be struggling with the transition to adulthood.
Now a microbiology, immunology, molecular genetics major at UCLA, Natalie wasn't always so sure where she might end up. While most of her peers in high school were worried about SAT scores and GPAs, Natalie was worried about something entirely different: How to even go to college while trying to manage her juvenile rheumatoid arthritis.
"Most students were planning for their college careers or life after school. I was struggling to determine what was best for me and how to navigate college life with a disability," she says. "While universities do offer support services, I quickly realized that I still felt a bit alone because counselors and friends couldn't quite relate to what I was going through."
Natalie H.
While Natalie S. was figuring out how to attend college while living with JA, Natalie Hidalgo was worried about what might happen to her chronically ill mother when she left for college.
"My mother was diagnosed with systemic lupus, a form of arthritis, in 2006. I was only 5 years old," she recalls. "My mom's illness and journey with lupus has greatly impacted my life. Since her disease is highly unpredictable, many complications came with it. As a result, I got used to going with her to multiple doctor visits and procedures. I spent an immense amount of time at the ER when she would get flares."
While the hospital became a familiar place for Natalie, she also learned how complicated the health care system could be and how difficult it is to be a patient advocate. A psychobiology student at UCLA, Natalie is hoping to help make things easier for her generation.
A Perfect Match
A random roommate assignment brought together Natalie H. and Natalie S. when they entered UCLA in 2019. They immediately developed a close friendship, yet had no idea about one another's history with arthritis.
"I met Natalie S. in my freshman year of college. I liked her the second I met her because of her bubbly and welcoming personality," says Natalie H. "I remember her getting to our dorm first so she could have the bottom bunk. When I found out she had arthritis, I immediately sympathized because of my mother's similar condition. I knew exactly why she needed the lower bed. I wanted to make sure she had the most comfortable living experience possible."
Together, both Natalies began their new lives as college freshmen. But as the pandemic hit, Natalie S. began to realize she needed more support from her school and community.
"During my sophomore year, I had been going through a particularly rough patch," says Natalie S. "University was being conducted online and COVID was preventing me from going out with my friends, so I was feeling especially isolated. At the same time, I felt as though schools needed to better cater to disabled students. For instance, have a plan in place on how to deal with ableist professors, mentors and so on."
Natalie S. turned to the Arthritis Foundation for help. She knew that if she was struggling, there had to be other young adults facing the same issues. With help from the Foundation, the two created a Live Yes! Connect Group for students who need support, guidance and information on how to get services they need from their schools.
A Connected Community
Together, the Natalies led the charge for a safe space for people with chronic illness to share their stories. They began running the allyship group RADAR (Rheumatic Awareness, Disability Advocacy and Reform) at UCLA and began a virtual Live Yes! Connect Group hosted by the Arthritis Foundation.
"Whenever we have events on campus, we always have a handful of students come up to us and thank us for creating a safe space for students to vent and talk about living with rheumatic and invisible diseases," says Natalie S. "It's a heartwarming experience but also bittersweet because they'll always tell you how difficult it can be to find the type of support that our Connect Group and club offer to students."
The Connect Group meets on the second Saturday of the month and is open to any student who wants to join. This includes high school students who would like to talk about the process of applying to college while living with a disability. Meetings often include information on relevant topics, like how to apply for accommodations for exams like the GRE or MCAT or how to talk to peers and professors about having a disability.
Both Natalies are excited to add more members to their Connect Group and help them navigate life as a young adult with a chronic illness.
"This group has educated me greatly on how to become an effective ally," says Natalie H. "This sort of thing is unfortunately not taught in academic curriculums, so I had no real knowledge about current issues that affect disabled populations. Now that I'm aware of it, I feel like I can advocate for change in a meaningful way."
Their Connect Group continues to grow and has helped students on campus and in a virtual setting find a safe place to share their stories, struggles and successes. They have built a family for many young adults who need a community to connect with.
"Now that we have this Connect Group, I feel more connected to the community and grounded in my endeavors," says Natalie S. "I'm more confident in putting myself out there, and I'm not as worried about the future of my career as I was in my sophomore year."
To learn more about this Connect Group or to join, click here.