Partnering with the Arthritis Foundation
As a partner of the Arthritis Foundation, you can make a lasting impact in the lives of those living with arthritis. Below is a sampling of platforms and programs that are available.
The Arthritis Foundation brings our mission to hundreds of thousands of people each year through an array of special events, such as Walk to Cure Arthritis, Jingle Bell Run, Bone Bash and Dinners and Galas. Each of these events is important for increasing funding and awareness and ensuring viable research, public health programs and advocacy efforts. National sponsorship opportunities are available for each of these programs, providing partners with significant visibility and opportunities for one-on-one consumer engagement and sampling.
The Arthritis Foundation's Live Yes! Arthritis Community is transforming how people with arthritis live life with less pain and are more active in their care. This customized approach focuses on improving physical health, social and emotional health and experience of care. Simply put, the Live Yes! Arthritis Community is an organized and structured way of making connections, guiding people in a more precise, uniform fashion to the resources they need, when and where they need them. Partners of the Live Yes! Arthritis Community provide funding to expand our patient-reported outcomes dashboard, tools, resources and community programs that will make a direct impact on the lives of those with arthritis. The network also provides an opportunity to position your company as a leader.
The Arthritis Foundation's Ease of Use Commendation recognizes products proven to make life easier for people who have arthritis and other physical limitations. Independently tested by experts and evaluated by people with arthritis, Ease of Use products are easy to use for everyone. Learn more about our Ease of Use Commendation, as well as how to become a partner.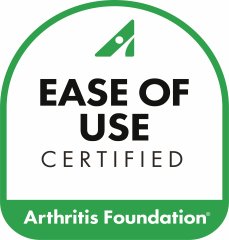 Also Available
Direct marketing to over half a million Arthritis Foundation constituents
Website sponsorship of content and topic areas
Sponsorship of brochures, newsletters and other publications
Promotional tie-ins with educational initiatives such as Arthritis Awareness Month
Fully-customized programs
Partner with Us
To learn more about existing partnership opportunities or discuss new ways to raise awareness and support for the Foundation's mission, please reach out to us. All partnerships are customized based on company needs, objectives and funding commitments.