Melnor® RelaxGrip™ Ultralight Thumb-Control 5-Pattern Nozzle
With the 5-pattern nozzle watering takes just became easier if you suffer from Arthritis.
Melnor® RelaxGrip™ Ultralight Thumb-Control 5-Pattern Nozzle
If watering tasks have become difficult due to arthritis, you need a nozzle designed to ease the pain. The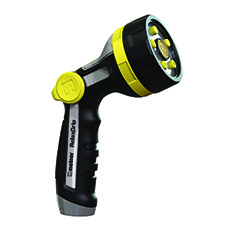 smooth operating Thumb Control Nozzle easily adjusts the water flow and spray pattern in one simple motion, without strain or twisting to operate. Quickly switch between 5 spray options to gently water fresh herbs or rinse off the car with a strong spray. The soaking bubbler makes it easy to fill up a bucket and provides soaking moisture to the roots of your plants. Keep the shower head running smoothly with a removable metal sieve that is easy to clean and provides a soft shower great for watering blossoming hydrangea. The RelaxGrip™ handle and ultra-light design make it comfortable to use without causing fatigue in your hands. Make yard work more of a joy and less of a chore.
https://www.melnor.com/
Ease of Use Program
Products proven to make life easier
Learn more about the extensive testing these products go through as well as tips for selecting easy-to-use products.

Learn More
Disclaimer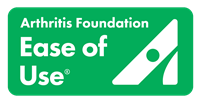 The Arthritis Foundation's Ease of Use Commendation Program recognizes products proven to make life easier for people who have arthritis and other physical limitations. Independently tested by experts and evaluated by people with arthritis, Ease of Use products are easy to use for everyone.
Stay in the Know. Live in the Yes.
Get involved with the arthritis community. Tell us a little about yourself and, based on your interests, you'll receive emails packed with the latest information and resources to live your best life and connect with others.