By Courtney Kellerman Wells, PhD, MSW, MPH, LGSW; social work educator and researcher, Arthritis Foundation patient advocate and volunteer
My story of how the Arthritis Foundation has helped me live my yes! is featured on the latest episode of the Live Yes! With Arthritis podcast. I was diagnosed with juvenile rheumatoid arthritis when I was 18 months old.
[caption id="attachment_1887" align="alignleft" width="202"]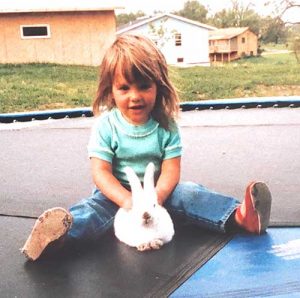 Courtney at 3 years old with her rabbit Buster[/caption]
My parents tell me the first few years were the hardest for them: my disease was very active, and the outlook was not optimistic. They were told I would most likely be in a wheelchair by the time I was sixteen. For better or worse, I don't remember much of these first few years, and it turns out my doctors were wrong. I have yet to need a wheelchair and the dramatic changes in medicine over the past 3 decades have allowed me to maintain most of my physical functioning. For this I am truly grateful.
However, this doesn't mean any of it has been easy. I still do not know a day without pain and have not been able to correctly digest food my entire life. Worse yet, I developed depression and anxiety in my late adolescence that was (and continues to be) debilitating without the aid of additional medication. I'm often told by healthcare providers, and most everyone else, that I am "the picture of health." What they don't see are the decades' worth of suffering I've endured and the sometimes-paralyzing fears I have about the future.
How have I learned to cope with all of this? I now choose to sit with my discomfort, ride the waves of change, and make meaning out of my suffering.
[caption id="attachment_1888" align="alignleft" width="247"]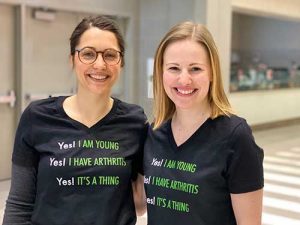 Courtney and Hilary Cronon at the 2020 Walk to Cure Juvenile Arthritis.[/caption]
I was 20 years old before I found the language to express how I felt about growing up with a chronic, progressive disease. Seeing my first therapist and studying psychology finally allowed me to name what I was feeling: grief. Expressing my emotions led me to wonder if how I feel is normal, because I had never met another person living with JA. This led me to call the Arthritis Foundation for the first time.
I did not know it at the time, but my phone call to the Arthritis Foundation was the beginning of a new life for me. Once I met other people who had chosen to find purpose in their arthritis, I was able to see my disease as a source of strength, rather than simply a series of losses. For nearly 20 years, I have been involved with the Arthritis Foundation in every possible way - as a volunteer, employee, and board member – meeting a great number of people whose meaningful stories inspire me to pursue a career in research to better understand the emotional and social aspects of living with a chronic disease, particularly during the transition into adulthood.
[caption id="attachment_1889" align="alignright" width="183"]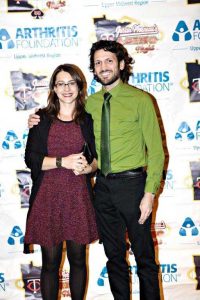 Courtney and David Wells (husband) at Arthritis Foundation fundraising event in 2015.[/caption]
My personal and professional experiences have taught me that we can't outrun our feelings; we can't go around them, we can't go over them, we can't go under them, we must go through them. This is how healing works.
Listen to this
Live Yes! With Arthritis podcast on Wellness in Challenging Times
to hear more about the research I'm doing to help people living with rheumatic diseases and learn about the important steps you need to take to manage your mental health and well-being.
Here are some of my favorite resources for learning to feel our feels:
Books:


Burnout: The secret to unlocking the stress cycle by Emily Nagoski, PhD and Amelia Nagoski, DMA


Option B: Build resilience in the face of adversity by Sheryl Sandberg and Adam Grant


Full Catastrophe Living: Using the wisdom of your body and mind to face stress, pain, and illness by Jon Kabat-Zinn


Healing your Chronic Illness Grief: 100 Practical Ideas for Living Your Best Life by Jaimie Wolfelt and Alan Wolfelt


Finding Meaning: The sixth stage of grief by David Kessler


Anything by Brene Brown, PhD


Podcasts:
The Hilarious World of Depression
with John Moe
On Being
with Krista Tippett 
A favorite Rumi poem:
The Guest House
This being human is a guest house.
Every morning a new arrival.
A joy, a depression, a meanness,
some momentary awareness comes
as an unexpected visitor.
Welcome and entertain them all!
Even if they are a crowd of sorrows,
who violently sweep your house
empty of its furniture,
still, treat each guest honorably.
He may be clearing you out
for some new delight.
The dark thought, the shame, the malice.
meet them at the door laughing and invite them in.
Be grateful for whatever comes.
because each has been sent
as a guide from beyond.