Over the past three decades, Mayro Kanning has had 25 surgeries for her arthritis, including knee and hip replacements and operations on her neck, back and hands.
She's had to give up horseback riding, tennis and racquetball, which were once her favorite pastimes. Today, performing everyday tasks like opening containers, buttoning a blouse or putting on socks is next to impossible.
Despite having to say No to many things
rheumatoid arthritis
(RA) prevents her from doing, Mayro has an unstoppable, 'Yes I can' attitude when it comes to fundraising and fighting the disease. She's been courageously leading her
Walk to Cure Arthritis
team,
Mayro's Milers
, for 13 years.
That first year, they raised $8,600 for the cause. Since then, Mayro's Milers have gone all out, collecting more than $376,000 in total since 2003. Year after year, they are consistently among the top 10 fundraising teams nationwide. Mayro even served as the event's national adult honoree two years ago.
Many of Mayro's Milers are her coworkers at the national headquarters of Kroger in Cincinnati. Until they met Mayro, most of them had no idea that RA can affect not only your joints, but also organs like the eyes and lungs.
[caption id="attachment_396" align="alignleft" width="550"]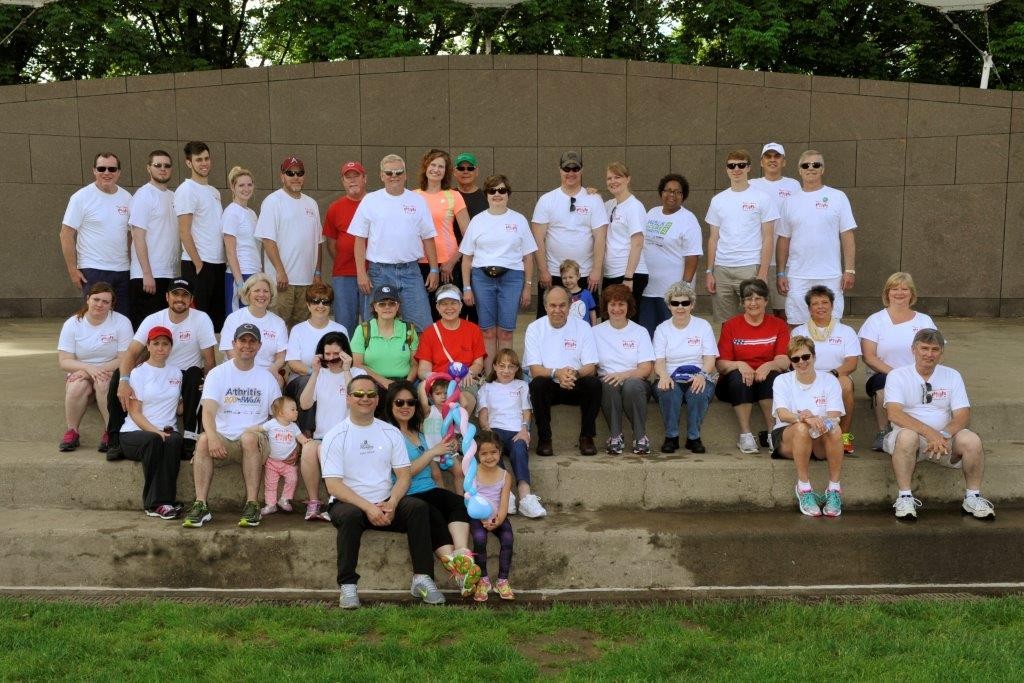 Group photo of the 2015 Mayro's Milers Walk to Cure Arthritis team.[/caption]
Mayro points out that the side effects of medications to treat arthritis add more concerns. "You have to watch your blood sugar because you're taking a certain med, plus watch out for something else with another drug," she says. "It's part of living with a chronic disease like arthritis."
We asked Mayro:
What are your top 10 reasons for doing the Walk to Cure Arthritis?
Here's what she said:


I don't want others to have to go through what I've experienced.


Arthritis is an enormous burden on companies, businesses and individuals – it's costly, drains productivity and we've got to stop it.


The Walk to Cure Arthritis is a ton of fun! It brings people together and the camaraderie is phenomenal.


This is one way I can help. Arthritis keeps me from doing a lot of things, but here's something I CAN do.


The walk event is a visible sign of hope – a way to show people with arthritis that others care about them.


It's a great way for kids to do community service and learn early on that it's not just about you, but about others, too.


The Walk to Cure Arthritis raises awareness and helps educate people about how serious and widespread it is.


It lets others know that arthritis isn't just an 'old person's disease'; two-thirds of the more than 50 million Americans affected are under 65.


It's a great way for companies and brands to show loyalty and support for their employees and their community.


We've got to find a cure. Medication can help, but it's not the answer.


In good company
For 41 years, Mayro has been a faithful employee of Kroger, which regularly donates food, water and funds for the event in her honor. "At times, I would have rather stayed home because it hurt so much to do anything, but I enjoy my work," she says, adding ("I'm sticking out my neck here!") that she won't think of retiring until her team passes the half million dollars mark.
[caption id="attachment_397" align="alignleft" width="550"]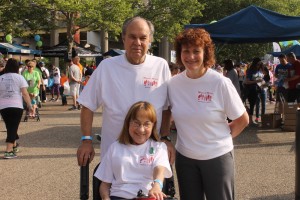 Mayro & teammates at the Walk to Cure Arthritis.[/caption]
Mayro is quick to credit her team captains, who are also her coworkers and great friends, Mark Whited and Mike Brown, for the fundraising success of Mayro's Milers over the years. Their secret? They work on the event all year long, not just a few months before. "We get together once a month or so, have some kind of activity and brainstorm about how to reach our goal," says Mark. They've set their highest goal yet for 2016: $60,000.
"Everyone knows someone with arthritis. It can happen to anyone," he continues. "My personal connection to arthritis is Mayro. She's become part of my family. Once I learned what a terrible disease this is, it really hit me: No one should have to go through what Mayro has. Whatever it takes, we have to conquer arthritis."
Related Resources:
Learn More About / Register for Walk to Cure Arthritis
Thank You to Our 2016 National Walk to Cure Arthritis Sponsors!