"Kids don't get arthritis." 
That's the first thing Chrissy and Jason Rose said when the doctor told them their 13-month-old son had juvenile arthritis.
"As an infant, Carson was a cranky baby," Chrissy explains. "He would scream and cry and didn't sleep through the night until he was more than a year old. He would lay on the floor and pull at his legs. We didn't know what was going on and were kind of going crazy.
"We tried everything to get him comfortable. When he was learning to walk, we noticed he appeared to be limping, and he never actually crawled. He would army-crawl on his forearms, but never supported himself on his wrists. It wasn't until much later we learned he only had 30 percent mobility in his wrists."
The Roses took Carson to the pediatrician eight times before they started to untangle this medical mystery. "I was the crazy mom calling every day, insisting he hadn't hurt himself and asking what more we could do. Carson's doctor finally ordered blood work, which resulted in a referral to a rheumatologist. Little did we know how challenging it would be to get an appointment."
When Chrissy called to schedule an appointment with a pediatric rheumatologist near their hometown of Columbus, Ohio, the earliest appointment was eight months away. She feared if she waited that long, Carson would still be unable to walk. So, the Rose family drove two hours to the next nearest rheumatologist in Cincinnati, Ohio, where Carson was finally diagnosed with
juvenile idiopathic arthritis
.
"I didn't want to believe it," recalls Carson's dad, Jason. "I was very adamant that this was not happening to my son. Is he ever going to play sports? How will this affect his life?"
"It's really easy to feel guilty as a mom when you know your son has never known life without pain," Chrissy says. "I didn't realize arthritis was a thing in kids."
Within a month of his diagnosis, Carson had received his first round of steroids and joint injections in both knees and wrists. While he experienced almost immediate relief with crawling and walking, he did not respond well to the drugs his doctor prescribed. When the Roses decided to relocate to Indiana, the proximity of rheumatologists played a vital role in their decision because of the dwindling numbers of rheumatologists in Ohio.
After three years of weekly injections at home, Carson has been in remission for the past two years. Today, this determined 7-year-old enjoys playing baseball and basketball and wrestling — and sharing his story with others.
Finding a New Family

One of the hardest parts about Carson's diagnosis was how little the Roses' friends and family knew about arthritis.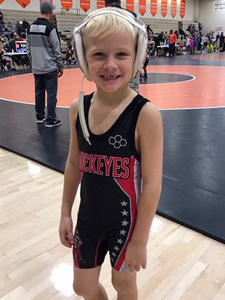 "It was really hard for people to wrap their brains around the fact that most of our kids don't look sick," Chrissy remembers. "We went to Disney World when Carson was 5, and people were staring at him because we had to push our walking, talking little boy in a stroller. Just because my kid doesn't look sick doesn't mean he isn't sick."
The turning point for the Rose family was finding the Arthritis Foundation — what Chrissy calls the family she never knew they needed but that came into their lives when they needed them most.
"When you're dealing with a child's diagnosis at such a young age, it's incredibly overwhelming. The Arthritis Foundation quickly jumped at the chance to help us settle in to our new reality. They connected us with families across the country who were going through the same thing we were.
"We formed a
Walk to Cure Arthritis event
team and had opportunities to share our story within our community. If there is one constant in our journey, it's that the Arthritis Foundation has always been in our corner."
For the past four years, the entire Rose family has attended the Arthritis Foundation's annual National Juvenile Arthritis Conference. At first, they sat in every class and were absorbing every bit of information they could. Today, they serve on volunteer committees, and Jason runs several sessions, speaking to other dads about how to navigate the journey.
"The Arthritis Foundation has taken us in, and we love giving back. Being an Arthritis Warrior means never giving up," says Carson's dad. "From the time Carson began walking, he was forced to deal with the painful side effects of arthritis. But because of that, he's leading a great life today. We could have chosen to let arthritis dictate the direction of his life; but instead, he has worked harder than any 7-year-old I know to ensure this disease doesn't limit him. Now in remission, we like to say Carson had arthritis, but arthritis never had him."
To learn more about Carson's journey and what the Rose family is up to, check out
Carson's Crew
on Facebook.
 Share Your Photo to Unlock a $5 Donation to Help Kids Like Carson

To celebrate Arthritis Awareness Month, our
Let's Get a Grip on Arthritis campaign
is debunking myths and revealing truths about arthritis — like the fact that arthritis doesn't just affect older people. The majority of those with arthritis are younger than 65, including 300,000 children living with the disease.
Now through the end of May, share your photo at
arthritis.cheerity.com
to unlock a $5 donation to the Arthritis Foundation from CVS Health
®
and Cheribundi. Sharing your photo on social media will help families like Carson's redefine their future by funding life-changing research and resources that transform lives. 
Want to stay up to date on all the exciting news and activities this month?
Sign up to receive email from the Arthritis Foundation.
You don't want to miss the stories and myths we'll be busting next.