April 18 to 24 is National Volunteer Week, an opportunity to recognize the impact of volunteer service and the power of volunteers to tackle society's greatest challenges. Arthritis is a widespread and challenging disease that affects at least 54 million Americans, probably millions more. The reason the Arthritis Foundation exists is to conquer arthritis — offering solutions for today and hope for tomorrow. Volunteers lead our fight, so all week long we want to take a moment to recognize and salute all Arthritis Foundation volunteers for their generous commitment and hard work.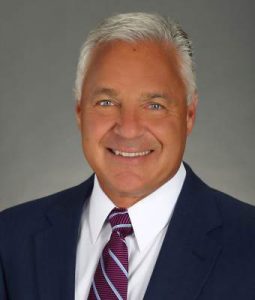 Frank Longobardi is national board chair of the Arthritis Foundation. His connection with our cause spans the past 25 years of giving back to the arthritis community. He received our Legacy of Volunteer Service Award in 2016 and serves on the board of the Safe at Home Foundation, chairing their audit committee.
Frank is the former CEO of CohnReznick, one of the country's largest public accounting firms. During his tenure, CohnReznick experienced sustained growth, climbing to $660 million in revenue, over 2,700 employees and 25 offices across several countries.
Frank was persuaded by a CPA friend to volunteer for the Arthritis Foundation in his native Connecticut. He then went on to lead Foundation fundraisers in the New England region, as well as got involved in the Jingle Bell Run. During his time volunteering for the Arthritis Foundation, Frank's son came down with uveitis, an arthritis-related condition that can cause blindness, which he has luckily fought with effective treatments.
"It's been such a pleasure for me to be part of this organization's remarkable journey over the past several years," Frank says. "Now, as board chair of the Arthritis Foundation, I'm very excited about where we are headed as a community, as a family and as a movement. So many of our volunteers, nationally and locally, have stepped up to ensure that we continue to meet the arthritis community's needs. I love their passion and commitment."
Frank is a great example of why we express gratitude this week to the committed volunteers like him who lead the Arthritis Foundation's important work. He inspires us all to take the next steps forward. In every community nationwide, there are enthusiastic leaders who make everything happen. And we are very grateful for their individual and collective leadership.
"The ongoing support of volunteer leaders everywhere proves there's strength in numbers," says Frank, who has since relocated to Jupiter, Florida, with his wife, Pat, and is an avid golfer and loves to read. "I want to thank all Arthritis Foundation volunteers for being an integral part of this journey to transform people's lives. Please keep saying Yes to conquering arthritis! This is our fight together and our fight to win."
Frank further says that National Volunteer Week is a wonderful opportunity for nonprofits to recognize the amazing work volunteers do. "I am extremely proud and honored that we at the Arthritis Foundation have such an incredible group of volunteers who are the catalyst of all that we do to help improve the life of those afflicted with arthritis. Thanks for giving your time to us!"
Volunteers are the lifeblood of the Arthritis Foundation's work, as they have been since this movement began over seven decades ago. On the front lines every day, Arthritis Foundation volunteers expand our impact and open doors to more dollars to fuel our mission. If you are up to the challenge of giving back, and contributing your talents and skills,
join our movement and make a difference as a volunteer!