STEVE SMITH: Champion for JA Families
It's National Volunteer Week, an opportunity to recognize the impact of volunteer service and the power of volunteers to tackle society's greatest challenges. Arthritis is a widespread and challenging disease that affects at least 54 million Americans, probably millions more. The reason the Arthritis Foundation exists is to conquer arthritis — offering solutions for today and hope for tomorrow. Volunteers lead our fight, so all week long we want to take a moment to recognize and salute all Arthritis Foundation volunteers for their generous commitment and hard work.
Steve Smith is the consummate Arthritis Foundation volunteer. Few have done more to advance the fight against
juvenile arthritis
for JA families than Steve. His generous and genuine efforts as an Arthritis Foundation volunteer over the past 25-plus years recently earned him the 2020 Charles B. Harding Award for Distinguished Service.
Steve was on active duty in the U.S. Navy for over two decades. His and his wife Liz's daughter, Emily, was diagnosed with JA at age 2. Two more children of the Smith family were also diagnosed with arthritis.
After he retired from Navy duty, it didn't take Steve long to realize he had an important role to play in helping other JA families deal with their common challenges.
Steve recently received the Arthritis Foundation's 2020 Charles B. Harding Award for Distinguished Service.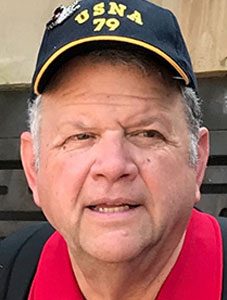 Through the years, Steve has been the protective lighthouse so many have needed. He's been a beacon of hope, helping countless JA families as they navigate their own journeys. Steve has encouraged JA dads and moms, caregivers and JA kids, teens and young adults alike. Over years' worth of events, Steve is the first one there … and the last one to leave … always busy, but always available to help others on their own journey. Steve and Liz embody the admirable qualities of the Arthritis Foundation's new Steve & Liz Smith Legacy Award.
But beyond Steve's dedication to juvenile arthritis, he has embraced even more: He was Arthritis Foundation national Walk chair or co-chair between 2003 and 2008, plus regional Jingle Bell Run chair for several years. He has served on many committees and is highly engaged locally in the Washington, D.C., area, where he's active in the Foundation's local leadership board and has served as chair of the D.C.
Walk to Cure Arthritis
for 15 years.
Recently, Steve has also led the virtual veterans
Live Yes! Connect Group
. Besides sharing his own family's experiences of living with juvenile arthritis, Steve salutes the many military service members who live with the effects of arthritis in different forms.
"I have seen what the Arthritis Foundation has accomplished for my family over the past 25+ years," Steve says. "They are part of our family. If I can share just a small portion of that with my fellow vets, to maybe make one person feel better about themselves, I will consider this group a success. I just want to help."
Thank you for your continued commitment to the cause Steve!
Volunteers are the lifeblood of the Arthritis Foundation's work, as they have been since this movement began over seven decades ago. On the front lines every day, Arthritis Foundation volunteers expand our impact and open doors to more dollars to fuel our mission. If you are up to the challenge of giving back, and contributing your talents and skills,
join our movement and make a difference as a volunteer!
—By Tony Williams