Competitive swimming is a difficult sport. Athletes spend hours every day going back and forth in a pool with their heads mostly under water honing their skills and techniques hoping to shave tenths of a second off their times.
For brothers Tom and Greg Van Volkenburg, this is what they did throughout their formative years – and they did it very well. Both were exceptional athletes on their high school swimming teams and later on their college teams; Tom at the University of Notre Dame and Greg at Lafayette College.
Now adults and living in different parts of the country, Tom and Greg are on a mission. In July, surrounded and supported by a village of volunteers, Tom and Greg will swim side by side across Lake Erie; more than 24 miles across the thirteenth largest lake in the world!
When asked why they are doing this, Greg jokingly replied, "I blame Tom for this!" Tom kicked back, "I think we blame each other." The real reason is much more meaningful.
"Our mom was diagnosed with
rheumatoid arthritis
when she was in her early twenties," explained Tom. "She's had several surgeries to alleviate her pain. She pretty much kept it hidden from us as children. She didn't want us worrying."
"They knew something wasn't right," said Debbie, Tom and Greg's mom. "In the beginning it seems a little embarrassing because you think of arthritis as an older person's disease. Then you realize arthritis is chronic, meaning it will never go away. You have to decide to move on and live your life. We didn't give the kids too many details. I didn't want to burden them."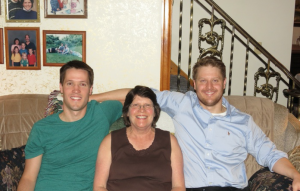 As adults, Tom and Greg became more aware of the disease and what their mom went through.
"This is our opportunity to do something, to honor our mom and to help the arthritis community," explained Tom. 
IMAGE (Left to Right): Tom, Debbie and Greg
Swimming across Lake Erie is no small feat. By most accounts, 92 have tried and only 17 succeeded. And the training and preparation needed far exceeds what Tom and Greg are accustomed to.
"I joke with my wife that it's like planning a wedding," said Greg. "The logistics are fantastic: Lining up boats, kayakers and volunteers; getting passports; getting permissions from the U.S. Coast Guard and cities; lining up ambulances; and making sure there are no large ships going through the area we will be swimming in."
"And then there's the training. In college our maximum training swims were 6,000 to 8,000 yards for a couple of hours. Now we're swimming 36,000 to 40,000 yards every weekend for 9-10 hours per day. It's a tremendous challenge that requires a lot of support from a lot of people."
Beginning July 16, with a large group of volunteers on standby, Tom and Greg will monitor weather patterns and predictions for the upcoming days. When the conditions look right, they will wade into the chilly waters of Lake Erie and begin their swim. If everything goes well they should finish within 11 to 12 hours.
Tom and Greg have set an ambitious goal of raising $25,000 through their swim to support our arthritis research initiatives.
"Mom is everything," said Greg. "Mom means the world to both Tom and I. Having the opportunity to raise funds on her behalf, to dedicate this swim to her, it means everything."
Learn more about Tom and Greg's swim and support them with a donation by
going to their website
. Stay tuned to our
Facebook page
, beginning July 16, for updates on their swim.
Related Resources: