Because of their deep commitment to the arthritis community, and with generous support from their friends and relatives, the Anderson family of Wisconsin has raised almost $100,000 for the Arthritis Foundation since coming aboard as volunteers more than a decade ago. This past weekend, they celebrated the latest round of their fundraising feats by taking part in 2016's first
Walk to Cure Arthritis
event at the nearby Mall of America.
Why do the Andersons walk? They do it for the estimated 300,000 kids in the United States affected by juvenile arthritis (JA), including one of their own. Alexandria Anderson, nicknamed Alex, was diagnosed with JA at age 4. Her mother, Tobie, says they initially went through what many families experience: "Lots of pain and struggles, but no answers," then relief at finally knowing what was going on.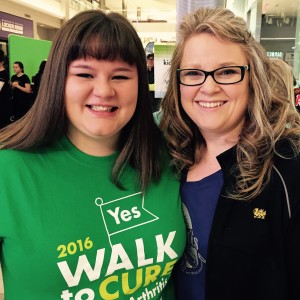 Even then, Tobie remembers, she and her husband, Matt, felt out of control because there's no cure for arthritis and they couldn't take away Alex's pain. "Fundraising was one thing we felt we could do to help her and others like her suffering from this disease."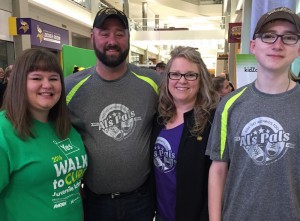 The Andersons have been heavily involved in the Walk to Cure Arthritis ever since, including forming a Walk to Cure Arthritis team of about 100 friends and family members called "Al's Pals." Tobie has served on the local walk committee for the past 10 years and now chairs the event's national volunteer committee.
The family has spearheaded their own fundraisers as well, like soup suppers, bake sales and a night of family fun called "Spin for a Cure," with auctions, raffles, Bingo and more.
Tobie's top 10 reasons why her family and Al's Pals talk and walk "The Walk"


It gives us hope that one day we'll have played a part in finding a cure.


It helps us raise awareness that kids get arthritis, too.


It's a way to give back to the Arthritis Foundation, which has done so much for our family, connecting us with others.


It's fun to fundraise!


We want to make a difference.


We get to see our arthritis friends and family at the Walk event each year.


It feels good to do it!


Money raised can help send kids to JA camp.


We want a cure!


We couldn't take away Alex's pain, but fundraising made us feel like we could do something ourselves.


"We don't do it alone."
For the just concluded Mall of America event, Alex, now 17 and in medical remission, was the top individual fundraiser, far exceeding her original goal of $10,000. Her mother is quick to point out that they don't do it alone. "Our team supports us in so many ways," Tobie says. "We're out there where everyone sees us, but there are so many people behind the scenes who help make it all happen." That includes Tobie's sister, Amber, to whom she gives a special shout-out of appreciation.
As the new Walk to Cure Arthritis season gets underway, we're grateful for the wonderful example the Andersons and all of Al's Pals provide. With Champions of Yes like them, and the multitude of others who make this event so successful nationwide, a cure can't be that far behind!
Learn More About / Register for Walk to Cure Arthritis
Thank You to Our 2016 National Walk to Cure Arthritis Sponsors!