One sultry afternoon in September, Terry Bradshaw was hanging around the horse-training facility on his ranch in Thackerville, Oklahoma, reflecting on turning 70 a few days earlier. "The ride I've been on has been an absolute joy," says Bradshaw. "The good and the bad, all of it."
There has been plenty of good for the legendary Pittsburgh Steelers quarterback and award-winning TV personality. He counts appearances in movies and even a few country-western records on his résumé, too. But there has been adversity, as well, from the boos Bradshaw heard as a rookie with the Steelers to his very public struggle with depression.
An Unexpected Opponent
Bradshaw has faced another foe since 2013, when he was diagnosed with rheumatoid arthritis (RA).
"It was like, 'What do you
mean
,
rheumatoid arthritis
?'" he recalls asking his doctors, his voice and energy rising in a way that fans of
Fox NFL Sunday
and
Thursday Night Football
would recognize. "They had to bring me up to speed on what it is. And I've got to tell you, I wasn't real happy knowing I had rheumatoid arthritis and the fact that I could hurt so bad."
That's saying something, considering that the burly Bradshaw spent 14 seasons in the NFL getting battered by even bigger opponents. Yet he's facing RA with the same grit and determination that led him to success on the gridiron. And, despite coping with
painful symptoms
, he maintains the buoyant outlook that makes him appealing in front of the camera. "I don't let rheumatoid arthritis dictate my life," says Bradshaw, who partnered recently with the American College of Rheumatology to encourage people with rheumatic disease to live well and be
proactive in their care
.
Scoring Victories
Born in Shreveport, Louisiana, Bradshaw was a star quarterback in high school and became one of the top college quarterbacks in the country at Louisiana Tech University. As the first player selected in the 1970 NFL draft, Bradshaw was expected to improve the Steelers' fortunes. He struggled during his first few seasons, and the team continued losing. Once he refined his passing touch, though, he went on to become one of the greatest quarterbacks in NFL history. He led the Steelers to four Super Bowl victories, was named most valuable player in 1978 and earned a place in the NFL's Hall of Fame.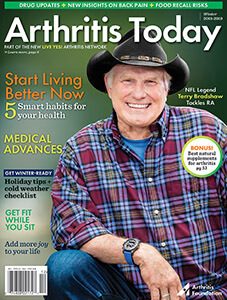 Bradshaw retired from the NFL in 1983. He has appeared in TV shows and films, including
Hooper
,
The Cannonball Run
,
Failure to Launch
and
Father Figures
. To football fans, though, he is the animated analyst on
Fox NFL Sunday
, the pre-game show he has co-hosted since 1994, where his plain-spoken and often hilarious commentary has helped him win three Emmy awards.
Although he never had knee injuries while playing, Bradshaw developed pain in both knees that made even walking a challenge. Tests revealed he had RA.
Winning with RA
After three years, Bradshaw and his doctor found
disease-modifying drugs
that keep his symptoms mostly in check.
"Am I 100 percent pain free? No, but I'm about 95 percent," he says. His RA affects him most in the hips, hands and fingers. (Thanks to joint-replacement surgery in 2016, his right knee is pain-free.) Fatigue is sometimes a problem, too. He credits his wife, Tammy, with helping him stay on track with his drug regimen.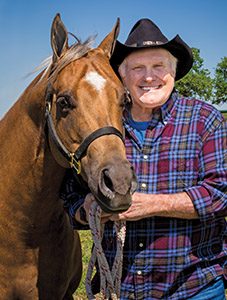 Being on the go is one key to keeping his RA symptoms at bay. "
You have to be active
," says Bradshaw, fresh from a fast-paced, 90-minute
weight-lifting
session with a trainer. He and Tammy walk for aerobic exercise, and he enjoys fishing. Bradshaw says his
depression, which often occurs with RA
, is under control, too. "I live my life," he says. "I do everything I want to do."
That includes working, even though it means being away from home for much of football season. "
I still love what I'm doing
," he says. "I don't get tired of it. I don't get tired of traveling – heck, you get almost seven months off. Plenty of time to rekindle the old energy."
Author: TIMOTHY GOWER
Related Resources: