I picked up the phone and heard, "Hi, this is Tatum," and my vision went black and white for a second. Hearing that raspy voice, I saw Tatum O'Neal, at 8 years old, as Addie Loggins in the 1973 movie,
Paper Moon
, which was shot in black and white. Tatum, so young, nailed the part and won herself an Oscar.
Back to reality, in full color. Tatum, now 52, needed to talk. She told me she'd reached out to the Arthritis Foundation because she'd been diagnosed with
rheumatoid arthritis
(RA) "with some osteoarthritis mixed in there" a little more than two years ago. She was so warm and sincere; we talked for a long time about her diagnosis and her experience. She wanted to understand the disease and how it affects people and creates a need for connection with others who have RA.
Although she has a good support system, she said, "I don't think people understand."
A Tough Road
Tatum and I stayed in touch, and on a beautiful day in Los Angeles, we finally met. She described how her RA seemed to come on slowly and then all at once. She was already in what she describes as a "low state," dealing with pain from several neck and back disc surgeries in recent years and unhappy knees – one kept ballooning, refusing to heal after meniscal repair surgery. But this was different. "The pain changed in nature and location. It was scary," she says. She had difficulty walking, and thought, "Wow, something is so bad."
Then one night it hit her hard. Her right hand swelled and ached "unbelievably." A rheumatologist diagnosed RA, and an MRI revealed damage in her ankles. "That was a sad day," she says.
Tatum began taking a biologic drug, giving herself shots in her stomach once a week, and methotrexate. Not long after, she was hospitalized with pneumonia three times in four months. Doctors were puzzled. Finally, a pulmonologist realized her lungs were reacting badly to methotrexate. "It's been a tough road," says Tatum, "very, very scary for my children and for all of us."
Off methotrexate, she's on a new medication combination. When we reconnected a few weeks after my visit, she told me that lately her days have been "pretty perfect."
Hollywood Child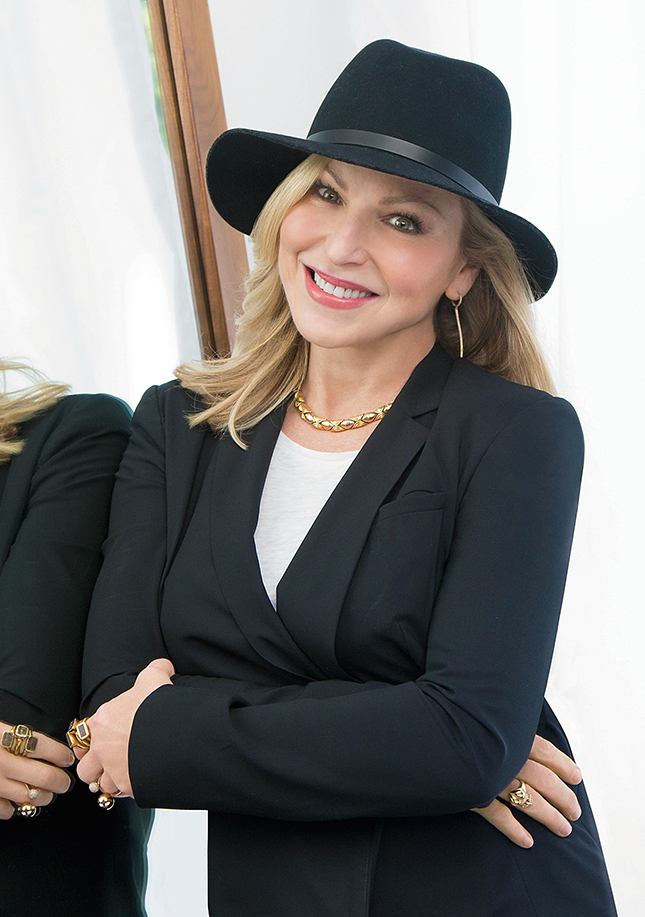 Tatum is no stranger to adversity. A child of Hollywood, she has had "such a difficult life in some respects, although such a great life in others," she says. After receiving an Oscar for the role of Addie, which she played alongside her father, actor Ryan O'Neal, she went on to star in
Bad News Bears
,
Little Darlings
and
International Velvet
. A young fan, like I was then, would have assumed she lived a happy, glamorous life. But in her 2004 book,
A Paper Life
(William Morrow), Tatum revealed a childhood of neglect and emotional and physical abuse and a family immersed in drugs and plagued with addiction. She, too, has struggled with addiction.
Sober now, Tatum says, "No question I've had high highs and low lows." In 2011, Tatum and her father came together for a reality show called
Ryan and Tatum: The O'Neals
, which documented their pained efforts to reconcile after 25 years of estrangement.
Getting Ahead of Rheumatoid Arthritis
Tatum says, "My mental health is so important. I've had depression before. With RA, I always try to go to a place of hope."
But Tatum is motivated to do more than just hope.
"I've got to get ahead of it," she says. "I've got to! I have a young spirit and want to be able to do anything in the world that I want to do. I want a long, healthy life."
Tatum takes a lot of supplements, from probiotics to turmeric to MSM.  She forces herself to eat wild salmon ("yech," she says), and limits sugar, meat and fried foods.
"I'm trying so hard to stay healthy," she says.
Tatum is past the days when she would go for daily 7-mile runs with Madonna and do intense yoga with "gnarly headstands." Now she mostly does floor work, like stretches, sit-ups and Pilates. "The core work has helped a lot." And now that her knee seems to be healing, she's begun walking on a treadmill. She's happy to be moving more, on her own terms.
"I've worked out with trainers. They push you harder than you want to go. They don't understand the damage. I know how far I can go," she says.
One Day at a Time
Tatum gets the reality of RA. "It's not curable but you can go into remission."
Her three adult children have rallied around her. "My kids have been pretty great. They watch out for me."
"I don't have parents," she says, referring to her mother's death in 1997 and ongoing estrangement from her father. "I don't think he knows I have RA," she says quietly.
"I had to restructure my friends and support system," she says. "You have to find a core group of family and friends to love you and stand by you."
She feels lucky. "Right now, I can go out and see friends, I can dance and I have my humor."
She says, "It's good to have joy. It brings good energy. I try not to live too far in the future or in the past. I live one day at a time."
Author: Marcy O'Koon Moss, Arthritis Foundation
Related Resources: