Rheumatologist Wins Highest Honor
Arthritis Foundation presents our top volunteer award to Dr. Robin Dore.
By Anthony Williams | April 14, 2023
Robin Dore, MD, first got involved with the Arthritis Foundation when she received a fellowship award we funded in 1978. That award helped train her in the field of rheumatology at Harbor-UCLA Medical Center. And the more engaged she became with our mission over the years, the more she wanted to do for the arthritis community.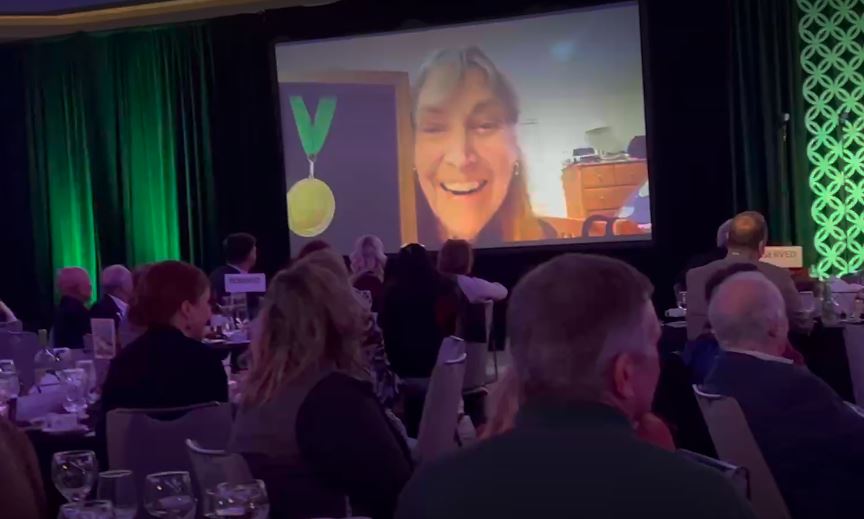 In recognition of Dr. Dore's long and passionate commitment to arthritis patients and the Arthritis Foundation's mission, the Arthritis Foundation granted her our highest annual honor for volunteers across the country: the 2022 Charles B. Harding Award for Distinguished Service.
We presented the prestigious award to Dr. Dore at our
Pathways Conference
in San Francisco in early March 2023. She joined the ranks of previous Harding Award recipients since 1976, which has included actress Jane Wyman and First Lady Betty Ford.
Hanging on the wall of her office in Tustin, California, is a guitar inscribed with "My Doc Rocks." It's actually the fifth guitar Dr. Dore has received for her team's fundraising success in
Walk to Cure Arthritis
in Orange County and the Inland Empire. She credits her late husband, Cliff Locks, for convincing her that raising funds for the Arthritis Foundation would resonate with her patients.
"If your own patients get involved, other doctors' patients will get involved, too," he told her. He was right. Other doctors followed suit, forming their own teams and raising funds.
When Team Dore formed in 2005, it raised $8,000. Since then, Dr. Dore's team has raised nearly a million dollars, including $99,000 in 2022. She says that every year, her patients can't wait to raise even more money to advance
research
for treatments and a cure and
advocacy
efforts that are helping patients access the care they need.
"We've come so far. But we need to go further."
Dr. Dore was unable to join the Pathways Conference in person for the ceremony, but she was there to accept her award virtually. "This is so wonderful! I'm honored, I'm surprised, I wish I could be there!" she exclaimed in live streaming video, proudly showing off the award medal she had just received.
"To be included in this group of people, these previous Harding Award recipients, is so wonderful," she continued. "It's something I had always hoped for but just wasn't sure if it would ever happen."
Dr. Dore talked about her longtime passion for our mission and our remarkable progress as an organization. "I've been involved with the Foundation since 1978, and I'm still on the Arthritis Foundation board in Orange County, where I've been since 1982. Every single day, I talk with my patients about the Arthritis Foundation and how far we've come. We've taken patients from wheelchairs and gurneys with frozen knees and hips. We've come so far. But we need to go further.
"I want to thank my family for putting up with all my volunteer work," she went on. "And my late husband, who came up with this idea of grateful patient engagement and Team Dore. I thank my wonderful patients and Teresa Dinh Watanabe (local Arthritis Foundation senior executive director), who has done everything with the Foundation."
Dr. Dore concluded by renewing her promise as a dedicated volunteer. "I am just overwhelmed and grateful. And I promise you, I will continue every day to work to get what we need for our patients, so that we'll have individualized treatment someday. And we can end this trial-and-error stuff and find the right medicine the first time for them."
Sign Up to Volunteer
Say Yes! to volunteering! We look forward to matching you to a volunteer role that uses your strengths and passion for finding a cure for arthritis.