Movement and Connection Power Florida Connect Group
RA patient and yoga teacher Sherry and her spouse Sandy lead a Live Yes! Connect Group that incorporates movement—whether on the mat, at the beach or walking a trail.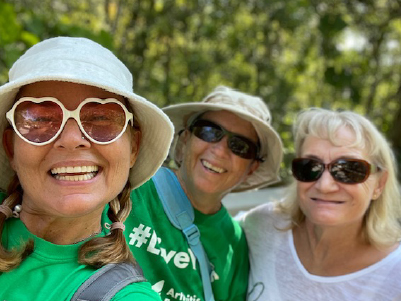 Sherry's Diagnosis story
In early 2018, I was tested for rheumatoid arthritis (RA) and told that I did not have it based on my bloodwork. By the time I was diagnosed with RA in September 2019, the pain in my hands had become unbearable. It was difficult to wash my own hair, and cutting my own food was out of the question. The day I was finally diagnosed, I was relieved to finally have a name for the aggressive and inexplicable amount of pain in parts of my body. But I also felt terrified for what this would mean moving forward.
How did you become involved with the Arthritis Foundation?
When I was diagnosed, I left the rheumatologist office feeling numb, terrified and turned inside out. The only thing I knew to do when we got into the car was to Google the Arthritis Foundation in Florida. The very next day, I connected with a Connect Group leader on the telephone. She immediately enfolded me into her care and made sure I knew that I was not alone. She introduced us both to Jingle Bell Run and other events that would continue to help us feel buoyed by hope. She helped Sandy and me become a part of the Arthritis Foundation family. Now my spouse and I get to be that anchor and help others who are newly diagnosed. It continues to help me feel empowered, valuable and strong to be able to help others who are going through similar circumstances. Finding the Arthritis Foundation office in Florida changed the trajectory of my life with this disease.
How can yoga help with arthritis pain, physically and mentally?
Sherry (on left in photo): Having a chronic illness like rheumatoid arthritis can make me feel like a stranger in my body. What used to feel familiar is no longer familiar to me due to pain and mobility issues. Doing yoga helps soothe that feeling by bringing my body and mind back together to work as a team, in union. The meaning of the word yoga is "union." When I do yoga, I can allow myself to forget what hurts, or what is swollen or inflamed. Yoga has this uncanny ability to meet you and your body where they are in the moment, which is perfectly suited to anyone with a chronic illness like arthritis. Chronic illness, injury or pain can make you feel disconnected from your body. It can be so frustrating to lose mobility, feel like you can no longer do the things that you used to do. I have found that yoga can soften those thoughts and help me feel strong, which is what I need to keep going.
Sandy (center in photo): Importantly for me, yoga presents the opportunity for my otherwise overly active mind to focus more singly. It slows me down to breathe and follow the instructor's cues and experience how the movement feels in my body. It is a timeout for my mind, helping me become more fully refreshed in mind and body after class, which is important for everyone, especially those who are also caregivers. This marriage is available for anyone who comes to yoga willing to try. It is a great "sport" for those with challenged bodies to feel successful.
How and why do you incorporate movement into your Connect Group?
Our Connect Group started during a time when groups could only meet virtually, so we had members from other states. When the Arthritis Foundation began stepping back to in-person gatherings for Connect Groups, Sherry especially felt that we could bridge movement and connection for our virtual members and for those who join us in person. Movement and connection are naturally good friends. Some have walked with us during our Connect Group from their own space and joined us for a yoga session
When we share yoga or go on walks, there is an inherent camaraderie with others who are there, too. This was an easy idea for us to build on and marry movement with our Connect Group. From the moment we say hello and welcome attendees, they want to share with one another because there is already a common denominator by taking part in an activity together.
Being heard is a very important part of support for those with arthritis, and Connect Groups are a great avenue for this to happen. Group members tell their stories and share their concerns, hurdles and successes. We give one another permission to be ourselves, to walk or take part in yoga and to share.
Stay in the Know. Live in the Yes.
Get involved with the arthritis community. Tell us a little about yourself and, based on your interests, you'll receive emails packed with the latest information and resources to live your best life and connect with others.