Serving on the Front Lines of Arthritis Care for Veterans
Veterans Affairs' Dr. Kimberly Fountain says joint pain is common among patients she sees.
By D. Aileen Dodd | June 14, 2023
Her patients carry the burden of the nation on their shoulders, and for many, protecting the right to a free, democratic society in the world can be a heavy lift. Some suffer debilitating back and knee pain from hauling heavy rucksacks across rough terrain. Some face high blood pressure caused by diet and stress. Others fight depression.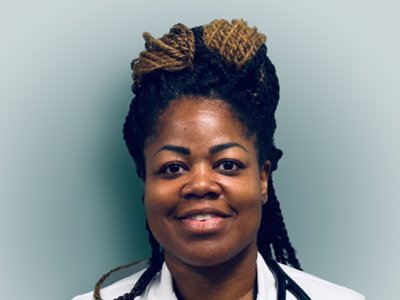 Kimberly Fountain, MD, Chief Medical Officer, Atlanta VA Medical Center, serves on the front lines of the comprehensive care team that treats the brave men and women who have selflessly served us all.
A graduate of the University of Utah Medical School, Dr. Fountain says she was called to the mission. Her father served in the U.S. Navy during the Vietnam War. And she is driven to treat her patients with the respect she had for him. Dr. Fountain wants each veteran she encounters to feel valued and that they deserve exceptional health care that improves their quality of life.
But first she gains their trust.
"I hear so many stories. Many veterans who come to see me have told me, repeatedly, that their visits to the VA Hospital may not have always been pleasant," says Dr. Fountain, who has been practicing medicine since 2009. "They may have had a bad experience or may not have gotten the help that they needed. I try to alleviate their frustration by acknowledging what they have been through and telling them that I am committed to their care and will be there to help them to navigate the system and get what they need."
Joint Pain Is Common Among Vets
One of the most common complaints for the veterans she sees is joint pain. Dr. Fountain has diagnosed veterans as young as 20 with
osteoarthritis
caused by overuse or injuries, and others with rheumatoid arthritis, an autoimmune disease that can be disfiguring.
"Someone who is in the military or who has a lot of over-activity, this over-activity can put them at increased risk for having joint deterioration at an earlier age," Dr. Fountain says. "I have seen this in some as young as their early-to-mid 20s. They went into the military immediately after high school. And when they begin transitioning from active duty to civilian life, they will come to see me and complain of back, shoulder or knee pain. They are usually not surprised when I tell them that their pain is arthritis."
"I have had patients who break down and cry about the things that they once could do that they can't do anymore," she adds.
Dr. Fountain recommends a comprehensive course of action to ease the suffering of
veterans with arthritis
. She prescribes oral medication, schedules physical therapy and mental health counseling, as well as encourages stretching and exercise.
Living with arthritis, she explains to veterans, will mean a lifestyle change — losing weight to relieve pressure from weight-bearing joints (being just 10 pounds overweight adds 10 to 50 pounds of pressure on your knees); eating healthy foods to decrease inflammation; and stopping habits, like smoking and drinking, they may use to cope with stress. (Alcohol can trigger painful bouts of gout.)
Dr. Fountain is also mindful to keep watch for signs of other serious illnesses in her patients who complain of joint pain. She knows that people who may have ignored their inflammatory arthritis symptoms over time could have also developed heart, lung, digestive tract and kidney damage.
"Arthritis is often correlated with other chronic diseases. We treat and monitor diabetes, heart disease and high blood pressure in our veterans, too," she says. "Cardiovascular disease is the number one cause of death of people worldwide."
A Network of Support
As often as possible, Dr. Fountain plugs the veterans in her care into a network of support. She refers them to the Arthritis Foundation for community ties and information about the disease. And she pairs them with programs where they can
meet other veterans facing similar circumstances
.
"One veteran shared with me that he had lost 80 pounds over the last 10 years after he and four other buddies started working out together," she recalls. "I had another patient who threw away his cigarettes in the garbage can in front of me and decided to quit smoking. I took a picture of the cigarettes in the garbage can and showed that picture to another veteran who said, 'If he can quit, I can quit, too.'"
"I am in the process of trying to develop support groups with the patients that I have," Dr. Fountain adds. "It helps to give them a sense of accountability and community."
Veterans who face civilian life alone in physical and emotional pain can fall into a deep depression. Between 18 to 22 veterans commit suicide each day, according to the VA and studies by
suicide prevention organizations
.
For some patients, Dr. Fountain has become a lifeline — a daughter or granddaughter that they never had. She routinely calls those committed to improving their health to check on their progress. "When they see that someone actually cares, they tend to do better."
And several veterans are doing just that.
Research conducted
at the VA Health Care System between 2016 and 2019, before Dr. Fountain's tenure, showed that Black veterans who suffered from chronic arthritis pain and a mental health disorder fared better, and reported less discomfort overall, when they received repeated encouragement to exercise and regular phone calls from their care teams.
"I think about the sacrifice so many of our veterans have made. A lot of times they don't get the recognition or appreciation they deserve," Dr. Fountain concludes. "I have a personal allegiance to the veteran population. I feel it is an obligation, a privilege and an honor to take care of our veterans. It motivates me to see them get better."
Find camaraderie and support in our Live Yes! Connect Group for Military and Veterans.
Story of Yes
Say Yes! Share Your Story
One of the most powerful things you can do to help others living with arthritis is share your story. If you have arthritis, care for someone who does or are making an impact in the arthritis community, your experiences can help someone who may feel alone. Whether you're a patient, caregiver, donor, volunteer or researcher — you can be an inspiration by sharing your Story of Yes.
Share Your Story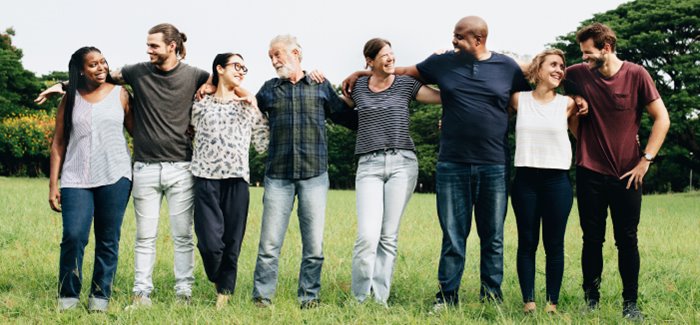 Stay in the Know. Live in the Yes.
Get involved with the arthritis community. Tell us a little about yourself and, based on your interests, you'll receive emails packed with the latest information and resources to live your best life and connect with others.